The discord in the Middle East has made some investors wary about putting money to work anywhere in the region, including Israel. But while the Arab world churns, Israel remains relatively stable and is a great place to find exciting technology companies.
The best thing is that many of these stocks pay dividends.
The Israeli population of 7.4 million is young, with a median age of around 29, and the people love tech gadgets - especially cell phones. The country has an $8 billion phone market and there's 120 percent cellular saturation - 6 phones for every 5 people.
Compared to other countries, Israel's cellphone market is maturing, which has some analysts wary of future growth potential for the phone companies located there. In my opinion the market remains vibrant, however, and Partner Communications (Nasdaq: PTNR) remains an attractive option.
Since its commercial launch in 1999, Partner Communications has grown to claim about a third of the Israeli market for wireless services, and currently has 3.2 million subscribers - half of whom pay for 3G data service. As the country's second-largest wireless company, Partner markets its phones, laptops, data plans and other services through the highly visible 'Orange' brand.
Partner also brought the popular iPhone from Apple (Nasdaq: AAPL) to the Israeli market, along with other smartphones. The company has announced plans to upgrade its network for deployment of a 4G, LTE network, vital to continued growth. It also just completed the acquisition of 012 Smile, a company whose core businesses focus on international and local fixed-line telecommunication and broadband services, both of which will help expand its business portfolio.
Partner's stock posted a healthy 23.5 percent price increase in 2010.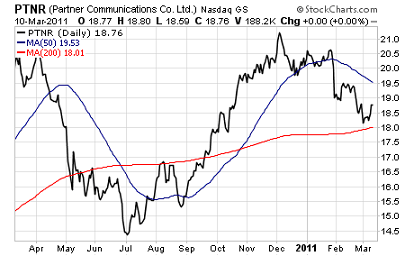 In the last year revenue rose 9.8 percent to $1.9 billion, and Partner's net profit grew 8.9 percent to $350 million, or $2.24 per diluted share. Free cash flow climbed 44.2 percent to $415 million. It had a net subscriber increase of 118,000 in 2010.
The stock has a low P/E ratio of 8.5, in part because some analysts believe this dependable cash cow is starting to dry up and they see a declining potential for earnings growth. Changes in Israeli telecommunications laws that just took effect will reduce interconnect tariffs, cutting into revenue for Partner and its competition.
But no one can deny that the world is hooked on wireless technology, and in Israel, Partner Communications remains a leading provider of the latest devices. That should keep its stock in vogue with investors. I still see Partner as a value play, with a solid track record of performance and growth.
But what I think is most exciting about Partner is its dividend. Currently the company is paying $1.61 a year in dividends, or a 9 percent yield. But it's not stagnant: over the past five years, Partner has grown its dividend by 58 percent.
To be sure, Partner Communications faces competitive pressures in Israel, but it continues to be an attractive option for investors.