Sasol Ltd. (NYSE:SSL) is a South African-based energy company with interests in coal, oil and gas, commodity petrochemicals, and technology for conversion of natural gas to liquids (GTL) and coal to liquids (CTL) synthetic fuels. As a non-conventional mix of energy assets, SSL is often overlooked by energy investors.
In South Africa, Sasol produces large amounts of coal, for domestic use and export, and operates CTL facilities. The oil and gas business is expanding both as a supplier to GTL facilities and as a more traditional E&P firm in Africa and Australia. Approximately 27% of petro-chemical feed stock consumed in the domestic South African market was provided by coal to liquid technology. The downstream commodity chemical and refining business competes with other large international chemical companies both in the domestic and international markets.
According to the company presentations, oil represents 36% of all energy consumed worldwide and about half the consumption is for transportation. Oil also represents almost the exclusive fuel for transportation. Sasol is the leader in developing alternative transportation fuels from natural gas and coal, reducing demand for oil.
Many countries have vast natural gas and coal resources, but lack the oil for transportation fuels. The ability to convert these domestic resources into transportation fuels has the potential for higher levels of energy security and lower demand for imported oil.
Sasol 's latest venture is a GTL facility in Qatar with 32,000 b/d production, running at 80% to 90% capacity and generating a 44% operating margin. One of the premier products is their low-sulfur diesel fuel. SSL is constructing a GTL facility in Nigeria and is conducting a feasibly studies with Uzbekistan Gas and PETRONAS. China, India, and Indonesia have expressed interest in Sasol technology for either coal or natural gas conversion.
The company recently teamed with Canadian-based Talisman Energy to develop shale gas resources in Alberta. In addition, the partnership will investigate the feasibility of developing a GTL facility fed by their natural gas assets. With depressed natural gas prices, the spread between sync fuels and traditional oil refined products favors GTL facilities.
Sasol's CTL and GTL technology benefits the most when coal and natural gas prices are low and oil prices are high. The spread and local sourcing of feed stock favors sync fuel over other major use of LNG and electrical generation. In addition, positioning a CTL or GTL facility close to inland coal and gas resources reduces the expense to transport to port facilities for export. These dynamics will continue to provide growth opportunities for SSL.
SSL trades as a bank-sponsored ADR on the NYSE with a 1:1 exchange ratio, and has a market capitalization of $35 billion. SSL pays a dividend of 0.86 for a 1.7% yield. The current currency exchange rate is 1 Rand = $0.15 USD.
There are not many on the Street who follows SSL, and two out of the three analysts rate it as a hold. Earnings estimated vary widely from $4.24 to $5.46 for fiscal year June 2011 and from $4.64 to $5.81 for FY 2012. EPS going forward should grow by around 9% annually.
Investor presentations can be found from the company website here. Below is a 3 year chart with 200 day and 50 day ma.
click to enlarge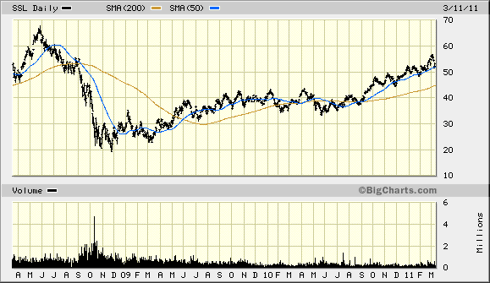 SSL could be of interest for investors who believe the spread between oil and natural gas will remain elevated, although not necessarily at its current extremes. Commodity chemicals will ebb and flow with the South African economy and with added capacity from the Middle East. The E&P business seems to be focusing on expanding into more natural gas resources as primary fuel and feed stock for future GTL facilities.
If Sasol generates $5.81 in FY 2012, a PE of 11 would equate to a target price of around $66, or about 25% higher than current valuation. This is probably optimistic, but worthy of consideration.
As always, investors should conduct their own due diligence, should develop their own understanding of these potential opportunities, and should determine how it may fit their current financial situation.
Disclosure: I have no positions in any stocks mentioned, and no plans to initiate any positions within the next 72 hours.