In the aftermath of the Sendai earthquake and resultant tsunami, the extent of the human loss and the necessary humanitarian response in Japan are of course uppermost on everyone's minds. However, in this article I would like to focus on one specific human problem being faced in Japan and the resultant demand response which we are likely to see in order to deal with that problem.
It has now become clear that 2.5 million Japanese homes remain without electricity and the authorities have announced rolling power outages in Tokyo and other major cities in order to deal with the power supply shortages caused by the shutting off of the Fukushima nuclear power plants.
A large number of Japanese householders will of course be looking to secure their own residential sources of electricity generation. Sales of a variety of domestic products such as diesel mini-generators will of course be on the rise. However, there will no doubt also be a rapid and significant increase in the demand for residential solar installations as part of the solution to the home power security problem that now must be on the minds of a great many Japanese consumers.
Consequently, an issue worth addressing is one of who are likely to be the main beneficiaries who should be in a position to help meet this demand and help solve the electricity shortage problem? Firstly, the main beneficiaries are less likely simply to be the low cost, low efficiency Chinese crystalline silicon players. Japanese demand tends to be for the higher efficiency, higher quality products, particularly when it comes to electronics and semiconductor-related products.
The main domestic players in the Japanese residential solar market are in fact seven of the big Japanese Zaibatsus - Sharp (OTCPK:SHCAY), Sanyo (OTC:SANYY), Panasonic (PC), Kyocera (NYSE:KYO), Mitsubishi (OTCPK:MIELY), Mitsui (OTCPK:MITSF), Toshiba (OTCPK:TOSBF) and Honda (NYSE:HMC) as well as Solar Frontier, which is a subsidiary of Showa Shell Sekiyu.
Finding a pure play is therefore not particularly easy, although for anyone wishing to take exposure to the Tokyo Stock Exchange, Solar Frontier may be interesting. Panasonic also has major plans to re-model itself in the green building arena and may as a result get a boost in the period ahead as consumers potentially look to cut down on their domestic power demands as well as purchase home generation capacity.
However, one clear pure play beneficiary may in fact be American solar module manufacturer SunPower via a potential expansion of the it's agreements with Toshiba to provide modules for the company's residential solar program. SunPower originally provided Toshiba with 32 MW of solar panels in the 2010 Japanese FY which ends in March. That agreement has just been expanded to a further 48 MWs for the upcoming FY ending March 2012. As Japanese PV demands rapidly expands in the period ahead, Toshiba is likely to need more product and SunPower's high-efficiency panels are perfect for the quality-conscious Japanese consumer.
This likely boost to demand for SunPower's products comes on top of a number of factors which were already falling into place for SunPower this year and which have created an excellent medium-term outlook for the company. I have written at length about these positive factors in previous articles earlier this year:
The fact that SunPower is perfectly positioned to take advantage of the significant increase in utility-scale solar now taking place in the US - as outlined here.
The company's significant 711 MW deal with Socal Edison - more analysis here.
Very impressive Q4 earnings numbers - more detail here.
These are the reasons that I had been recommending SunPower during most of its 40% plus rally from the beginning of the year to its February highs.
click to enlarge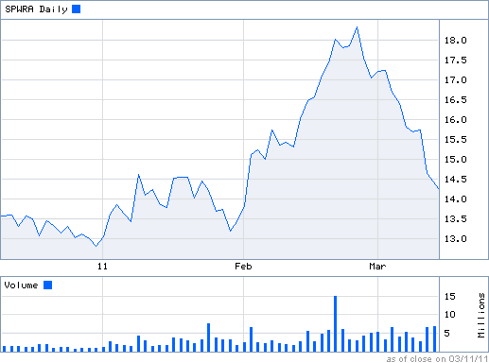 However, around the time of SunPower's last earnings results I recommended taking profits in both SunPower and solar as a whole. As the chart above shows, SunPower is now 22% off its high for the year. This now offers an excellent opportunity to re-enter SunPower at good levels ahead of the coming increase in demand.
Finally, the outlook for the overall stock market remains difficult and, as I have argued recently, warrants holding hedges in Oil and Gold. However, SunPower is an excellent company potentially about to face a significant one-off boost to demand. Given the combination of this new factor and the recent sell-off in the stock, the risk-reward looks very attractive right here.
Disclosure: I am long SPWRA. In the current environment, I have hedges in oil and gold and may also change my positions rapidly.