The Helios Strategic Income Fund (NYSE:HSA)
seeks a high level current income by investing primarily in debt securities with a small allocation to equities. Capital appreciation is a secondary consideration.
The fund takes a strategic "go anywhere" approach. The fund managers tactically reallocate the Fund's investments among various fixed-income and equity asset classes and between investment grade and below investment grade debt. So at times, a majority of the assets may be in investment grade debt, while at other times a majority may be in below investment grade debt securities.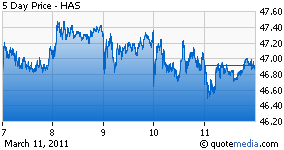 The fund invests in a wide range of debt securities including: corporate bonds, mortgage-backed and asset-backed securities, municipal and foreign obligations as well as distressed securities involved in bankruptcy reorganization proceedings or in the process of debt restructuring. They also invest a small amount in equities with potential to provide income and capital growth. The fund may leverage up to one third of its total assets.
If you look at the long term historical record for HAS, you will see disasterous returns were generated in 2007 and 2008, when the fund lost about 90% of its value in two years. But these results were produced by a different management team. The returns since Brookfield Investment Management took over in late 2008 have been quite good. The fund name and ticker was officially changed Dec. 29, 2008 from RMK Strategic Income Fund (RSF) to Helios Strategic Income Fund (HSA).
HSA is currently selling at a discount to NAV of -12.34% compared to the 6 month average discount of -10.14%. The 1-Year Z-Statistic is -1.62. This means the current discount to net asset value is 1.62 standard deviations below the mean.
The fund recently lowered its monthly distribution from $0.04 per month to $0.035. The fund managers increased the equity holdings in the fund from 2% to 4% in the 4th quarter of 2010, and they have reduced the distribution rate a bit to reflect the lower dividend payouts.
I believe this explains why the discount to NAV has widened recently, since many closed-end fund investors look for high distribution rates whether or not they are earned. This investment quirk often provides good opportunities to purchase a closed-end fund at an attractive discount shortly after a distribution rate reduction.
HSA is attractive now as a high income play, and is a good holding for a tax deferred retirement account. I like the low 4.5 year average duration for the fund which helps to limit interest rate exposure. I believe there is a good chance that the discount to NAV will narrow over the next few months which would add significantly to the total return.
Portfolio Management Team
Dana Erikson is the lead portfolio manager. He is also Head of Brookfield's High Yield Team and is responsible for the firm's corporate high yield and leveraged loan exposures. He has 24 years experience in the high yield and loan business. He received a Bachelor of Arts degree in Economics from Brown University and a Masters degree, with honors, from Northeastern University. He holds the CFA designation.
Anthony Breaks is the co-portfolio manager. Anthony earned a Bachelor of science degree in Electrical engineering from MITand also holds the CFA designation.
Asset Class Breakdown (as of 12/31/2010)
| | |
| --- | --- |
| High Yield Corporate Bonds | 64% |
| Investment Grade Corporate Bonds | 22% |
| CMBS | 9% |
| Equities | 4% |
| Cash | 1% |
Credit Allocation (excludes equities)
| | |
| --- | --- |
| BBB | 31% |
| BB | 14% |
| B | 36% |
| CCC | 13% |
| Cash | 1% |
Ticker: HSA Helios Strategic Income Fund
Total Net Assets= 51.67 MM
Total Common Assets= 36.05 MM
Annual Distribution Rate= 7.88%

Income Only Yield= 9.05% (from latest annual report)
Dividend Frequency= Monthly
Average Duration= 4.50 years
Current Monthly Distribution= $0.035 per share ($0.42 per year)
Baseline Expense ratio= 1.30% (before interest expense)
Discount to NAV= -12.34%

6 Month Avg Discount= -10.14%

Portfolio Turnover rate= 43%
Effective Leverage= 30.2%
Average 3 Mos Daily Trading Volume= 21,000 shares (about $110K)
Disclosure: Long HSA in retirement account.