Before we get into our weekly look at the markets, I would like take a moment to think of our friends in Japan. Aside from my own personal concerns and interests there, Japan has been a steadfast ally of the democratic world, a generous donor to worthy causes, and in general a good global citizen. Let's hope comfort comes quickly to the afflicted, and help to those in need.
Now to the business at hand, starting with a review of the last five trading days.
Week in Review
Stocks: The SPX and Dow both lost another 1%+ last week, while the small caps and techs again took a bigger hit. Friday was a reversal day which relieved short term oversold conditions, and the primary indexes closed above the 50 day, except notably the NDX. Sector action was again defensive, with utilities and telecoms up smartly, and energy, materials, and tech all taking pretty good hits. The SPX has corrected less than 4% during this phase, and was off only 3% at Friday's close.
Bonds: It was a relatively uneventful, and on balance a positive week in the bond market. With weakness in risk assets and oil backing off recent levels, the benchmark 10 year Treasury yield settled back into the 3.4% area which seems to be near term equilibrium. The yield curve flattened somewhat as long maturities caught a nice bid. In keeping with the defensive rotation theme, junk was the only broad sector to see losses on the week, but muni prices also continue to soften after the recovery rally that followed their year end rout.
Commodities: Broad commodity prices pulled back for the first time since the New Year, with the CRB shedding 3%. West Texas Intermediate came back by a similar amount, briefly trading below $100 on Friday before recovering to finish at $101.67. The futures curve is in contango through the end of the year, backwardation beyond that. Grains sold off hard, with market leading corn dropping nearly 9% on the week and returning to the level at which it began the year. Precious metals continued to show strength, with silver at yet another new high, but industrial metals fell, paced by a drop of more than 6% in copper.
Currencies: The Dollar Index rallied earlier in the week, only to fall back and end with a fractional loss at 76.50. The euro index as usual was its near mirror image, ending at 139.36. Both currencies are near key levels again: support at 76 for the dollar, resistance at 140 for the euro. Elsewhere, the Canadian dollar remained above parity vs. the US, the Aussie a few pips under. Sterling fell, the Swiss franc consolidated, and yen saw large advances on Thursday and Friday. It will be interesting to see what happens there after the terrible news coming over the weekend.
The Week Ahead
Stocks: The outlook on stocks always depends on the investor's time frame and holding period, but at this point it is particularly relevant. My intermediate and long term signals on the SPX are still long, but several short term indicators suggest caution:
Defensive sector and market cap rotation.
Price & volume action showing a downward bias
VIX showing upward bias, even with Friday's large drop
Still, there is no reason I can see to move out of broad long term equity positions yet, especially in accounts where tax consequences must be considered. Again, we only ended last week 3% off the recent high. Trading positions are another matter, but for this week my equity outlook is a hold in all portfolios.
click to enlarge images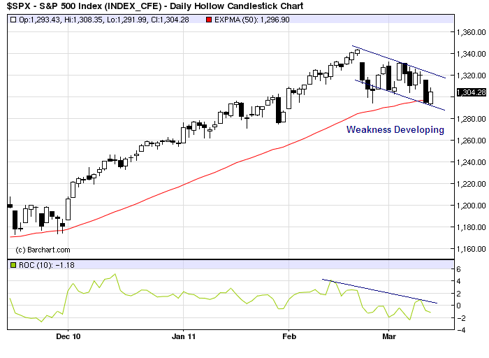 Bonds: On a fundamental basis, I haven't been a fan of bond yields recently, but bond prices are finding support at current levels. Once again we must note how remarkable it is that the bond market has essentially shrugged off soaring commodity prices and threatening inflationary pressures. No doubt some readers will put this down to the Federal Reserve's activity in the Treasury market, but again I will point out that the Fed isn't buying corporate bonds, and they are also largely unmoved.
My conclusion: while not buying bonds, neither am I selling them in portfolios that have a fixed income allocation, and certainly am not shorting them in the trading portfolio. The long term trend of falling yields remains in place and we're not threatening 4% on the 10 year Treasury any time soon. Bonds are a hold this week as well.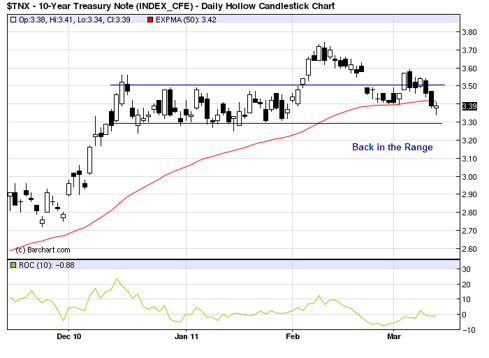 Commodities: In a recent article we noted that the 350 level on the CRB index would be significant, as it posed resistance through much of 2006 and again in the latter part of 2007, before the energy price explosion took it nearly to 475 in the summer of 2008. Having topped that level the previous week, the index came back last week to close just over at 351.88. WTI oil closed under $100 and is likely to come back toward $95 near term...but the Middle East is a giant wild card in that picture. Grain prices have plunged in the last 5-6 trading sessions, with wheat giving back nearly four months of gains, and corn - previously leading the way higher - also breaking down. Copper, the "metal with a PhD in economics," has rolled over and come back to 2010 price levels. Gold looks to me like it has topped in the short term, and is likely to retreat toward the $1,350 level. I have no open commodity positions, and even though prices are breaking, would shy away from shorting anywhere in this space. One area I continue to watch for a potential long, however, is natural gas.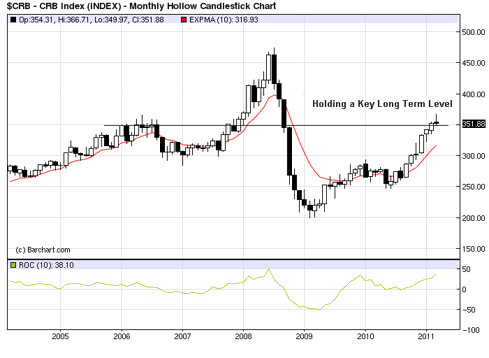 Currencies: As of this writing, we are seeing a fair amount of Yen volatility, and the euro is firming after a meeting of finance ministers is reported to be producing agreement on raising the EFSF level. Look for the US dollar to come under selling pressure early in the week, which should put a floor under falling equity and commodity prices. We may well see the 76 level tested again, and whether it holds will once again be a key data point to watch.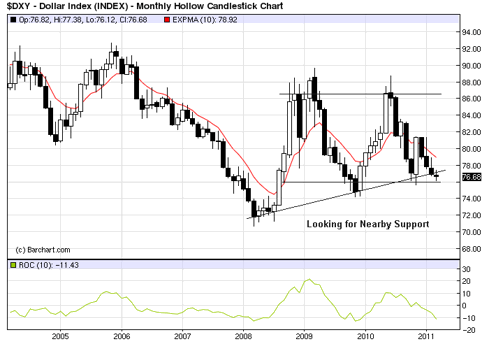 Good luck and happy trading.
Disclosure: I have no positions in any stocks mentioned, and no plans to initiate any positions within the next 72 hours.