(Preface: The full CEF Weekly Review can be found at Joe Eqcome's website).
CEF Weekly Review: On average the 13 closed-end fund [CEF] types registered a share price decrease of 0.6% for the week ending 3/11/11. The high-low spread was +2.4% versus +2.3% the previous week on an average price change of -0.6% versus +0.6%, respectively. On an aggregate, unweighted basis, the weekly average price change for the 500 plus CEFs in the Eqcome database was down 0.5%.
The PowerShares CEF Income Composite (NYSEARCA:PCEF), an ETF that invests in taxable income CEFs, was down 0.1% for the week. The S&P 500 declined 1.3% and is now up 3.7% YTD.
Volume Picks Up: Since mid-February the volume of the S&P 500 [GSPC] has been anemic. However, volume surged 71.9% during the week. Volume again gravitated to over the 3.8 billion shares average daily volume YTD to 4.13 billion shares. On both the two big price swing days, Tuesday (up 0.9%) and Thursday (down 1.9%), volume was strong at 4.53 billion and 4.72, respectively.
Click Here for YTD CEF Performance.
The Eqcome CEF Fear Index for the week increased. The average unweighted price decreased 0.5% while related NAV decreased 0.9%. Given the wide swings in the S&P 500, the VIX demonstrated similar volatility throughout the week ending up 5.2% to 20.08.
CEF Weekly Fund Type Performance: Equity-oriented funds suffered during a week of whipsaw that saw the S&P 500 off 1.3%. GenEqFnds, SpecEqFnds and WrldEqFnds were off 2.0%, 1.4% and 1.2%, respectively. Interestingly, ConvtSecFnds was wedged in between the equity-oriented losers, down 1.5%. One would have thought converts would have provided an element of protection for investors during a period of volatility.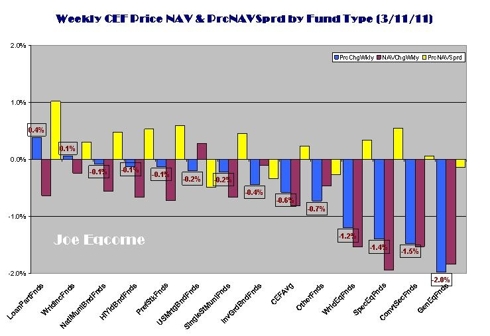 LoanPartFnds and WrldIncFnds were the only fund types to provide a positive return for the week, 0.4% and 0.1%, respectively. In each case, the NAV declined. The largest positive PrcNAVSprd generated by the LoanPartFnds.
CEF Distribution Announcements This Week: The following is a link to a table of CEF distribution announcements this week as well as the previous week's with yet expired ex-dividend dates. The list is not intended to be inclusive. (Click Here for Joe Eqcome's Weekly CEF Distribution Announcements)
Click Here for a hyperlink to the Joe Eqcome's CEF Weekly Insider Report.
::::::::::::::::::::::::::::::::::::::::::::::::::::::::::::::::::::::::::::::::::::::::::::::::::::::::::::::::::::
[*] All things being equal, price and NAV should move in tandem. A price movement greater than the NAV generates a positive PrcNAVSprd and may be interpreted as negative on a near-term basis and indicate that the stock is overvalued relative to its NAV which in theory is the stock's intrinsic value. The opposite would be true for a negative PrcNAVSprd.

Disclosure: I have no positions in any stocks mentioned, and no plans to initiate any positions within the next 72 hours.

Additional disclosure: Eqcome CEF Portfolio™: Joe maintains three separate CEF portfolios that have different investment objectives: CEFBig10™, CEFMuni10™ and CEFDisc10™ (see website).