Monitoring the institutional options trades on a daily basis often leads to themes, seeing a sentiment shift in a particular industry that is experiencing call/put activity increase. This allows for being ahead of the stock movements for the most part, because option traders are the "smart money" in the market and large option strategies generally precede a given stock move.
In the past week I have noticed large put back spreads trading in multiple tech stocks, and will break down each individual trade below, but first want to discuss what the takeaway is from this theme. Most of these spreads are taking place in the January 2012 chain, while a few are in September and October, as a basis of the timeframe for these expected volatile moves.
The put back spread is generally used when you are bearish on a particular stock and also bullish on volatility, which tends to increase on sharp moves down. These spreads are also often used to play a market top; in this case targeting technology stocks. Put back spreads are also great as a hedge to a portfolio position, because you can get the protection for no cost or even a credit, and gives unlimited protection on sharp moves lower in a stock. This strategy is not to be used for a range bound market, or stock, as it makes money on extreme moves in either direction, and will lose money on minimal stock moves.
A put back spread involved being long OTM (Out of the Money) put options and selling ITM (In the Money) put options at a ratio, generally buying 2 OTM puts for each ITM put. The maximum loss for these trades is limited to the difference between the two strikes, minus the premium received for the spread. The maximum gain is on a sharp downward move to 0, and limited to the net premium received on an upward move. A moderately downward move is where these spreads lose money. These spreads are generally done for a net credit so that if you are wrong about the direction of the move, you still profit with credit received, while maximum gains or made on large moves lower. The diagram below is the basic Profit/Loss Profile of a put back spread (Note that Upper End -- (Right Side -- can be Above or Below the $0 Profit/Loss Depending if Spread is Done for a Credit or a Debit)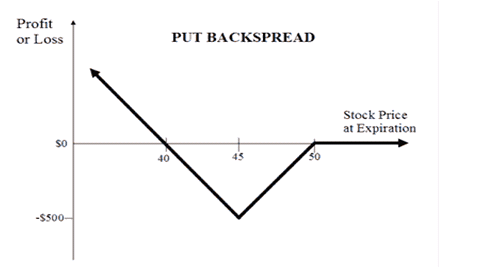 The seven tech names that saw the put back spreads in the past week are Riverbed Tech (NASDAQ:RVBD), ARM Holdings (NASDAQ:ARMH), Skyworks (NASDAQ:SWKS), AMD Corp (NYSE:AMD), Rackspace (NYSE:RAX), Fortinet (NASDAQ:FTNT), and Altera (NASDAQ:ALTR). What they all have in common are they are Tech stocks trading at peak valuations that have made huge runs in the past 2 years. I will break down each of the large trades below: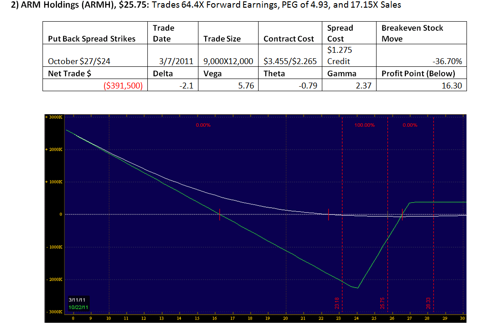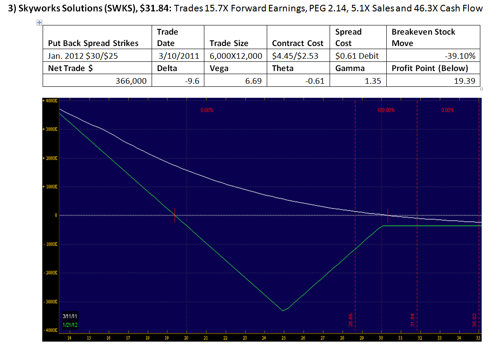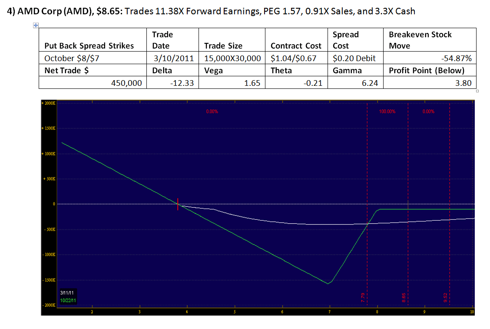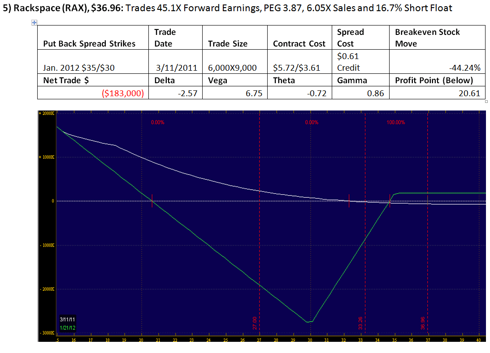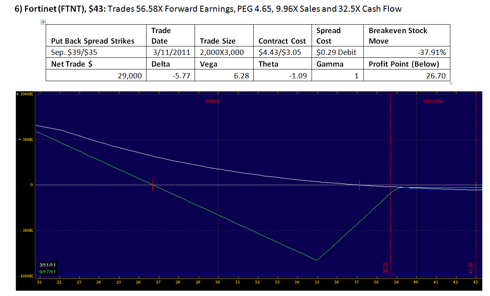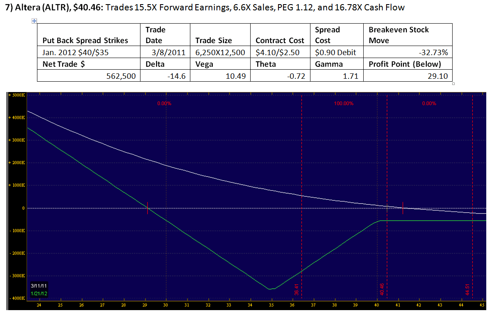 Excluding Rackspace (RAX) and ARM Holdings (ARMH) we can see the above trades were put on at a net debit, so in order to be profitable, the trades will need major downside moves, or at least show fear, as large holders put on disaster hedges. It is often hard to find net credit put back spreads because the market is smart enough to not allow many of those opportunities arise, where you can be wrong on direction and still make money, on a longer term based trade.
Applying the Strategy
The criteria for finding other stocks where this strategy could be practical is looking for Tech stocks trading at peak valuations, in long term uptrends near new highs, volatile, and up a few hundred percent off the 2009 lows.
More Candidates for put back spreads in Tech: Salesforce.com (NYSE:CRM), Acme Packet (NASDAQ:APKT), F5 Networks (NASDAQ:FFIV), Juniper (NYSE:JNPR), Netflix (NASDAQ:NFLX), Vmware (NYSE:VMW), Citrix Systems (NASDAQ:CTXS), Red Hat (NYSE:RHT), Rovi Corp. (NASDAQ:ROVI), Cavium Networks (NASDAQ:CAVM), OmniVision Technologies (NASDAQ:OVTI), CommVault Systems (NASDAQ:CVLT), and Digital River (NASDAQ:DRIV).
Citrix Systems (CTXS), $71.74: The cloud name trades 49.5X Trailing Earnings, PEG of 3.78, 7.18X Sales and 26.15X Cash Flow
Trade: The January 2012 $60/$50 Back Put Spread 2X3 Trades for a $2.77 Net Credit
| | | | | |
| --- | --- | --- | --- | --- |
| Delta | Vega | Theta | Gamma | Profit Point (Below) |
| 8.44 | 1.62 | -0.4 | -0.04 | 32.80 (54.7%) |
As you can see this trade actually is a positive Delta trade, with the trade done for a net credit, and with shares above $60 you retain that net credit. The Delta could shift to Delta negative over the life of the trade if shares begin to fall. The chart below shows Citrix Systems in a long term uptrend, up 250%, although momentum appears to be topping on the weekly chart with bearish divergence in ADX, MACD, and RSI. For shares to get to the profit point on the downside, shares would need to fall 54.7% this year, and would then be trading at a P/E of 12.4, which seems unlikely, but is why these trades are seen as disaster hedges. The spread can often be closed ahead of expiration for a profit as the structure of the Greeks changes, and may not always be held through expiration.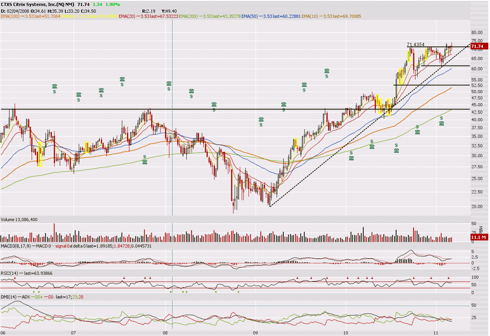 Charts Courtesy of ThinkorSwim and Prophet-Charts
Disclosure: I have no positions in any stocks mentioned, and no plans to initiate any positions within the next 72 hours.