Eli Lilly (NYSE:LLY) appears perilously perched on the precipice of a patent cliff. A plummet could result in revenue falling for at least the next two years, and loss of more than 75% of sales within the next 7 years. Worse yet, there's no parachute of freshly approved drugs to replace this revenue. Lilly's perch is perhaps the best example of the crisis faced by much of the pharmaceutical industry faces. However, it's not the end of the world. Even acrophobic investors should take a closer look at patent expiration dates before abandoning hope of possible replacements for this revenue.
Unlike an Abbott (NYSE:ABT) or Johnson & Johnson (NYSE:JNJ), Eli Lilly is nearly a pure pharmaceutical company, without a significant medical devices or consumer business segment. Eli Lilly has a focus on neuroscience (40.8% of 2010 revenue), endocrinology (26.6%), oncology (16.2%), and cardiovascular drugs (9.4%). Other pharmaceutical segments are 0.9% of revenues, and animal health makes up the remaining 6.0% of revenues. Lilly's bestselling drug is the schizophrenia treatment Zyprexa, which begins the flood of U.S. patent losses later this year. At $5.0 billion in sales, Lilly will be hard pressed to replace this 22% of revenue. The next highest seller at $3.5 billion and 15% of revenues is Cymbalta, used to treat depression and fibromyalgia, and is on patent until at least June 2013. Alimta, a cancer treatment, had $2.2 billion in sales in 2010, a 29% growth over 2009, and indications are that Alimta sales will continue to grow. Alimta has patent protection until 2016, and Lilly has already defended the patent against a suit filed by Teva Pharmaceuticals.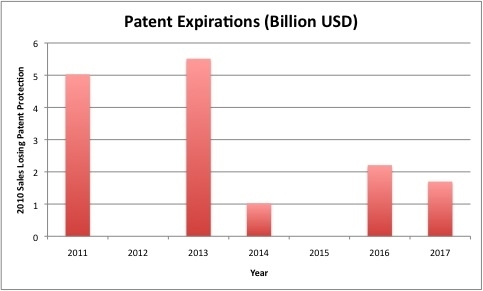 Six other drugs by Lilly had sales of over $1 billion in 2010. These include Cialis, the famous erectile dysfunction drug with 2010 sales of $1.7 billion and patent protection until 2017. Gemzar, Lilly's 6th best selling drug in 2010 with sales of $1.15 billion, actually already lost patent protection in 2010. Teva (NYSE:TEVA) currently sells the generic version in the United States. Evista is an osteoporosis drug with $1.0 billion in 2010 sales, and has patent protection until 2014.
What about the other two billion-dollar drugs? Well, they are "biologics" as opposed to the better-known "small molecule" category. Very briefly, small molecules are on the scale of dozens to perhaps a hundred atoms and are made through a series of chemical reactions. Biologics, however, are much bigger molecules (typically proteins) consisting of thousands of atoms or more, typically made by forcing cells to make the molecule of interest. For investors, the important distinction is that small molecules have a well-defined path to generics, while to date there have been no approvals of generic biologic drugs (called biosimilars). No route for approval of biosimilars was even possible until passage of the Biologics Price Competition and Innovation Act, a component of the health care reform legislation of 2010. So while Humilin ($1.1 billion in 2010 sales) is currently off patent, there are no other sources of this drug that have been approved by the Food and Drug Administration (FDA). Similarly, Humalog's $2.05 billion in sales is safe until the FDA establishes a process for approving biosimilars. And sales are increasing; in 2010 Humlin sales rose 7% and Humalog's 5%.
So sales of Lilly's biologics are safe and continuing to grow. What are the other positive or growth aspects? Well, its animal health products were responsible for $1.4 billion in 2010 sales, an increase of 15% over 2009, helped in part by its acquisition of Pfizer's (NYSE:PFE) European animal health division in 2010. And with its strong pipeline and recent introduction of multiple products, the animal health division is safely forecasted to have double-digit growth in the next several years.
Also, Eli Lilly was probably late to the game in expanding overseas. While this has hurt them in the past, in the present this remains a growth area. Eli Lilly is the fastest growing major pharmaceutical company in Japan, with 30% growth in 2009 and 32% growth in 2010. Since Japan is second only to the United States in the size of its pharmaceutical market, this is an important area of growth for Lilly. And I may have misled you a little earlier. While Zyprexa loses U.S. patent exclusivity in 2011, more than half of Zyprexa revenues are from outside the U.S., and in Japan Zyprexa keeps exclusivity through 2015. Eli Lilly also has the greatest growth among the top 10 pharmaceutical companies in the key emerging markets of Brazil, China, Turkey, Mexico, and Korea. In 2010 Lilly's increase in revenues in these markets was 13%.
A few new products were released in 2010 and should have significantly higher sales in 2011. First, several drugs were released in Japan, including Cymbalta, Forteo, and Byetta. Several drugs were released in the U.S. with partners. Lilly and Acrux Limited (ARXUF.PK) received FDA approval for Axiron, a treatment for low testosterone in November 2010. Lilly and Kowa Pharmaceuticals launched the cholesterol-lowering statin Livalo in the United States in June 2010. And Lilly's acquisition of Avid Readiopharmaceuticals led to the provisional approval of Amyvid, which helps image beta-amyloid in the brain, which is a signature of Alzheimer's disease. Eight other new molecules are in Phase 3 clinical testing; look for a future article on these molecules and their potential impact on Eli Lilly as an investment.
This more detailed analysis lends credence to the moderate outlook for Eli Lilly I suggested previously. Revenues are nearly certain to fall in 2011 and again in 2012. If Eli Lilly is able to maintain 2012 profit levels beyond that, then the stock is currently fairly valued. If Eli Lilly revenues continue falling beyond that without recover, then the stock is currently overvalued. But if Eli Lilly is able to significantly grow revenues after a few years of declining revenues, then the stock is currently undervalued.

Disclosure: I am long LLY, PFE, ABT, TEVA.