Offshore contract drillers, led by strong scores for segment leader Ensco (NYSE:
ESV
), experienced an overall ratings increase in
EnergyPoint Research's
recently completed Contract Drilling Customer Satisfaction Survey. Scores for the offshore drilling segment were buoyed by a number of factors during the year, including greater availability of rigs, a moderation in day rates, and an increased focus industry wide on execution, performance and reliability.
In the land-based drilling segment, Helmerich & Payne (NYSE:HP) once again received the top customer satisfaction marks in the survey. H&P's honors came as customer satisfaction for land-based drillers a whole, a segment comprised primarily of North American players, declined compared with last year as rig count and drilling activity, which tend to move inversely to customer satisfaction, rose over the course of the year.
Ensco Delivers in Challenging Times
Ensco's results in EnergyPoint's independently conducted survey were driven, in part, by strong ratings in the area of job quality. Not only did the company capture first place in terms of overall satisfaction among offshore drillers, it also received top marks in several additional areas, including: health, safety and environmental; technology; performance and reliability; special applications, and; shelf wells.
Ensco also rated first internationally, including in the Asia & Pacific Rim and North Sea regions. The London-based driller received some of its highest marks ever in the survey despite a year in which offshore contractors were forced to balance a host of operational, economic and regulatory factors.
Below are comments from some of the respondents that rated Ensco in the survey:
"[We] had a very good experience with the Ensco rig and crews. A good balance between cost controls and execution [and] performance." –
Supply Chain Manager, National Oil Company

"Ensco's assets are generally better maintained than their peers. It makes a difference in lower NPT [non-productive time]." – Drilling Engineer, Large Independent E&P

"The company runs its operations well. Over the course of my career, I have found that Ensco provides a consistent [level of] service across most of its regions." – Drilling Supervisor, Supermajor E&P
Other winners in the offshore drilling segment include Noble Drilling (NYSE:
NE
), which placed second to Ensco overall, Pride International (NYSE:
PDE
), and Rowan Drilling (NYSE:
RDC
). Noble rated first with multinational E&P customers, while Pride took top honors in three separate survey categories: deepwater drilling; non-vertical wells, and; in Latin America & Mexico. In a repeat of last year's results, Rowan ranked first for high-pressure high-temperature, or HPHT, wells.

H&P Sets the Standard Among Land Drillers
In the land-based drilling segment, Helmerich & Payne continued its ratings leadership with survey respondents. The company retained its top overall rank from last year, while capturing a large number of the land-drilling segment's other category awards as well.
In addition to the first-placed rating in total satisfaction, H&P rated first in over a dozen other areas in the survey including: performance and reliability; HSE; technology; non-vertical wells, and; special applications. The company also rated highest with respondents at both independent and multinational E&P companies, and captured the top spot in the U.S. Lower-48.
Some of the comments from survey respondents that rated Helmerich & Payne are shown below:
"Best in class. Highly capable in developing and delivering technology …Great outfit." –
Drilling Advisor, Supermajor E&P

"H&P has a great management team and works very well with our company. I consider them first-class in HSE and [the company] is very much aligned with our policies." – Drilling Supervisor, Supermajor E&P

"Very good overall service with quality people and equipment." – Drilling Supervisor, Large Independent E&P
Precision Drilling (NYSE:
PDS
), the only other land driller to receive a top regional rating, rated highest in Canada.
EnergyPoint Research's 2010 survey was the third in a row of its independent studies in which H&P dominated the standings for land-based drillers. H&P's customer satisfaction scores continue to reflect a culture and business model characterized by discipline, engineering and operational excellence, and proven technology.
The company clearly sets the standard for performance and professionalism and has over the years effectively raised the bar for other land-based drillers, many of which continue to transition to business models and technology that, not coincidentally, look and feel like H&P's.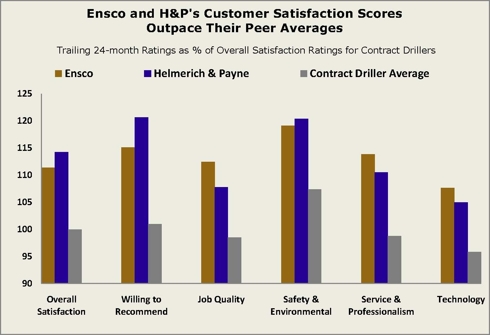 Click to enlarge
EnergyPoint's contract drilling survey was conducted as part of the firm's annual industry-wide study, which this year was comprised of more than 4,100 in-depth evaluations performed over 24 months by qualified professionals at domestic and international customers of oilfield suppliers. The survey succeeds similar industry-wide studies conducted and published by EnergyPoint Research going back to 2003.
Drilling contractors rated in the survey were evaluated across multiple attributes, including total satisfaction, pricing and contract terms, performance and reliability, technology, job quality, safety and environmental, service and professionalism, and corporate capabilities. They were also evaluated across multiple drilling categories, as well as domestic and international regions.
Disclosure: I have no positions in any stocks mentioned, and no plans to initiate any positions within the next 72 hours.