OK, I can't help it, but I've always had a fascination with spices. It's in my blood ... I'm Dutch. During the Dutch Golden Age spices from all over the world made many a fortune for Dutch merchants. So my stock of the day is McCormick & Co (NYSE:MKC). I would like to share two charts with you.
First the daily chart showing the moving average for the last six months. You can see that the stock has stayed above its 100-day moving average for the last six months.
Click to enlarge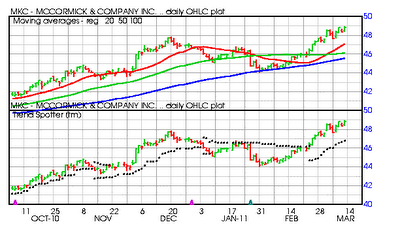 The weekly chart of the past 2 1/2 years with the 20, 50 and 100 week moving averages shows how the stock has made a steady climb.
Click to enlarge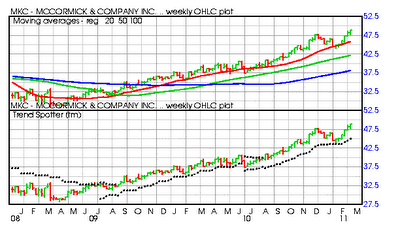 McCormick & Company is a diversified specialty food company and has been a global leader in the manufacture, marketing and distribution of spices, herbs, seasonings, flavorings and other specialty food products to the entire food industry. The company also, through subsidiary corporations, manufactures and markets specialty plastic bottles and tubes for food, personal care and other industries. The company operates in three business segments: consumer, industrial and packaging.
During the past several years the company has made nine new acquisitions around the world, including its most recent: Eastern Condiments in India. The company realizes there is a changing demographic in the U.S. of Hispanics and Middle Eastern immigrants and is adding to the product mix to fulfill the desires of those consumers.
Let's look at the many reasons why McCormick deserves a place on your watch list.
Technical Factors:
96% Barchart technical buy signal
Trend Spotter (tm) buy signal
15 new highs and up 8.34% in the last month
Relative Strength Index 68.81% and rising
Trades around 48.86 with a 50 day moving average of 46.14
Fundamental Factors:
Wall Street brokerages have released 6 buy and 7 hold recommendations including a buy from Deutsche Securities as recently as January 20, 2011
Sales are projected to increase by 5.90% this year and 4.10% next year
Earnings are estimated to increase by 6.40% this year, 8.90% next year and 9.58% annually for the next 5 years
Investor Sentiment:
Motley Fool notes that the last 8 articles written by some of the Wall Street journalists they follow have all been positive
Fool's CAPS members have voted 326 to 12 that the stock will beat the market
The more experienced All Stars agree by 131 to 3
This stock has what I look for:
Current and consistent price momentum
Wall Street brokerage buy recommendations based on growth projections of both sales and earnings
A wide and positive public awareness of the company
It's now on my watch list and should be on yours.
Disclosure: I have no positions in any stocks mentioned, and no plans to initiate any positions within the next 72 hours.