Capitulation is a relative word in markets; it all depends on the magnitude of events that are taking place and the market in question. However, real capitulation selling usually comes about when news becomes so dire and widespread that long-term holders of a company's shares are provoked to dump their positions at the first opportunity. The trading in Cameco (NYSE:CCJ) this morning had some telltale signs of capitulation selling.
Throughout the entire weekend there was a constant stream of news and breaking reports updating the world on the status of the Fukushima nuclear reactors, along with various "experts" informing us of just how dire the situation could be. In addition, there were a number of articles published in leading newspapers which painted a portrait of an end to the so called nuclear renaissance. $14 billion market cap companies with a one-of-a-kind collection of assets don't trade down over 20% in a matter of minutes without a healthy dose of fear and uncertainty being injected into investors' minds.
The events of the last 96 hours are a textbook example of fear and uncertainty surrounding the future of an industry and, more importantly for CCJ, the long-term earnings model of one of the most important companies in the nuclear industry. Special situations such as the one this morning at CCJ separate the truly great traders/investors from the rest of the pack. Even for legendary investors, a special situation such as CCJ's may pose enough incalculable risks to force them to remain on the sideline.
Let's go to the charts:
[Click all to enlarge]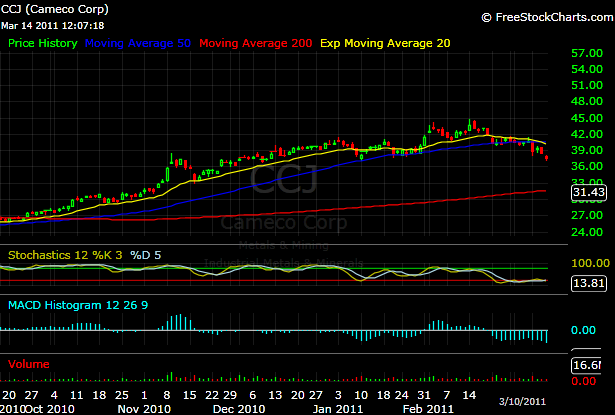 Heading into Friday, CCJ was already in an intermediate-term downtrend since making post-crash highs above $44 in mid-February. It was oversold enough to make it a decent candidate for at least a 2-3 bounce; then the earthquake in Japan took place, which badly damaged the Fukushima nuclear power plant: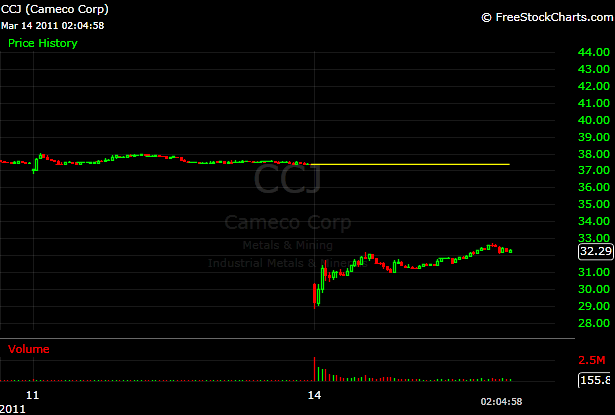 CCJ gapped modestly lower on Friday but quickly recovered and spent most of the day trading around $37.50. The market had shrugged off the early bad news and decided to take an optimistic stance with regards to the potential for Fukushima to become a bigger nuclear safety story. Over the weekend, things in Japan and at the Fukushima nuclear power plant went from bad to worse, and we received word that Germany was ready to begin phasing out all of its nuclear power plants.
Notice that the volume traded within the first five minutes today (2.8 million shares) exceeded the average daily volume for CCJ! Volume provides an excellent indication of stress or exuberance in a market and today's volume off the open in CCJ screamed "I want out." When large investors want to just get out of a stock, they are willing to sell at a steep discount to a stock's intrinsic value. This presents tremendous opportunity for opportunistic traders and investors who are willing to step in and buy in the face of adversity.
Cameco was expected, based on average analyst estimates, to earn $1.99 per share in 2012 based on year over year EPS growth of roughly 22%. Thus, at $30 per share CCJ was priced at 15 times forward earnings. Over the past several years Cameco has traded at a high multiple to earnings (rarely under a P/E multiple of 30) based upon the market's perception that nuclear energy was in a renaissance that could last for decades. Moreover, Cameco has a unique collection of irreplaceable high-grade uranium mines in one of the friendliest countries to the nuclear energy industry on the planet (Canada).
The bull case for CCJ is fairly straightforward, revolving around a long-term fundamental demand growth story for uranium:
China currently has 13 nuclear reactors on the grid, with 27 already under construction and plans to build as many as 100 by 2020.
By 2020 China will have a voracious appetite for uranium and could potentially constitute as much as 20% of global uranium demand
Countries such as India and South Korea have over 20 nuclear reactors planned or under construction already.
Cameco has already signed major long-term agreements to supply China's nuclear energy industry.
Cameco has steadily improved its operating margins, which look poised to continue to improve over time.
In the most likely scenario, the share price of CCJ will continue to climb a wall of worry in the coming days and weeks. In my opinion, nuclear energy is here to stay, and major players such as China and India are unlikely to pull back on their plans to increase their dependence on nuclear energy in the coming years.
There is no magic bullet when it comes to solving the world's energy needs; every alternative has its own drawbacks and, with only a few disastrous exceptions, nuclear has proven to be a safe and efficient form of energy supply for decades.