Capstead Mortgage (NYSE:CMO) is not the highest-yielding selection among those spotlighted by the StockScreen123.com Prudent Yield Hog model, but at about 12%, it's up near the top and, given current market conditions, very much noteworthy. But as we've seen with other Prudent Yield Hog selections, and as common sense suggests, we're not going to see a yield like that without having to address above-average risk.
Often, when investors in general and income-seekers in particular are told that something is especially risky, the under-the-surface message tends to be, "This stuff is fun to read about, but don't get crazy and invest real money" or "Go ahead and invest, but I said it was risky, so if you lose your shirt, don't come crying about it to me."
I prefer to aim for something more realistic: This definitely is high-risk and you absolutely, positively should expect some bad outcomes, if not from this specific stock then from others selected under the same strategy. But testing indicates that over time, use of a sensible method for deciding which risky situations to accept and which to bypass has the potential to generate returns strong enough to more than offset bad experiences (see Appendix below).
That's important in setting a proper context for a review of Capstead.
It's a mortgage REIT (Real Estate Investment Trust). As a REIT, it's going to pay out pretty much all its income to shareholders, meaning we most likely should be investing for income and recognizing that dividend growth, if any, will have to be financed by issuance of new debt or equity capital rather than retained profits. Moreover, mortgage REITs have traditionally been recognized as the riskiest kind since they, essentially, are lenders rather than property owners/managers, and if anyone who had any doubts about the risks of lending should have received one heck of an education in recent years from the School of Hard Knocks.
Capstead's niche is ARMs (adjustable rate mortgages), and a tendency to finance those securities through repurchase agreements, which is one of many fancy forms of debt used in sophisticated circles -- although not as exotic as some other instruments concocted by modern financial savants. Unlike most lenders, Capstead does not expect to be exposed to loss in the event of default since the ARMs in which it invests are guaranteed by GSEs (government sponsored entities like Fannie Mae (OTCQB:FNMA), et. al.). In the recent financial crisis, that issue became a lot scarier than usual as observers wondered if the GSEs would be able to honor their obligations. But for better or worse, we got through that.
Like most lenders, Capstead is subjected to interest-rate risk. Its ARMs are of short duration, so that limits rate risk somewhat, but not completely. Market rates (which determine how much the REIT pays for capital) adjust more rapidly than do the adjustable rate mortgages. That's a boon when rates are falling, as they did in recent years. But when rates rise, Capstead could feel a squeeze during the time it takes for ARM yields to increase enough to offset the increase capital costs.
The REIT was hard hit by this in 2006 and could face another squeeze going forward. The question is timing. Ultimately, with rates so spectacularly low, we have to assume increases are likely. But we also recognize that the economic recovery is still fragile and that there's a lot of political impetus behind keeping rates as low as possible as long as possible. This is where the three-month model rebalancing (and the fact that sentiment is a big factor) comes in handy: Capstead is definitely not the sort of REIT I'd want to buy and lock away in a drawer.
Meanwhile, mortgage securities come with prepayment risk, the ugly side of low interest rates. When rates are low, buyers often exercise their rights to pay the debt early (so they can refinance at lower rates). For outfits lie Capstead, that can hurt since the premium often paid to purchase the securities will vanish more quickly than can be effectively compensated by the interest received. Also, Capstead will have to reinvest more funds at lower rates. This has, in fact, been an issue lately (not only due to falling rates but also as part of efforts by GSEs to repair restructure their obligations) and contributed to a dividend reduction last year), but with rates likely at epoch low levels, it's less likely to be troublesome in the near future.
The final issue here is leverage, something mortgage REITS have in common with banks. Capstead entered 2008 with a leverage ratio of 9.84, but dropped it down to 6.67 by the end of 2009 and 6.20 by mid-2010. At the end of 2010, the leverage ratio was 6.91. Whether management moves it up or down during 2011 will depend on its assessment of market conditions.
Let's review the dynamics here:
Credit quality – The GSE crisis is behind us; this is likely to be a benign issue going forward.

Prepayments – The worst may be over given that rates don't have much, if any, room to fall.

Lending margin squeeze – This is a likely a big problem, the main question being when it will happen and how vigorous it will be.

Leverage – This is probably benign given that management it's now pretty low and that management is likely to reduce it should rates prove troublesome.
Putting all this together, I think it's best to assume another dividend reduction this year.
The payout in 2010 was $1.51 per share, down (due to heavy pre-payment losses and some clean-up it had to do in a small commercial real estate loan portfolio) from $2.02 in 2008 (the first year Capstead worked with a leveraging up of a much larger capital base) and $2.24 in 2009. The quarterly payments in 2010 were $0.50, $0.36, $0.26 and $0.39 respectively.
The actual yield on Capstead as of this writing is 12%, based on an assumed continuation of the $0.39 quarterly payout. In today's market, an 8% yield would still be considered very good. If Capstead can average $0.26 per quarter in 2011, that would amount to an 8% yield based on the current price. I don't have a crystal ball, but given what we're seeing from the economy and the monetary establishment in Washington, and given that non-interest-related risks here seem less troubling than they were in the recent past, I think Capstead can do a good deal better than that, at least early in the year. The share price will, of course, react to expectations in the direction of future interest rates, but on the whole, I think the current quote allows room for Capstead to deliver a good risk-adjusted return in the context of a diversified portfolio of similar high-yield, high-risk opportunities that is re-balanced every three months.

Appendix
The Prudent Yield Hog model, created on StockScreen123 and introduced in a 3/1/11 Seeking Alpha article, is based on the notion that income-seekers can achieve satisfactory returns by reaching for the highest possible yields if they work with a list that has been pre-qualified to eliminate companies that bear the greatest risk of dividend cut or elimination.
It uses a screen that contains the following rules:
· Basic Universe Definitions
o Eliminate OTC stocks, stocks trading below $5, stocks with market capitalization below $250 million, ADRs and companies classified as Miscellaneous Financial Services (most of which are closed-end mutual funds)
o Daily volume over the past 60 days must have averaged at least 50,000 shares
· Yield must be equal to or greater than 2/3 of the rate on the 10-year Treasury
· Yield may not exceed 5 times the rate on the 10-year Treasury
· For this pushing-the-envelope version of the model, the stock must rate 40 or better on a scale of zero to 100 under a ranking system designed to evaluate high-yielding income stocks; under the default version, it would have to rate at least 60
Here's a summary of the ranking system referred to in the last screening rule:
· Growth Profile (one third of the score)
o Dividend growth (60% of sub-category)
o EPS growth (30%)
o Sales growth (10%)
· Dividend Security (one third of the score)
o Trailing 12-month dividend payout ratio (lower is better) sorted relative to industry peers
· Investor Sentiment (one third of the score)
o Price signals (30% of sub-category)
o Technical Signals (30%)
o Investor Comfort (40%)
To see further detail, click here.
From the list of passing companies (i.e., those that have been successfully pre-qualified), select the 15 highest-yielding stocks.
Figure A-1 shows backtested price performance of the strategy from 3/31/01 – 2/28/11 assuming the model is re-run and the list refreshed every three months.
Figure A-1
[Click to enlarge]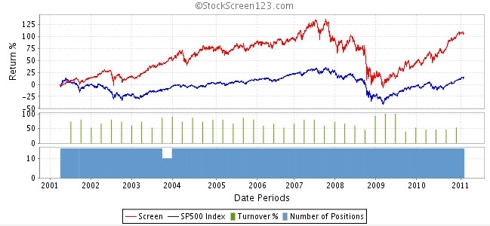 Click to enlarge
That's price performance only. The model faltered during the financial crisis of 2008, as did most other strategies. But the overall start-to-finish capital gain was 106.7%; or 7.6% annualized, which would be added to the yield, which was often in the neighborhood of 9%.
Disclosure: I am long CMO.