First, our thoughts and prayers go out to the Japanese people affected by this terrible natural catastrophe. And let us not allow ourselves to forget the brave citizens of Christchurch and environs in New Zealand, the victims of flooding in Australia, and the cyclones, monsoons and earthquakes yet to come as the natural order of things in this world. These are not anomalous events, which is why there are insurance companies and reinsurers and retrocessionaires and retrocedents.
We own a few fine insurance companies, though we currently own no reinsurers. But I believe the surest bet today, and one of the most fairly priced, are the stocks of companies that supply the world with thermal and metallurgical coal. No matter the outcome of the current problems with the three old-style reactors in Japan, all of which need pumps to be secure from damage so water can be pumped up into the reactor core to cool the fuel rods (vs. the newer designs that use gravity to let water fall down onto them), one thing is certain: Other coal-fired plants in Japan will be working overtime to make up for this loss of power in order for re-building to be able to take place.
One additional reminder: It isn't as if China isn't already desperate for US and Canadian coal. It isn't as if Australia hasn't already had to reduce coal production as a result of the flooding there. It isn't as if India doesn't need more of both types of coal to power and build infrastructure there. I've been banging this drum so long my hands are tired. And still, there are some relative bargains out there.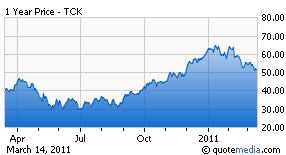 Take Teck Resources (TCK) (and our due diligence has led us to do just that). Teck is down right now because they reduced guidance on the amount of coal they expect to ship this quarter. So immediately the Wall Street 'analysts' managed to tear themselves away from their fourth martini, their mistresses, and their bookies, to write, in knee-jerk unison, that things must be very bad at Teck if they were shipping less coal.
If any one of them had scratched an inch beneath the surface, they would have found that Teck, Canada's largest diversified resource company (and the second-biggest metallurgical coal company in the world and the third-largest mined zinc producer that also happens to have significant oil sands acreage!) is predicting reduced shipments not because it can't mine the stuff or sell the stuff, but because of avalanche danger from this winter's massive snowfalls that have caused big-time rail transportation delays as well as actual locomotive power failures and train length restrictions. In addition, operations at the two huge coal-shipping terminals, Neptune and Westshore, have experienced dangerously high winds, adverse weather and mechanical problems.
This, too, shall pass. What won't pass is Japan's need for copper and steel to rebuild a first-world nation, or India and China's ongoing need for the same products to continue their urbanization and infrastructure modernization. We are nibbling at Teck right now and will become far more aggressive buyers if it falls below $50.
The largest U.S. coal producer is Peabody Energy (BTU). No. 2 is Arch Coal (ACI). And No. 3 is Cloud Peak Energy (NYSE:CLD).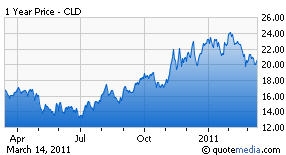 Much has been made of the fact that CLD has just 10 years of reserves left from its current landholdings. Again, I think the analysts are being shortsighted. They are the biggest factor in Powder River Basin (PRB - coal). As the Department of the Interior's Bureau of Land Management notes about Wyoming's portion of the PRB: The electricity used by one out of every five homes and businesses in the entire U.S. is produced from coal mined in Wyoming. Over 100 coal trains enter Wyoming empty and leave loaded and bound for all points daily. And nearly one in six Wyoming workers are directly or indirectly employed in coal development. Finally, the money that CLD is minting from current operations just might fund some serious acreage buys in Wyoming's next land lease.
The PRB is also the lowest cost major coal producing region in the nation. I would argue it is also one of the safest, mostly because it is surface mining in which there is less danger of respiratory disease, no danger of mine collapse, and is far easier to reclaim after mining is completed. As a result, PRB coal is becoming ubiquitous for electricity: it's cheaper to mine and makes less of a high-maintenance mess when burned so, even adding the extra freight costs, it makes sense for a utility to select it. Again, we own a little CLD and will buy lots more anywhere below $20.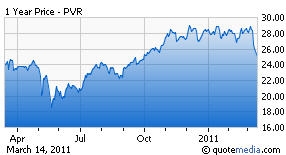 The third company is for those who want yield. Penn Virginia Resources (NYSE:PVR) is only just beginning to make inroads into the PRB; most of its properties lie elsewhere. But this coal royalty firm, like the other I respect most in that part of the business, Natural Resource Partners (NYSE:NRP), doesn't own a single coal mine, operate a single piece of extractive equipment, or employ a single miner. It simply owns the land on which others mine - and receives whopping override royalties for so doing. Both are brilliantly-managed companies; PVR just happens to be the most attractively-priced right now.
For that matter, I'd be a buyer of BTU and ACI at lower prices, as well. And of Patriot Coal (PCX), International Coal Group (NYSE:ICO) and James River (JRCC) as well. The investment case is clear. If your due diligence leads you to the same conclusions - welcome aboard!
Disclosure: We, and/or those clients for whom it is appropriate, are long TCK, CLD, NRP and PVR. And we are buying more if/as they decline as well as the other firms named above on any good declines.
The Fine Print: As Registered Investment Advisors, we see it as our responsibility to advise the following: we do not know your personal financial situation, so the information contained in this communiqué represents the opinions of the staff of Stanford Wealth Management, and should not be construed as personalized investment advice.
Past performance is no guarantee of future results, rather an obvious statement but clearly too often unheeded judging by the number of investors who buy the current #1 mutual fund only to watch it plummet next month.
We encourage you to do your own research on individual issues we recommend for your analysis to see if they might be of value in your own investing. We take our responsibility to proffer intelligent commentary seriously, but it should not be assumed that investing in any securities we are investing in will always be profitable. We do our best to get it right, and we "eat our own cooking," but we could be wrong, hence our full disclosure as to whether we own or are buying the investments we write about.