In 1975, I started my career as a young electrical engineer and a nuclear physicist in the commercial nuclear power industry. The prospects of the industry were bright. There were projections that over the next 25 years 80% of new electricity generating capacity would be nuclear. I worked hard and rose rapidly through the ranks in the hyper-growth environment.
Then came the fateful day of March 28, 1979. The Three Mile Island nuclear power plant in Middletown, Pennsylvania suffered a loss of coolant, which resulted in a partial core melt down. The industry came to a standstill. In due course, deficiencies in design, equipment, operations, and regulations were identified.
In 1981, I changed course from designing equipment for nuclear power plants to meeting the needs arising from new regulations in the industry. I founded a company named Action Systems, Inc. to provide design changes, retrofits, and compliance to new regulations to the commercial nuclear power industry. The first nuclear plant in the United States to go online after the Three Mile Island accident was San Onofre Unit 2. My company played a critical role in the startup of this plant. In due course, I expanded our offering to various aspects of nuclear power generation. Action Systems, Inc. had a hand in the startup or operations of over half of the nuclear power plants operating in the United States. The company also expanded internationally. As growth continued, Action Systems, Inc. grew to become an Inc. 500 company.
Unfortunately, no new nuclear power plants were started in the United States after the Three Mile Island accident. Dozens of plants under construction at the time were cancelled. By 1985, some momentum was beginning to build for the first time for renewal of growth in the industry. Then came another fateful day, April 26, 1986 – the Chernobyl nuclear power plant in Ukraine saw a steam explosion and melt down. 4,057 people died. Large areas of Ukraine, Russia, and Belarus were severally contaminated for a long time to come. Subsequently, a very large population has suffered from cancer. After Chernobyl, I declared that there will not be a new nuclear plant in the United States in my lifetime. So far, that predication has come true. As the focus has shifted to green energy over the last three years, the momentum to revive nuclear power again began to pick up steam. I was delighted that my prediction would turn out to be wrong.
Then came another fateful day – March 11, 2011, when the huge earthquake and tsunami damaged two reactors in Fukishima, Japan. It is now certain that my original prediction will be true. I will neither regurgitate information in the media on the nuclear situation in Japan nor express my expert opinions in this article. As bad as I feel about the devastation in Japan and the demise of my beloved industry, the point of this article is to help investors make money. Opportunities to generate huge profits abound. I do want to caution readers of this article to not make investments based on the sensational loose talk around the word "meltdown."
On the short side, i.e., profiting from stocks going down, the best time to enter a trade was on Friday, March 11 when I issued a short sell signal on an uranium miner before the explosion occurred at Daiichi nuclear power station, as described here. There will still be plenty of excellent of trading and investing opportunities both from the long and short sides in the coming weeks.
Readers may want to start their investment analysis based on the following table, which shows the cost of past nuclear accidents. The estimated cost shown for the Fukishima, Japan accident is based on preliminary research done at The Arora Report. As the cost estimates change, this will have a major impact on some of the stock prices.
Nine nuclear power plant accidents with more than US$300 million in property damage

Date

Location

Description

Cost
(millions)

December 7, 1975

Greifswald, East Germany

An electrician's error causes fire in the main trough that destroys control lines and five main coolant pumps.

US$443

February 22, 1977

Jaslovské Bohunice, Czechoslovakia

Severe corrosion of the reactor and release of radioactivity into the plant area, necessitating total decommission.

US$1,700

March 28, 1979

Middletown, Pennsylvania, US

Loss of coolant and partial core meltdown.

US$2,400

March 9, 1985

Athens, Alabama, US

Instrumentation systems malfunction during startup, which led to suspension of operations at all three Browns Ferry Units. Operations restarted in 1991 for unit 2, in 1995 for unit 3, and (after a $1.8 billion recommissioning operation) in 2007 for unit 3.

US$1,830

April 11, 1986

Plymouth, Massachusetts, US

Recurring equipment problems force emergency shutdown of Boston Edison's Pilgrim Nuclear Power Plant.

US$1,001

April 26, 1986

Chernobyl, near the town of Pripyat, Ukraine

Steam explosion and meltdown with 4,057 deaths necessitating the evacuation of 300,000 people from the most severely contaminated areas of Belarus, Russia, and Ukraine, and dispersing radioactive material across Europe.

US$6,700

March 31, 1987

Delta, Pennsylvania, US

Peach Bottom Units 2 and 3 shutdown due to cooling malfunctions and unexplained equipment problems.

US$400

September 2, 1996

Crystal River, Florida, US

Balance-of-plant equipment malfunction forces shutdown and extensive repairs at Crystal River Unit 3.

US$384

March 11, 2011

Fukishima, Japan

Earthquake followed by tsunami cause Fukushima I Nuclear Power Plant to lose ability to cool nuclear reactors. Explosion of the secondary containment wall occurs during live TV. 300,000 people were evacuated from the vicinity.

Rising, Estimate – US$25,000-50,000
The chart shows the historical and projected views of various fields for electricity generation. In the wake of the Japan nuclear accident, the projections shown in the chart will change.
click to enlarge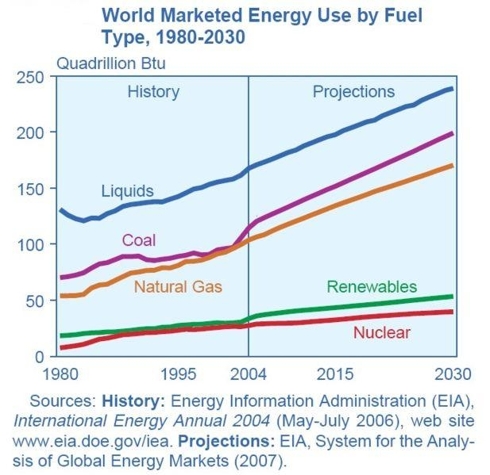 Click to enlarge
The composition of the change will represent major long-term investment opportunities in the days to come. We are predicting two major shifts.
Broadly speaking, investment opportunities on the short side can be divided into the following categories:
· Uranium stocks, such as Cameco (CCJ), Dennison (DNN), and Uranium Resources (URRE)
· Reactor manufacturers, such as General Electric (GE), Toshiba (OTCPK:TOSBF), and Areva (OTCPK:ARVCF)
· Nuclear power plant construction companies, such as Shaw (SHAW) and Flour (FLR)
· Nuclear utilities, such as Excelon (EXC), NRG (NRG), and Tokyo Electric Power (OTCPK:TKECF)
· ETFs such as Global Nuclear Energy Portfolio (PKN), iShares S&P Global Nuclear Energy Index Fund (NUCL), Market Vectors Nuclear Energy (NLR), Global X Uranium ETF (URA) , and WNA Global Nuclear Energy (NUKE-LSE).
Opportunities on the long side can be divided into the following categories:
· Natural gas producers, such as Chesapeake (CHK)
· Thermal coal producers, such as Peabody (BTU)
· Japanese construction companies such as Kajima Corp (1812:JP)
· Speculative stocks, such as Taylor Devices (TAYD), Qiagen (QGEN), Cleveland BioLabs, Inc. (CBLI), and Thermo Fisher (TMO)
The key to making money from the situation in Japan is to not rely on opinions of pundits who do not have deep knowledge and background, but instead to use a proven, hard-nosed and cold investment analysis methodology.
I shorted Cameco on March 11 at $37.85 as described here. I plan to enter several long and short positions in the coming days on the stocks mentioned above as confirmation is received by satisfaction of all six screens of the ZYX Change Method for each potential trade.
Disclosure: I am short CCJ.
Additional disclosure: I am short CCJ from $37.85. The position was entered on March 11, 2011. I intend to go long and short in the next 72 hours those stocks mentioned in the article that satisfy all six screens of the ZYX Change Method