I first heard about Rimage (RIMG) about a month ago from a recommendation by fellow Seeking Alpha contributor Henry Schacht, aka, The Lonely Value Investor. I keep a dialogue with Henry as I think he's a very talented money manager and someone to learn from.
After doing my due diligence, RIMG looked like a great value investment, so I took a position. RIMG, a small cap tech stock, had increasing earnings every quarter of 2010, and has a huge cash balance of over 80% of its market cap. Henry had mentioned he was considering trying to team up with other institutional holders and demanding that the RIMG management pay out a special dividend with their massive cash hoard. The way Henry said it, I thought that it was something that was just in the back of his mind. Little did I know, it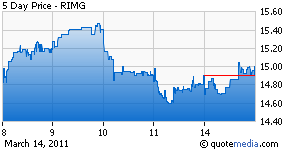 soon came to the front of his mind when he sent out a "call to action" letter to the RIMG board of directors suggesting that they give out a special dividend of $100M out of their $116.8M cash balance. The letter persuasively and sometimes forcefully describes to the board how it's in the best interests of the Rimage shareholders for management to avoid any big acquisitions, and to just stick to the core business and grow organically. Here is the letter.
My first reaction to this letter was: "Wow, if Henry can convince the RIMG board to give out $100 million, which is about $10 per share, that would be pretty sweet!" Currently the RIMG share price is $14.9, and a special dividend of that amount would no doubt cause the share price to soar 15% or more. RIMG insiders only own about 1% of the outstanding shares, so that makes it easily susceptible to investor activism.
I increased my position of RIMG, and asked Henry if he'd back me up if I contacted some of RIMG's major holders and alerted them to his call of action. He said "Go right ahead, we could use all the help we can get." Henry's Schacht Value Investors owns about 65,000 shares of RIMG, which is a little less than 1% of the total outstanding shares.
I started out by contacting Royce & Associates, they are RIMG's largest institutional investor with 14.65% ownership. Not only that, there's the Pennsylvania Mutual Fund which owns 6.75% and a couple more Royce funds that own even more shares to total close to 30% of the RIMG outstanding shares. If we could get Royce on our side, we'd be well on our way to having the majority vote for the special dividend. I contacted Royce and it led me to Jay Kaplan, one of Royce & Associates managers. After I spoke with Jay and explained the benefits of Schacht Value Investors plan, he said he couldn't give me his opinion and that Royce & Associates are generally passive investors. He didn't know about Mr. Schacht's call to action, and he asked me to email it to him, which I did.
Before I spoke to more major holders, I wanted to speak with the Rimage management. I wanted to ask them what they thought about Henry's plan, and what they thought about giving $100 million as a special dividend. So I left several messages with Rimage letting them know I was a shareholder and wanted to talk about the direction of the company, including messages with the CFO and CEO. In speaking to a secretary, I mentioned I also wanted to talk about Mr. Schacht's Call to Action letter.
Much to my delight, Rimage's CEO, Sherman Black, called me back later that day. He has a slight southern twang in his voice and radiates self assurance. My impression of Mr. Black after this phone call was that he is one ambitious, bad dude. Mr. Black was first hired by Rimage as President on April 2009, and later replaced the CEO on January 2010. Previously he worked for Seagate for 20 years. I told Mr. Black that I am a shareholder, I really like the company, and have some questions for him. I also let him know right away that I am a professional writer for Seeking Alpha, and am writing an article on Rimage. He asked me if I'm calling him as a reporter or as a shareholder. I told him that I'm calling as a shareholder, and that I had already written an article on Rimage. I told him after the interview that I would rewrite the article based on our conversation, and he is ok with that. Catching me off guard, he asked me right off the bat why I am a shareholder.
Without having a planned response, I decided to tell him what I liked about the company's core business. I figured this would lead up to my argument that giving shareholders a large special dividend would still leave the core business intact.
"Well," I said, "I really like your business. I think the mass information transfer onto CDs and DVDs is still a profitable business in the United States. I really like how you've been able to keep profits up, and also how you're expanding into other markets like China and India."
"It's a shrinking business", he said.
Wow! That was unexpected! Here we've spoke for only two or three minutes, and he candidly dogs his company's core business!
"Surely info transfer to CDs and DVDs isn't obsolete," I replied. "I go to a lot of seminars in New York City and they often give out info CDs in addition to a folder."
"It isn't obsolete, but it isn't growing. Only sticking with the core business of selling equipment for the info transfer to CDs and DVDS isn't going to work", he said. "Our machines get outdated and our customers who are still interested want to have the latest equipment. So we upgrade, and all the while we end up losing customers who don't need our services anymore."
"Do the research, you're a reporter. Look at how our revenues continually dropped from 2007 through 2009. The company brought me on to save it. Adam, this year, I managed to save the company's core business and book increasing profits. I rearranged the entire company, I've replaced pretty much the entire management. My team has worked hard, setting up offices in India and China, and got customers in the medical industry there. All this was no easy task, Adam. But the core business is not gonna last. We need to expand into virtual publishing. I speak with my customers and they want to be able to transfer high content information through the cloud. We already have the contacts that need new virtual publishing services and the potential business is there. But to do this successfully we have got to spend money."
"Rimage's former CEO, Bernard Aldrich, was all about building the balance sheet, and he was proud of what a good job he did there. He was very frugal, cut expenses, and was able to build up a lot of cash. What we should've done in 2008 is expand into broadband data transfer. Now that's my goal."
At some point in the conversation we started talking about Henry Schacht's call to action and his point of view. I also mentioned how if Rimage gives $100 million to shareholders, that will leave $16.8 million for acquisitions as well as using cash flow to expand organic growth. Sherman mentioned the dividend and share buybacks that his company is doing, and I was quick to point out that those can be paid out of quarterly cash flow. They are just token gifts to the shareholders, and really don't touch the cash balance.
At some point I mentioned how if the cash balance was deducted from the share price, Rimage's PE ratio would be less than 3.
"How much should the PE ratio be for a shrinking company?" he responded.
I thought about this, and thought it was probably around 6 or 7, you rarely see companies with PE of 3 or less. But he made a good point.
"Mr. Schacht's letter is an insult", said Sherman. "If we give out $100 million in cash, the company will continue shrinking. We won't have enough left to expand and do it right. Of course we had to hire an investment banker. It would be irresponsible for the management to think that we'd be skilled in all the aspects of valuing acquisition opportunities. And as for Henry saying that with an investment banker we're gonna be talked into taking on worthless acquisitions – give us some credit! We're not idiots here. Henry has been down this road before, and to be honest, I wish he'd sell his shares. I'm not against giving money back to the shareholders, Adam, but only after we've done our acquisitions. If we do some acquisitions and we're comfortable that it's all we're going to do, then maybe we will have a special dividend next year. But if the board ends up following Mr. Schacht's call of action, I'm gone. I'm used to managing billion dollar companies. I'm not gonna run a rinky dink operation."
"Shareholders are constantly asking us about the cash and to receive a dividend. All I ask is give us just one year! With our connections and how far we've grown, we have a chance to really make something happen and turn this shrinking company around."
I asked him a crucial question: "So is the company going to drop in value while you're trying to expand?"
He answered: "We have to spend to expand."
At length I finally told him I understand now. Before, I didn't quite get how ambitious the company actually is. He didn't sound nearly as fired up in the conference calls.
"No problem Adam. And take a look at our 8k I just put up. It describes our agenda." See it here.
I really enjoyed talking with Sherman, but it made me rethink my position in RIMG, and if I'm ready for it. After further due diligence, I decided to sell my RIMG shares. I have three reasons for this:
I actually believe in Sherman and think that he can turn Rimage into a successful virtual publishing business. But to be a RIMG shareholder one would have to hold long term for at least two years to let his expansion plans come to fruition. How many roadbumps will Rimage encounter on the way? Will their upcoming acquisition plans take awhile to become profitable? These are questions one must ask, and with my evolving as an investor/trader, I can't commit to tying my money up in RIMG, or any stock, for two years right now.

I believe that Mr. Schacht won't get enough support for his call of action, and Mr. Black will continue with his plan. Sherman Black was just recently hired last year and the board must have known his ambitious intentions. He has replaced all the major positions of the company with his own guys. The whole management is geared towards acquisitions into virtual publishing. As Henry and Sherman are on opposite wavelengths, I believe Henry will ultimately sell his RIMG holdings. His unloading of 65,000 shares probably won't affect the share price too much, however, if other funds are thinking the same way as Schacht Value Investors and are investing in Rimage partially because of the possibility of the cash hoard going directly to the shareholders, then they may dump their holdings as well. The question is how many major holders support Mr. Black's expansion ambitions?

Are they investing in Rimage because they believe it can transition successfully or have they been investors for years under the previous CEO whose whole goal was to build the balance sheet? If holders begin dumping their RIMG shares, I think it's possible RIMG could lose up to 10% of the share price.
Revenue will probably decrease in Q1 2011 because their major supply agreement for $9.9 million awarded in May 2010 only has $0.9 million of shipment left. $4 million of that agreement was shipped and recorded last quarter.





Disclosure: I have no positions in any stocks mentioned, and no plans to initiate any positions within the next 72 hours.