China showed no significant let up in its money mills, with new loans still cranking out over 500 billion yuan a month, and money supply growth still expanding. China announced new loans in February 2011 of 535.6 billion yuan (about $80 billion US), versus consensus 650 billion, January 1,040 billion, and February 2010 of 728.5 billion. It would be a stretch to say that lending has slowed down significantly, but it is plausible to link it to moves by the Chinese authorities to crack down on excessive lending as part of their inflation fight (with inflation still running at 4.9%).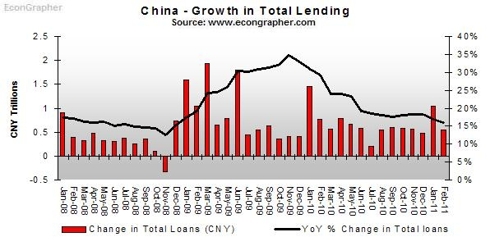 Over to money supply, the key stats for February: M2 +15.7% (consensus 17%, 17.2% in Jan), M1 +14.5% (12.6% in Jan), M0 10.3% (42.5% in Jan). So the main message is that the money supply is still expanding. There are the seasonal quirks to M0 (related to new year holiday period), but it's clear that the rate of expansion is slower now. Especially if you compare the rate of expansion to those levels seen in the past couple of years as the authorities sought to boost the economy. But now the economic problem is not growth, it's inflation.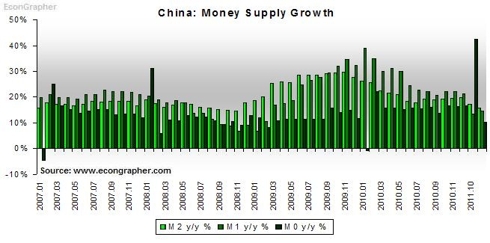 So the People's Bank of China will find some comfort in the numbers, but small comfort, as a couple of data points do not make a trend - especially during a seasonally quirky time of the year. But as China steps up its inflation fight, you might expect further slowing in the rate of expansion of new loans and money supply - so this will be a key measure to monitor in terms of what they're doing to control inflation from a monetary perspective. As with most commentators I wouldn't be surprised to see further adjustments to the monetary policy rate, or reserve requirements.

But remember, aside from money supply and new loans, which both have the potential to impact inflation, there are other factors at play. Including more structural trends such as rising wages, but also cyclical factors- namely rising commodity prices, especially food prices. It just highlights the challenge that China is facing, and inflation is the wild card for investors in China over the short-medium term.

Graph Data Source: People's Bank of China


Disclosure: I have no positions in any stocks mentioned, and no plans to initiate any positions within the next 72 hours.