Living in Southern California, it's difficult not to get incredibly anxious when considering what happened in Japan. I hang my hat in Santa Monica, arguably one of the best places to live in the world, but also the city that suffered the most damage, after Northridge, as a result of the 1994 Northridge earthquake. You get anxious, but you do your best to stay positive, prepare, and live. Living here makes the risk worthwhile -- the sun always shines, when it doesn't you can't beat our fog, and even the ugly guys and girls are good-looking.
I've gotten emotional as well in recent days watching the footage from Japan. It's tough not to. When Mother Nature unleashes such fury, it boggles my mind wondering why these people must suffer and not somebody else? Easy answers to such deep psychological quandaries simply do not exist. As with my anxiety, however, I pick up the pieces as best as I can and move on. I don't attach what happened in Japan to every facet of my being, from the existential to the mundane. Too bad the same cannot be said for stock market investors.
It never ceases to amaze me how investors allow their emotions to dictate their trading. I remember a saying from Little League: Play the ball, don't let the ball play you. The same can be said of investing. Play the stock, don't let the stock play you.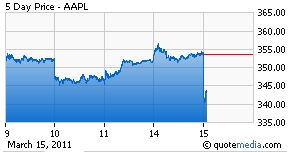 In a nutshell, Apple (NASDAQ:AAPL) killed it over the weekend. By all accounts, you could not find an iPad 2 anywhere shortly after sales kicked off on Friday afternoon. Analysts lined up on Monday to confirm just that and reiterate that America's Company essentially has no competition. For example, Deutsche Bank's Chris Whitmore notes that Apple has an "insurmountable lead" over its imitators. Whitmore thinks his earlier estimate of 30 million iPads sold in 2011 will prove conservative. Yes, conservative. Brian White of Ticonderoga Securities reaffirms that Apple might have sold 1 million iPad 2s this past weekend alone. And, remember, international sales don't even kick off for about two weeks. It's also important to recall (pretend I am yelling at you like Keith Olbermann used to do on MSNBC) that Apple has other products, with a white iPhone 4 on the way this spring and MAC sales outpacing the growth of other PCs and laptops.
All of this -- and more that I could not possibly have room for -- yet Apple only closed up $1.57 on Monday, backtracking from its intraday high of $356.48 to end at $353.56. Clearly, only one thing held AAPL back from hitting and passing its 52-week high of $364.90 -- emotion. For whatever reason, investors tend to ignore reality. I am not minimizing what happened in Japan, but markets and economies and strong, proud people have come back from tragedy time and time again. (I refuse to say much worse. It's all relative. Try telling the Japanese people that others have had it "much worse.").
Investors should view Apple as a safe haven among all of the uncertainty. Isn't America's Company what we search for as investors? A company that cannot stock enough of its products to satisfy demand. A company that commands longer lines than Springsteen. A company that routinely adds billions and billions of dollars to its bottom line without sacrificing margins. A company with a cash hoard larger than many countries. When the spaghetti hits the fan in Madison, Saudi Arabia, Egypt, Libya, and Japan, doesn't it make sense for investors to flock to the relative stability and hyper-growth Apple delivers with consistency? Regardless of these uncertainties and flat-out tragedies, consumers from around the world will continue to devour Apple products. An earthquake will stop few people from buying a new iPad or iPhone. In fact, it might encourage them even more, given the device's ability, in conjunction with interfaces such as Facebook and Twitter, to keep us connected no matter where we are.
As always, I reserve the right to be wrong. Maybe I'm the emotional one? I make an emotional case, no doubt, but I am not an emotional investor. If the numbers and results did not stare me right in the face, I would be the first to raise skepticism about Apple. I guess I could go all contrarian on myself and sell AAPL $360 calls because that's where I know the stock belongs tomorrow, yet the emotion of others might not let it get there. I can't do it, because I know the moment I do the market will come to its senses and send Apple soaring.
As an investor, however, I like to challenge my own convictions, particularly when they manifest themselves so strongly. What I could do, just in case I am a bit too bullish on Apple, is resign myself to the possibility that Apple might appreciate more modestly than I think it should and stay somewhat range-bound in the coming weeks. If I convince myself to go this route, I could open a bull call spread on Apple by purchasing an April $350 call and simultaneously selling an April $370 call.
As of Monday's close, the net debit on the spread comes to $9.30. By employing this strategy, I hedge against losing my entire investment had I simply purchased a call on its own. I make the most money on this play if Apple closes above $370 on or before the April 16th options expiration date. While I limit my upside if I am right, I protect myself a bit on the downside if I am wrong. If Apple plummets, the most I can lose is $930 per spread.
Disclosure: I am long AAPL.