By M.E. Garza
Friday's earthquake and tsunami led to problems at three nuclear power plants, one of which remained a serious concern Monday as crews continued a seesaw battle to control a damaged nuclear reactor complex.
Worldwide news outlets are reporting that an explosion in a building housing the No. 3 reactor at the Fukushima Daiichi plant injured 11 workers. Hours later, cooling problems at the plant's No. 2 reactor allowed nuclear fuel rods to overheat and generate radioactive steam that officials will have to vent into the atmosphere.
Crews thought they had the situation under control, but water levels dropped dangerously again Monday night when a buildup of steam prevented fresh seawater from entering the reactor chamber, Tokyo Electric Power Co. reported. Officials said they would be able to fix the problem.
A similar explosion over the weekend occurred in another reactor at the Fukushima plant.
Government officials have tried to calm the public, but some near the plant have already been exposed to high levels of radiation and nuclear watchdog groups are reportedly monitoring the tense situation after partial meltdowns are suspected to have occured at two reactors over the weekend. .
On Friday, as the news of the potential meltdowns began to spread, traders began to scoop up shares of Cleveland Biolabs (NASDAQ:CBLI), whose late-stage, FDA fast-tracked drug dandidate, CBLB502 was born for precisely this type of scenario.
It's a story that I know extremely well, since just a couple of weeks ago, during the BIO CEO conference in New York City, I spoke to CBLI's CEO, Michael Fonstein, specifically about the drug, on camera, as part of television special set to air nationally when additional photography and post-production are completed. While I am contractually prohibited from speaking or publishing too much about the project, I can tell you that television news magazine is described by producers as "60 minutes meets Wired Magazine" and will feature a 12-15 minute segment about the history and journey of the ground-breaking technology. CBLB502 was invented by Cleveland BioLabs's Chief Scientific Officer, Andrei Gudkov, Ph.D., D. Sci. while he was leading a broad research program focused on virology and cancer drug resistance in Moscow.
It was fascinating to learn that Gudkov's idea of creating a drug to protect humans from acute stresses such as radiation, or nuclear contamination exposure was born while he watched the infamous Chernobyl Nuclear Power Station Disaster unfold. The scientist was forever impacted by the deaths of the heroic firefighters who had climbed to the roof of the burning power plant to extinguish the fires. Fifty units responded to the fire and while they were successful in extinguishing all but the fire in the reactor, they were not wearing appropriate protective clothing.
"One by one they began to experience pressure in the chest, severe coughing, nausea, vomiting, and fainting," writes Grigori Medvedev in his book, "The Truth About Chernobyl." "At first they thought it was from the smoke and heat of the fire. They were unaware that they had been walking on radioactive material that was emitting 20,000 roentgens per hour. Doctors found the fire fighters extremely agitated and nervous- suffering from "nuclear frenzy of the nervous system." They had extinguished the fires, but they were burned, many fatally, by the invisible flame of gamma and neutron radiation"
Not long after the fall of the Soviet Union, Gudkov moved to the U.S. and reestablished his lab at the University of Illinois at Chicago where he became a tenured faculty member in the Department of Molecular Genetics. It was that initial impact that led Gudkov and the team at Cleveland Biolabs to be prepared for a disastrous moment precisely like the one we are seeing play out in Japan.
CBLI's unique approach of pharmacological modulation of apoptosis (programmed cell death) is ideally suited to address the need for effective radiation countermeasures and we would not be surprised to see the company take steps to get doses of their late-stage drug candidate to victims who may need it.
Whether or not a full meltdown can be averted is only part of the equation here. At best, full containment and clean-up efforts will take time and could see more workers and emergency personnel exposed to high levels of radiation. Sadly, the risk still exists for radiation to spread and affect hundreds or thousands in the areas around the power plants as well.
Speculators on Wall Street appeared to sense that too. On Friday we watched option calls of CBLI trade at 5x the average volume and prices jump from $6.80 to $7.19 before closing even higher- at $7.59- after hours. By mid-day Monday morning, shares have climbed as high as $8.46 on rising volume.
Incredibly, the short interest at CBLI has been growing since late August and is near the all-time high. If we are correct and the stock continues to push higher, the shorts will be squeezed and forced to cover.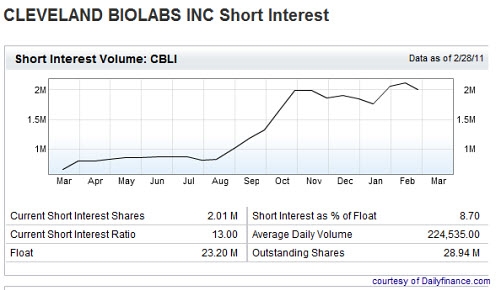 In fact, regardless of the situation in Japan, our subscribers and readers know that CBLI is due to receive tens of millions of dollars in government grants from BARDA at any time. That gives investors yet one more reason to buy-in at these levels as it eliminates even more risk to the downside. Shares will rise as soon as news of those incoming millions hit the market cap.
Again, there are only roughly 20 million shares are in the float and 8% of those are short. As we told our premium subscribers ahead of the big moves, we're looking for the squeeze pressure and covering to continue.