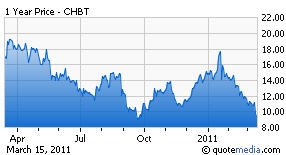 Following comprehensive analysis of public information and extensive on-the-ground due diligence, we believe China Biotics (OTC:CHBT) may have fabricated revenues and earnings reported to U.S. regulators.
We believe the claimed distribution channels for its retail products in the Shanghai market are wildly overstated, and that the products themselves are not popular enough to justify reported revenue figures.
The firm's Shanghai production facility appear not to be large enough to generate the implied output of retail products.
All bulk additives customers named by the company denied the existence of any business relationship.
China Biotics is engaged in the research, development, production, marketing and distribution of probiotics products. These contain live bacteria, which act as dietary supplements and food additives to improve intestinal health and digestion.
China Biotics' business consists of two segments: retail probiotics products and bulk probiotics additives. Retail business are mainly targeting at the end consumers from large supermarkets and convenience stores, while bulk business are focusing on institutional clients in the dairy and animal feed industries.

China Biotics' financials look great on the surface. Total sales revenue for F2010 (April 2009-March 2010) reached $81.4 million, up 50% year-on-year, while gross margin reached 70%. However, some investors are very negative about the company's business and its revenue accountability.
We have gone through China Biotics' historical financial reports and investigated its actual business, and agree that the company is too good to be true.
1) Distribution channels are wildly overstated and the products not popular enough to justify reported revenue figures:
China Biotics has two channels for selling its retail products: large distributors and its own retail outlets. However, we made direct phone calls to the sales staff at Shanghai Shining Biotechnology in Pudong, and were told that the company doesn't use any distributors. Rather, it approaches large supermarkets directly. We then visited 12 outlets of four supermarket chains (Lotus, Lianhua, Wal-Mart and Lian Hua Quik Convenience Store) at which Shining claims its products are available. Of the 12, only six stocked Shining products - and then only between two and four of the 11 products Shining claims are active in the market. At each supermarket, the individual responsible for functional healthcare foods said that products are purchases directly from Shining Biotechnology, not from a distributor.
On further questioning, the individuals responsible for functional healthcare foods all said that Shining is not a popular brand, and that they had never sold out of Shining products. Sales are, on average, one or two units a month at each outlet. Even if all 523 of the Shanghai outlets operated by these supermarket chains stocked Shining products, each one would need to sell several hundred units a month (based on average product price) to reach China Biotics' reported retail sales revenue.
2) The firm's Shanghai production facility isn't large enough to generate the implied output of retail products:
We went to the retail business production plant of China Biotics in Pudong, Shanghai, and concluded that the scale of output required to produce the 3 million-plus units implied by China Biotics' reported 2010 retail-business revenue is beyond the capacity of the facility.
Shining Biotechnology is located at No. 999 Ningqiao Road, Shanghai, which is a condensed zone packed with many different companies. Shanghai Shining Biotechnology's administrative offices and production facilities are all located on the fifth floor or a six-floor building shared with four other firms. We entered the premises and announced ourselves to the individual in charge. On learning the purpose of our visit, she refused to let us tour the facility and also refused to disclose her name and title. However, we checked out other companies in the same building and established that the size of the production facility could be no more than 1,980 square meters (2 x 22m x 45m). We asked the board secretary at Shanghai Jiaoda Onlly, which also produces probiotics products, about the size of facility typically required for large-scale production. He noted that Jiaoda Onlly's production facility is 20,000-30,000 sqm and its total revenue for April 2009-March 2010 came to $50 million - US$31 million lower than that of China Biotics, yet the facility is 12.5 times larger.
3) False bulk additives customers:
We contacted all the clients mentioned in documents disclosed by China Biotics; not one claimed to be in - or have been in - a business relationship with the company. This included the probiotics purchasing manager at Beijing DBN Technology, which develops and produces animal feed. Yet China Biotics claims in its 2010 annual report that Beijing DBN Technology accounted for 13% of sales revenue. This implies the company made purchases worth $10.6 million from China Biotics.
Our research team contacted the company repeatedly by phone and email, but received no response. After research team members went to inspect China Biotics' facilities, the investor relations department got in touch by phone. An executive refused to arrange an official tour of the facilities and declined to answer any questions about the company and its business.
Disclosure: China Economic Review has no interest or investments in the stocks it covers, and has strict rules for staff with regard to holdings and trading to ensure its impartiality.