Japan's nuclear nightmare will stall global growth, which begins with housing and banking in the United States. With the world's third largest economy slowed to a crawl, the impact will be felt around the globe. Here in the United States, I worry about the housing market and the banking system where problems have been kicked down the road since 2008. The scars of "The Great Credit Crunch" could be opened as the economic impact from Japan slows business activities here in the United States.
The NAHB Housing Market Index Rose By a Point to 17 - The N
ational Association of Home Builders Housing Market Index has been 20 or lower since September 2007, after being as high as 72 in June 2005, when I predicted that housing stocks were extremely overvalued and overbought and long overdue for a bear market.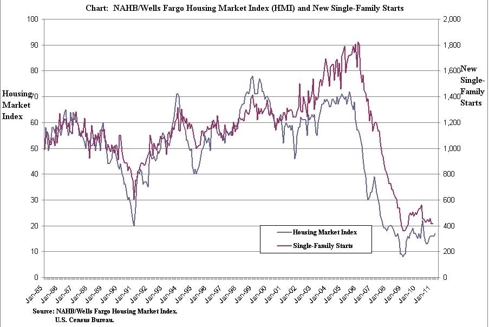 (Click charts to enlarge)
In March the HMI inched up to 17 from 16 where 50 is the neutral zone, so home builders have been in a depressed mood since May 2006, when this index first dropped below 50. Today home builders face the same obstacles talked about in the last several reports; competition from short sales and foreclosures, potential new home buyers' inability to sell existing homes, home appraisals falling below the costs of new construction, and tough lending standards for both home builders and home buyers.
Economies on Main Street USA depend upon the construction industry, and the housing market is a major component of this. Community banks are reluctant to lend to home builders, as they still have $321.6 billion in Construction & Development loans on the books, where collections are problematic.
The NAHB Tells Congress that the Housing Market Needs Access to Credit
The National Association of Home Builders tried to give a positive spin on the housing market anticipating an improving job market, but hedge that with the fact that builders cannot get construction credit from community banks. Construction & Development Loans ((C&D)) declined 9.2% or $32.5 billion sequentially in the fourth quarter and down 28.7% year-over-year. This is a slight acceleration of this component of Commercial Real Estate loans, which is a natural occurrence as the total is down to $321.6 billion.
Construction & Development Loans are down $307.4 billion since the end of 2007, or 48.9%. Back between the end of 1988 and the end of 1992 this category of Commercial Real Estate Loans declined 54.7%, and "The Great Credit Crunch" we are in today will likely exceed that percentage.
The NAHB is worried that this contraction in construction lending will force more small builders out of business resulting in more job losses industry wide and across the country. I have been saying that construction jobs are the most significant catalyst for job growth on Main Street USA. Keep in mind that housing represents about 15% of our nation's GDP. The NAHB told Congress that residential construction jobs declined by 1.4 million since April 2006.
The NAHB urged Congress to have a solution to the Fannie and Freddie dilemma as an affordable source of credit for housing, and to preserve the mortgage interest tax deduction, and the capital gain exclusion. Without these protections home prices are likely to continue to decline. The NAHB s worried about raising the down payment to 20%, but I agree with that restriction.
The NAHB is way too optimistic forecasting a modest gain in new home sales of 8% to 347,000 units in 2011 with 516,000 units in 2012.
Bank Failure Friday –
Two private banks were closed by the FDIC last Friday, and one had an extreme overexposure to Commercial Real Estate loans.
25 banks failed in 2008

140 banks failed in 2009 with a peak of 50 in the third quarter

157 banks failed in 2010

25 banks have failed year to date in 2011

347 banks have failed since the end of 2007

I still predict 500 to 800 bank failures in total by the end of 2012 into 2013.
The number of Underwater Mortgages Rose at the end of 2010 - According to CoreLogic approximately 11.1 million households or 23.1% of all mortgages were underwater in the fourth quarter of 2010. Another 2.4 million have only 5% of less equity. Underwater mortgages had declined in the prior three quarters because more homes came off the market because of foreclosures. The total negative equity in the mortgage market rose to $751 billion at the end of 2010, up from $744 in the third quarter. The number one cause of underwater mortgages is lower home values. Home prices hit the lowest point of the crisis in 11 of 20 cities tracked by Case-Shiller in December.
Foreclosure Related Notices Decline, but that is Misleading - Foreclosure filings fell to a 36-month low in February because lenders delayed activities against homeowners due to heightened scrutiny over the way banks are handling home repossessions. Information from RealtyTrac shows foreclosures down 14% in February to 255,101 homes, down 27% year over year.
Lenders repossessed 16% fewer homes in February, down 41% year over year to 64,643 units. Once the procedures are streamlined the pace will pick up as homeowners in default stay longer living in their homes. Meanwhile the backlog of potential foreclosure action and repossessions will grow.
The delay of foreclosure actions will likely delay a housing recovery until 2014 into 2015. Meanwhile home prices should continue to slump as around 5 million homeowners are at least two months behind on their mortgage payments.
Quite often an unexpected event from abroad will divert attention away from key market factors, which can expose old wounds.
Disclosure: I have no positions in any stocks mentioned, and no plans to initiate any positions within the next 72 hours.