Given the continuing financial instability in the eurozone, anemic recovery in the U.S., overheating economies in Asia and now the Japan disaster, the possibility of a market correction this year mirroring (or worse) the May 2010 correction is real. A quick look at the SPY since late February suggests that a correction might already have been underway, and a sharp shock is now about to be superimposed upon that.
The aim of this article is to identify the best alpha-generating portfolio in the May 2010 correction, identify the common feature and set up a watch list of stocks that might do well should another similar correction occur. It is safe to assume that there is no point in trying to analyze a sharp disaster induced fall.
As explained in a previous article, I have a ranking system that quickly identifies the top-ranking (TR) portfolio. For the period 3 May to 16 July 2010, the portfolio that gave the most consistent alpha was comprised of the following stocks: Compania Cervecerias Unidas (CCU), GEO Group (GEO), MetroPCS (PCS), Hatteras Financial (HTS), Arbor Realty (ABR), Sunoco (SUN), Dr. Reddy's (RDY), Barrick Gold (ABX), Landry's Restaurants (LNY), Advance Auto Parts (AAP).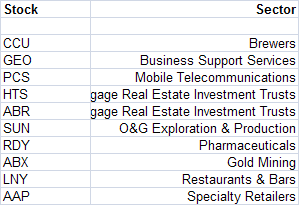 The alpha trajectory of this portfolio exhibited an acceptable level of consistency over the analysis period:
Click to enlarge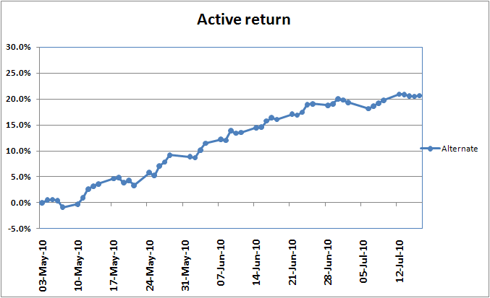 The Common Feature

I employ a series of filters to select stocks that might go on to produce consistent alpha over an extended period. One of my filters involves the netting out of the risk metric of a stock against the index. The portfolio identified above showed a common feature that I would normally avoid, and that is:
Prior to 3 May 2010, these stocks exhibited significant negative performance relative to the index, and ...

There is a lack of consistency, which implies increased trading frequency.
Click to enlarge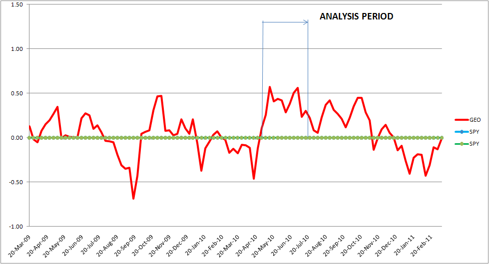 Nevertheless, I have looked for similar patterns in stocks prior to what looks like a market maximum around 18 February, and I have been pleasantly surprised by the result.
Portfolio Selection

One well performing portfolio found: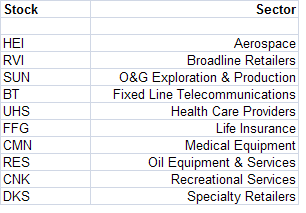 A review of the earnings profiles of these stocks shows positive earnings surprises and growth for HEICO (HEI), Universal Health (UHS), FBL Financial (FFG), Cantel Medical (CMN), RPC Inc. (RES), Cinemark (CNK), and Dick's Sporting Goods (DKS). On the other hand, the earnings profiles of Retail Ventures (RVI), SUN and BT (BT) are problematic.
The alpha trajectory for this portfolio is:
Click to enlarge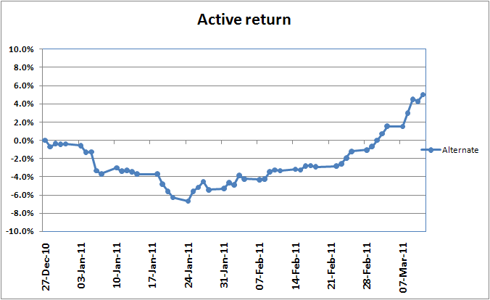 Why am I pleasantly surprised?
It appears to me that the stocks identified around Feb 2011 have a higher quality of earnings than those identified in May 2010, even though they fall outside of my usual selection parameters.
Balancing the Result

There are now two portfolios that are performing. One is the ongoing portfolio identified last week, and the other a portfolio based on outperforming in a correction.
The first is based on finding good stocks with consistent earnings, the second to exploit a possible trading pattern observed in past market corrections. At the moment, they are delivering similar results. The relative performance of each are shown below.
The portfolios to be monitored are:
Click to enlarge





Disclaimer: The content in this document is provided as general information only and should not be taken as investment advice. The contents in this explanatory paper shall not be construed as a recommendation to buy or sell any security or financial product, or to participate in any particular trading or investment strategy. The ideas expressed on this site are solely the opinions of the author. The author may or may not have a position in any security referenced herein. Any action that you take as a result of information or analysis on this site is ultimately your responsibility.

Disclosure: I have no positions in any stocks mentioned, and no plans to initiate any positions within the next 72 hours.