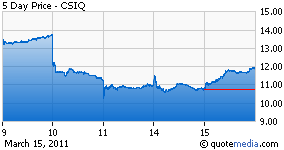 Canadian Solar (NASDAQ:CSIQ) gave investors yet another unpleasant surprise last week when it reported fourth quarter 2010 earnings. At face value, CSIQ's report was healthy as the company grew and made money. However, a number of comments management made did not align with comments made by direct industry peers, suggesting CSIQ was operating on weaker metrics. Coupled with a headline EPS miss, shares of the company's stock tumbled over 18%.
Compared to the company's past results, CSIQ posted incrementally better numbers. Revenues grew to 452.7m in the fourth quarter, from 377.2m in the prior quarter. Shipments also grew over 18% sequentially to 237mw. Canadian Solar increased earnings from 20.3m recorded in the third quarter to 25.5m in the fourth quarter. On a U.S. GAAP basis, earnings per share grew to .58 from the .47 EPS posted in the prior quarter.
However, Wall Street analysts on average had been expecting CSIQ to post .65 in EPS. Although there was more to the story than the .07 EPS headline miss, investors who became accustomed to blowout solar company earnings, such as those reported by Trina Solar (NYSE:TSL) and Suntech Power (NYSE:STP), decided to sell first and ask questions later. CSIQ's reported EPS did include 12.7m in charges related to an investment loss and a prepayment write down. Excluding these unexpected charges, Canadian Solar would have reported operational earnings of .87 per share. Although adjusted results would have beaten analyst consensus by a far margin, it missed my .96 EPS estimate due to lower than expected margins.
In Canadian Solar's third quarter 2010 earnings report, the company guided for gross margin to range between 17% and 18% for the following quarter. Although CSIQ still managed to meet its guidance range by reporting Q4 2010 gross margin of 17%, the company's cost structure should have allowed for much higher margins. To compound matters, CSIQ also guided gross margin to further fall on a sequential basis to 14-15%.
CSIQ is not a fully integrated solar pv company, but its moderate levels of integration should be high enough to generate gross margin around 20%, given the pricing spreads between the verticals they procure materials. Its main level of procurement are wafers which are supplied from longer term contracts. In fact, compared to many industry peers suffering from high wafer pricing on the spot market currently, CSIQ's wafer procurement costs could be classified as excellent. In large part this is due to its large wafer contract with GCL-Poly signed in 2008 and recently amended earlier this year.
In the Q4 2010 conference call, Canadian Solar stated its wafer purchasing costs were .84/watt in Q4 2010, below the .88/watt average selling price one of its suppliers Renesola (NYSE:SOL) reported in its latest earnings report and far below spot market pricing around 1.00/watt during the same period. CSIQ also guided Q1 2011 wafer procurement costs to be slightly below .80/watt, also below SOL's .85/watt guidance and once again well below spot market levels of approximately .95/watt today.
Although Canadian Solar does buy polysilicon at spot market rates, full vertical integration at that procurement level should still yield the lowest unit costs. Lastly the company does buy cells from long standing suppliers. Modules produced from purchased cells dilute the gross margin slightly, but the recent pricing spread between the cell and module vertical suggest overall dilution shouldn't reduce blended gross margin by more than 2-3% at CSIQ's procurement ratio.
What's behind Canadian Solar's lagging margins? Part of the reason was also experienced by the entire industry. The unexpected surge in global solar pv demand last year created pricing stress on all suppliers. Not only were the main polysilicon, wafer, cell and module verticals under supplied, but also all the consumables required to produce them. While many components are required in pv panel manufacturing such as glass, plastics, aluminum, copper, EVA, wire saws, crucibles, etc., CSIQ identified silver paste as one of the main reasons. Silver paste is used in cell manufacturing and can make up over half its processing costs. As with many other commodities, silver saw price appreciation last year, which caused silver paste to rise by 30% recently, according to CSIQ. Rising component costs may have caused Trina Solar to miss its overall .70/watt blended processing cost target by the end of 2010. In Trina Solar's Q3 2010 conference call, TSL's management was among the first to outline these "manufacturing supply chain price pressure(s)."
While component pricing pressure can affect everyone, peers have not noted cost pressures to the same magnitude CSIQ suggested. Silver paste for example, only accounts for about .03/watt in higher costs. Many tier one peers such as TSL, STP and Yingli Solar (NYSE:YGE) were all able to keep processing costs relatively stable. When analysts kept digging for another cause during Canadian Solar's conference call, CSIQ brought up "yield loss" as another reason why processing costs seemed high relative to the good pricing it has been able to procure for silicon materials. According to the company, about .09/watt of the non-silicon cost component is attributed to yield loss. The absolute amount of yield loss is extremely high relative to peers, which should cause investors to wonder if equipment malfunctions which occurred a year ago have come back to plague CSIQ. Even with yield loss factored in, there may still be other factors causing the company's overall processing costs to be higher than it suggests.
Nevertheless, overall metrics are still favorable enough for Canadian Solar to generate a fair amount of earnings even on these lower than projected margins. While CSIQ guided for flat sequential shipments for the first quarter of 2011, production allocated to systems which will not be recognized as revenue until later this year will dilute gross margins slightly. This is because CSIQ needs to procure more cells to meet the production requirements when accounting for both shipment guidance and systems allocation. Without the 12.7m in charges CSIQ booked in Q4 2010 repeating, overall net income shouldn't decline significantly on a U.S. GAAP basis despite lower levels of gross margin and thus lower gross profits. Once again as with all my estimates, all metrics are taken directly or derived from company statements and do not speculate beyond general guidance ranges given by the company.
CSIQ Q1 2011 Estimate:
Revenues: 433m
Shipments: 235mw module, 10mw system kits
Asps: 1.78/watt module
Unit Costs: 50 x 1.42 = 71m, 140 x 1.47 = 206m, 75 x 1.65 = 124m
Per Watt Unit Cost: (71 + 206 + 124) / 265mw = 1.51/watt
Gross Profit: 235mw x .27/watt = 63.5m module + 1.5m kit = 65m
Gross Margin: 65m / 433m = 15%
Operating Expenses: 26m
Net Interest Expense: 5m
Forex Loss: 4m
Tax: 7m
Net Income: 23m
Diluted Share Count: 44m
EPS: .52
As a last note, the EPS estimated above include foreign exchange translations. Since the quarter has not closed, and there are still over two weeks of currency trading left, forex translation estimated above is only an approximation based on currency rates today. CSIQ should post minor losses due to its over hedging against the euro which has appreciated by almost 4% so far this quarter. In addition, these estimates are operational earnings and do not include potential unexpected charges companies may record, such as the 12.7m in charges CSIQ booked in the prior quarter.
Disclosure: I am long TSL, YGE.
Additional disclosure: No position in CSIQ, STP, SOL, GCL (3800.hk).