As a kid, I loved McDonald's (MCD) hamburgers and french fries. As an adult, I appreciate how they have adapted their menu to offer a range of hot caffeinated beverages and healthier food choices when grabbing a quick snack. I also think they are extremely clever with their promotions, such as free coffee in the midst of Tim Horton's (THI) trying to generate excitement with 'rolling up the rim'. If you are not hooked on the taste of Starbucks (SBUX), you can save a few extra dollars to invest during their freebie promotions.
But are the publicly traded shares of McDonald's a good 'value meal' or are you paying top dollar for shrinking portions?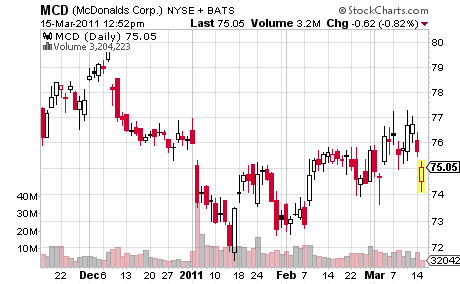 Prices Go Up, Up, Up
Over the past 5 years, McDonald's has risen 115%.
Over the past 2 years, 46.4%.
When looking at the past 12 months, MCD is only slightly above the S&P 500 market average with just under 15%.
Momentum is definitely slowing on this burger giant. Does this mean that McDonald's is a poor stock to own and we should head down to Wendy's (WEN) or A&W (YUM)? Don't be too quick to pass by the Hamburglar just yet until we have looked at the fundamentals.
Future Growth?
Analysts expect future earnings growth to be in the vicinity of 10% per year. The compounding annual growth rate on book value per share over the past 9 years has been 7.23%. I prefer to use book value as a valuation tool over earnings as a sustainable growth level of share price.
We can add an annual dividend yield of roughly 3% to forecast a 10% portfolio appreciation if factoring in both capital gains and dividends. While this may seem like a decent return, how are prices currently valued in relation to historic valuations?
Analyzing the Price Multiples
McDonald's has been pulling away from its historic price to book ratios for some time now.
| | |
| --- | --- |
| | Avg. Price/ Book |
| 10-Dec | 5.53 |
| 9-Dec | 4.79 |
| 8-Dec | 5.18 |
| 7-Dec | 4.49 |
| 6-Dec | 3.45 |
| 5-Dec | 2.81 |
| 4-Dec | 2.87 |
| 3-Dec | 2.62 |
| 2-Dec | 1.98 |
The 10 year average price to book ratio (I have only listed 9 years here) is 3.7. While McDonald's may very well keep rising to higher and higher price multiples, I feel this is unlikely. Either the price will need to slow in relation to intrinsic growth, or prices will need to pull back closer to historical averages.
In our 'oh oh, investors are pushing down the stock valuation' scenario, we will assume that it will take McDonald's three years to revert back to its historical P/B average. If McDonald's can grow its book value at 7.23% per year but the price to book ratio reverts to its average, we are left with a share price of $63.38. While the 3% annual dividends will help offset the 5.5% compounded annual price loss, you have invested money in a stock that merely sat on your investment. Of course, if this process took place over 10 years instead of 3, you could still have good compounding growth plus dividends, just less than 10% per year.
Some might point to price to earnings ratios as being slightly below historical averages, but they are completely in-line with industry averages. When you look over the past decade, with only a couple of exceptions, the average P/E ratio of MCD is below that of the industry group. So comparatively, the P/E ratios are within normal ranges and slightly on the high side.
Even if you look at price to sales ratios, MCD is quickly becoming overvalued. That being said, if McDonald's can give a few revenue and earnings surprises while having a low payout ratio, they could boost book value on the back of increased sales growth to play catch-up. Of course, share prices would need to rise slowly so fundamental ratios could achieve equilibrium again. But wishing on maybe is not a game investors should play.
The Bottom Line
Do I like McDonald's as a business? Yes. Do I approve of their marketing campaigns and changes to menu? Absolutely. Do I feel that shareholders are pricing this fairly? Perhaps, but I think the upside is lukewarm while a temporary downside reset is a real possibility. The bottom line? I'm lovin' the stock, just not at the price-tag investors have it at. (If you prefer to go ultra-defensive in this market, consider these 6 stalwart stock picks.)