Since a natural disaster and nuclear spillover in Japan shocked the world last week, mayhem has continued there both physically and financially. While the sad situation continues and hopefully begins to turn around, worldwide financial implications are as hotly debated a topic as any in the media today. For example: Is the Nikkei Index oversold temporarily or in a bear market to oblivion? Will commodities rally as Japan rebuilds or resume a downward slide that began in February? What will the BOJ's actions, among other things, do to the Yen?
Those are all tough questions, at least much tougher than this one: What will happen in the coming months, and possibly beyond, to travel and tourism in East Asia? I say East Asia because every traveler will interpret the situation differently. Some may simply avoid areas authorities exclude them from visiting while others may nix much anticipated ventures to South Korea, Eastern China, Taiwan or even Eastern Russia. I know I'm not alone in questioning MIT professors and Japanese officials alike when they insist an extremely low likelihood of radiation "going international".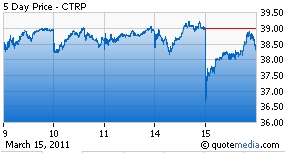 One stock I was surprised to see rebound fiercely Tuesday, even briefly into the green, after Japanese equities dropped as much as 15% overnight and Chinese eqities sold off for the fourth straight session, is CTRP. China's leading online travel agent has been tightly rangebound throughout March, shunning any brief action outside the $38-$39 range. Tuesday, March 15 saw volume pick up for the first time in weeks as the stock opened under $37 then rallied to almost $39 before selling off a bit at the close. It seems shorts had a hard time covering cheap or dip buyers saw opportunity and ran with it, or both. Given declining institutional ownership and heavy short interest, the former seems most likely.
Unlike many leading stocks that have pulled back from multiyear highs in recent sessions, CTRP hit $52 last November and has hardly traded above $45 thus far in 2011. Short interest in the stock has been around 8 million shares since late 2010 versus merely 2 million at the beginning of 2010, when I first voiced fundamental concerns about the company.
In my opinion, this is a severely overpriced stock that has used every trick up its sleeve and is now undergoing a controlled demolition. Specifically, shorts seem to be exhausting dip buyers in this "value trap range," 25% off highs briefly reached in late 2010. The stock failed to break out during market rallies in recent months and has held up on low volume during recent market sell offs. To me, this action is all highly suggestive of buyers getting exhausted in a value trap before the stock really gets a taste of gravity.
Disclosure: I am short CTRP.