In an earlier article, I warned that Master Limited Partnerships are subject to nasty, flash-crash type corrections. We've seen a little of this over the last week.The fraction of MLP shares (units) that are regularly traded and the volume are tiny in relation to the companies' market capitalizations. So a single large seller can move the market dramatically.

I felt that MLPs were fully-valued when I wrote the article. But things can change quickly with MLPs. For example, Enterprise Products (NYSE:EPD) was no spectacular deal at $44. However, for a little while yesterday morning, it was available for the blue-light special price of $27.85.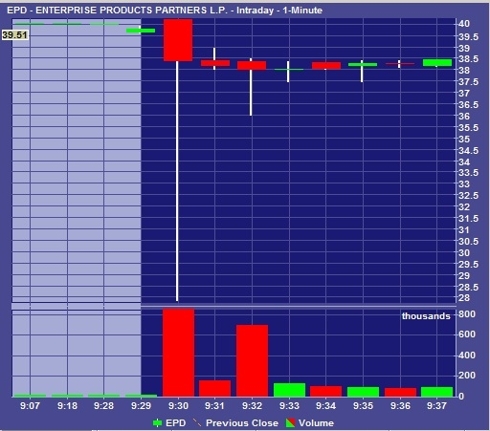 Thousands of shares traded below $30 and tens of thousands below $35. Of course, some of this can be attributed to the roller coaster market on the Ides of March. But this pattern has repeated itself with other MLPs on other days. For example here is Genesis Energy, L.P. on March 11.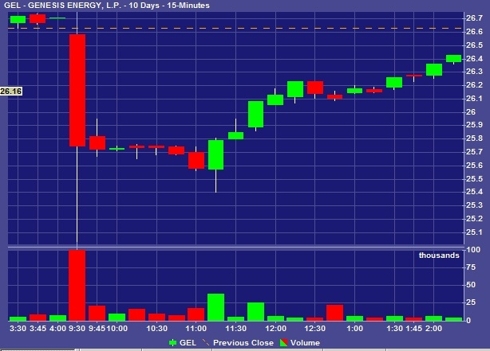 In this case, a seller dumped an entire day's volume in 5 minutes. A few buyers got a great deal.

To capitalize on this sort of action, I preset 'stink bids' (bids that are vastly below the current price) for a number of MLPs. Stink bids are normally associated with volatile, illiiquid and flighty stocks. The MLP sector is the only sector I know of where one can often pick up very solid companies with stink bids.

Disclosure: I am long EPD.
Disclaimer: I am not a Registered Investment Advisor and do not provide investment advice. If you trade based on something I write, you do it at your own peril.