Owner Earnings, which is the formula that Warren Buffett disclosed to the world in 1986 makes up a large part of my own work as an Analyst and is basically: cash flow from operations – capital expenditures. I have done a 60 year backtest on the DJIA 30 from 1950-2009 using that formula. You can download the results for free by clicking on the picture of the bull to the left of this article, under my profile. My Mycroft Research System, which I use exclusively to pick stocks for my clients as well as write articles here on Seeking Alpha, uses Mr. Buffett's formula as its foundation. Having said that, I thought I would run Mr. Buffett's latest purchase of Lubrizol (LZ), which he made on behalf of Berkshire Hathaway (NYSE:BRK.A), to see if my Mycroft Research System would have come to the same conclusion.
The main thrust of this analysis is concentrated in three parts. The first two parts are based on owner earnings (future and historical) and the third is based on historical price action as a gauge of investor sentiment.
Before we get to the analysis let me give those new to my Mycroft Research (MR) System some links to show you how it all works.
The three methods used in this analysis are:
Price to Owners Earnings (OE) = Future analysis
Cumulative Owners Earnings (COE) = Historical analysis of owners earnings
Statistical Indicator Analysis (SIA) = Historical price action
Analysis of Lubrizol (LZ)
The Lubrizol Corporation is a provider of specialty chemicals for the transportation, industrial and consumer markets. These products include additives for engine oils and other transportation-related fluids, additives for industrial lubricants and additives for gasoline and diesel fuel. In addition, Lubrizol makes ingredients and additives for personal care products and pharmaceuticals; specialty materials, including plastics technology; and coatings in the form of specialty resins and additives.

With this purchase Mr. Buffett definitely allowed Berkshire Hathaway to diversify even more by becoming a major force in the specialty chemicals business and it's interesting that he chose a company that that provides ingredients for the pharmaceutical industry. My system looks for oversold companies to purchase and it is telling me to invest in pharmaceuticals these days, such as Merck (NYSE:MRK), Bristol Myers Squibb (NYSE:BMY), Pfizer (NYSE:PFE) and Eli Lilly (NYSE:LLY), so I was pleased that Mr. Buffett did not shy away from Lubrizol because of this division.
The following is a table containing Lubrizol's historical Owner Earnings Data:
[click to enlarge]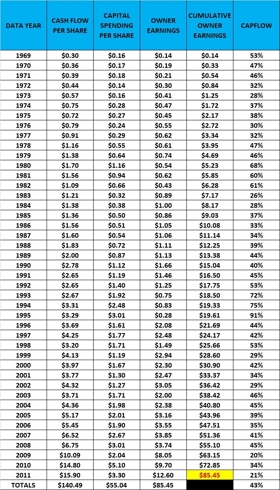 Click to enlarge
As you can see from the table above that over the last 42 years, Lubrizol has never had a year where they had negative owner earnings. Not only that but the current management is expected to come in with a CapFlow in 2011 of 21%, which is amazing. These are some of the best results of any company in the Chemical Industry and the results clearly show why Mr. Buffett was interested enough to buy out the whole company. Here are some long term charts of the company's CapFlow and Cumulative Owner Earnings (COE):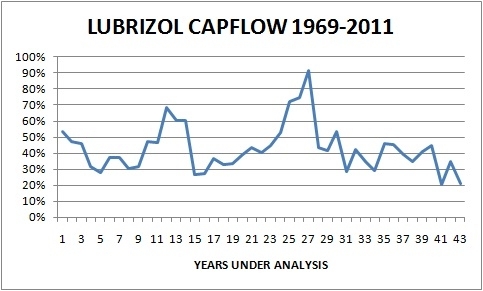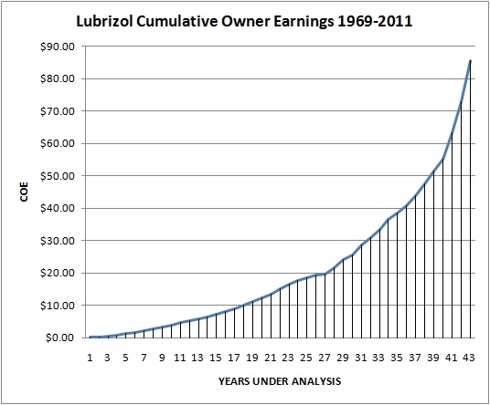 Click to enlarge

Now that we have gotten the Owner Earnings part of the research done, let's see if Investor Sentiment played any part in Mr. Buffett's decision to buy Lubrizol using our Statistical Indicator Analysis (SIA) charts.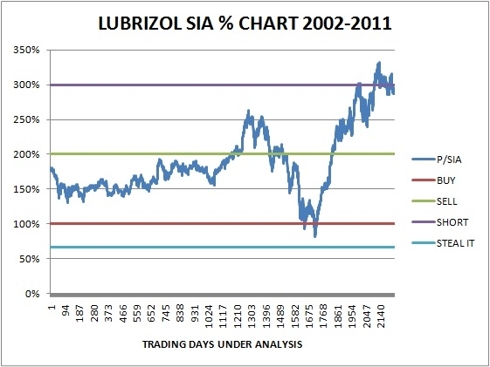 Click to enlarge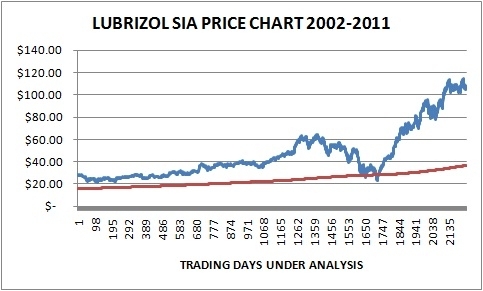 On March 3, 2009 Lubrizol was trading for $22.92 (trading day #1720) or about 1/6th of the $135 he offered. So had Mr. Buffett used SIA in his work he would have saved himself a ton of money.
Regardless of that fact, let's now look at what my research system would have advised an investor to do on the trading day before the announcement, when the stock was trading at $105.44.



Click to enlarge
As you can, see we missed coming in at the buy price by 1.6%, but the stock was trending down the week prior and had Mr. Buffett waited a few more days we would have had a buy signal for purchase at the same time that he would have, which obviously gives my Mycroft Research another proof, as it came in within 1.6% of the price the day prior to Mr. Buffett's announcement. Did Mr. Buffett overpay for Lubrizol? No, as my sell price is the price that a private investor would come in and pay for the whole company and as you can see he got it at a large discount from that price of $207.41.
In closing it is quite obvious that Mr. Buffett cares very little for Investor Sentiment in his work for if he had incorporated my SIA into his analysis he would have seen this on March 3, 2009:



Click to enlarge
This clearly shows that Investor Sentiment should be included in everyone's analysis, for if Mr. Buffett had included it at the time he would have been able to "Steal It". I used the Value Line sheet from December 12, 2008 in my 2009 analysis and that would have been the same one that Mr. Buffett would have seen at the time. There is zero emotion in the analysis and these are facts based solely on the numbers at the time. Obviously I am not taking into consideration the carnage that was occurring in the markets at the time and that maybe because of his heavy investments in company's such as Goldman Sachs (NYSE:GS), he may not have had any powder left in his gun to make such an investment, but I just found it interesting that my Mycroft Research System came up with such results.
Disclosure: I am long MRK, LLY, PFE, BMY. No position in BRK, GS, LZ,