The behavior of Treasuries is an area of special interest in light of the Fed's second round of quantitative easing, which was formally announced on November 3. The first chart shows the percent change for a basket of eight Treasuries since November 4. Yields have risen dramatically since then, although we've seen some reversal over the past three weeks punctuated with volatility over the past few days. The turmoil in North Africa and the Middle East together with the rise in gas prices have been key drivers of late. The crisis in Japan may also be a near-term influence on yields.
[Click all to enlarge]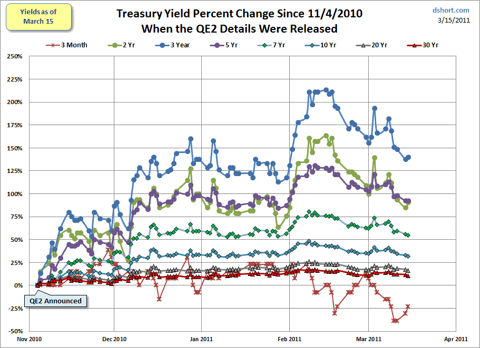 The next chart shows the daily performance of several Treasuries and the Fed Funds Rate (FFR) since 2007. The source for the yields is the
Daily Treasury Yield Curve Rates
from the U.S. Department of the Treasury and the New York Fed's
website
for the FFR.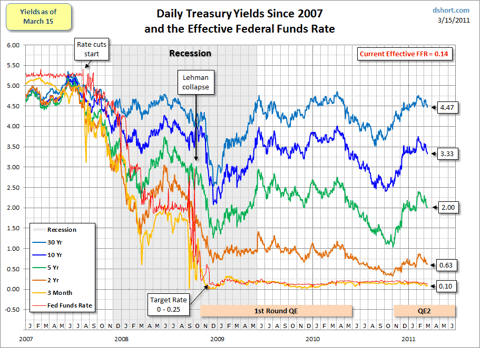 Here's a closer look at the past year with the 30-year fixed mortgage added to the mix (excluding points).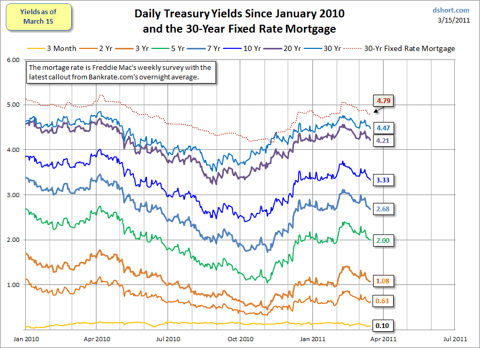 Here's a comparison of the yield curve at the time of the Fed's QE2 announcement and the latest curve.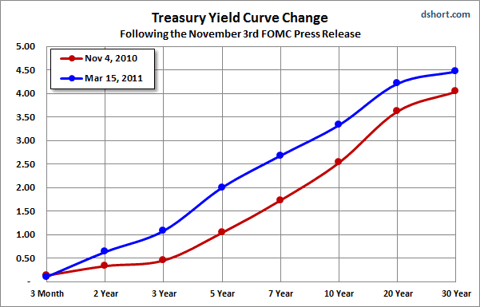 The yield spread had been widening in November and much of December, then contracted, and now shows renewed signs of widening. The next chart shows the 2- and 10-year yields with the 2-10 spread highlighted in the background.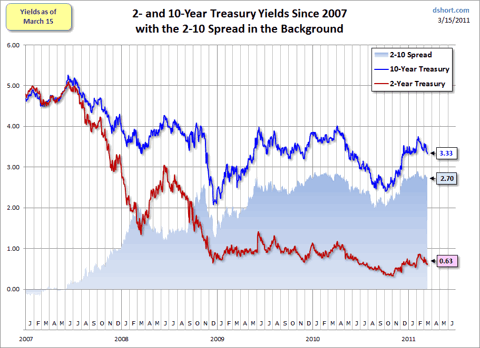 The final chart is an overlay of the CBOE Interest Rate 10-Year Treasury Note (TNX) and the S&P 500.