For the near-term, buying uranium miners might make sense. As we witnessed yesterday, the selling has already commenced, as the market's expectations for nuclear energy expansion has been reduced while the international community considers other energy alternatives.
However, the longer-term outlook for nuclear energy and its chief fuel source, uranium, is far less negative since there are currently 108 nuclear reactors under construction in countries such as China and India. Across the globe, the World Nuclear Association (WNA) predicts there will be another 331 nuclear reactors in operation within the next 15 years.
The WNA's chart below sums up why now is the time to get into uranium-related investments. The world will be using more uranium for years to come -- and many great investment opportunities appear in the midst of a supply crunch.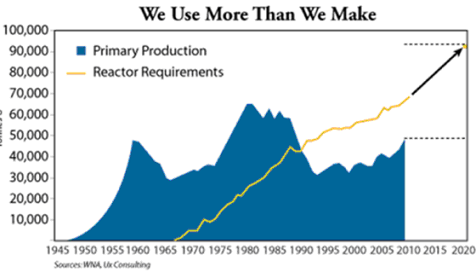 Take the aforementioned supply crunch and add the fact that Denison Mines (NYSEMKT:DNN) is now selling at a 22 percent discount, and the current sell-off offers an opportunity to average into one of the top small-cap uranium mining stocks at a very attractive price.
The Canadian-based Denison Mines has a market cap of $1.21 billion, with mining interests in both the United States and Canada. Denison just reported its 2010 results last Thursday: Revenue was $128.3 million, producing a net loss of $14.2 million or ($0.04) per share, with cash flow from operations of $35.6 million. The fourth-quarter loss was narrowed from $36.1 million, or ($0.11) a share, a year earlier.
For the technical analysis junkies out there, the decline pushed the stock well below its 50-day moving average of $3.62, but was unable to pierce and hold below its 200-day moving average of $2.34. In fact, the stock bounced 9% of the 200-day moving average.
Since many of the uranium mining exploration and production companies are not turning a profit, one way to value a company such as Denison is by the amount of the commodity it is producing.
Denison recently discovered a world class deposit of uranium at its Wheeler River site. The company owns 60% of the mine. Denison already produces 1.7 billion pounds, and with the recent discovery at Wheeler River the company expects to extract an estimated 10 million pounds of sustainable production by 2018.
Another positive for the company is the recent improvement in operations. Denison's operating cost at the end of 2009 was $66.14 per pound and by the end of 2010, it was decreased to $38.22. For the year of 2010, Denison earned $47.09/lb of uranium oxide and this should increase.
As uranium miners such as Denison take a drubbing today, buying shares amidst the onslaught of selling may not seem like the brightest decision you might make in your investment career. However, history shows time and time again that positioning yourself to be a provider of liquidity to panic sellers ultimately pays handsome rewards.
As Warren Buffett once stated, "We simply attempt to be fearful when others are greedy and to be greedy only when others are fearful."