See Part 1 here.
In honor of the NCAA March Madness tournament beginning later this week, The Matador Group's The Wild Hog and Jefferson Starship decided that some healthy competition was fitting.
We have developed a bracket of energy sector stocks that we feel have solid growth prospects over the long term. The next step was comparing each of these stocks, with the winners moving on along the bracket. We decided to focus on mineral, metal, and oil exploration and refining companies. We acknowledge that there are some major companies that have been left out (Halliburton (NYSE:HAL), Devon Energy (NYSE:DVN), etc.) and apologize for this. The first round results are posted below. We will continue our analysis in the days to come, but any feedback regarding the companies in the second round match-up would certainly be welcome.

[Click to enlarge]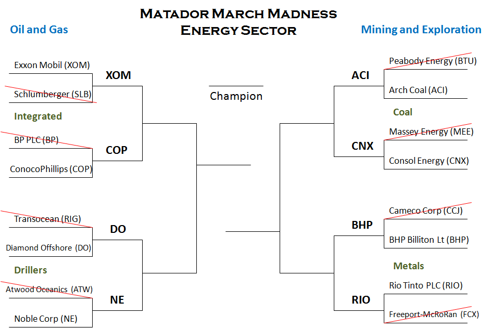 Unlike the mining and exploration half of the bracket, the oil and gas side deals with companies with a longer history of stable success. They are not as speculative and will be evaluated based on their value and growth prospects, as well as their ability to reward shareholders with increasing dividends.
ExxonMobil (NYSE:XOM) v Schlumberger (NYSE:SLB):
Our first match-up features two giants of the industry. In terms of market cap, Exxon is the largest company in the entire market, much less the energy sector, at $403 billion. Schlumberger is no dwarf at $115.4 billion. Both have been on significant runs since September, in line with the cost of crude oil. XOM has appreciated from $60 to the mid-$80s, before the earthquake in Japan settled it down to $81. Despite this 30% gain, it still yields 2.1% with a dividend that has been increasing annually for 27 years (it's been paying since 1970 but it had some issues with the oil crisis and Tehran).
SLB's run is even more impressive, going from $50 to the mid-$90s before falling to $84. This has knocked its yield down from 2% to 1.2% and has also inflated its P/E to 25 as compared to XOM's 13, which is still high from a historical perspective.
These are two very strong companies that will be here for a long time, so it comes down to investor preference as to which you feel is the better play for your portfolio. XOM offers safety, in that its earnings growth is not going to be as substantial as SLB's ... but it will increase, as will its dividend. With that being said, the analysts think that SLB's earnings could more than double by 2013. This partly explains its higher P/E so the price would not gain proportionally unless these expected earnings keep up with these levels.
Personally, in a market that could collapse at any moment, I'm sticking with XOM because of its global dominance.
BP v ConocoPhillips (NYSE:COP):
For the last year it has been impossible to discuss oil without mentioning the Gulf, and it will once again arise in the next match-up. Twelve months ago, Barack Obama was beginning to sound like Sarah Palin and her "Drill, baby, drill." Shortly thereafter, on April 20, the BP oil spill occurred and sent shockwaves through the industry. That was followed by an offshore drilling moratorium and a flash crash to boot.
This had little to do with ConocoPhillips, but its share price did fall 17% from May 1 before starting its current climb in September. COP engages in exploration, production, and refining, operates gas stations, and has its foot in many other doors. It is a beast in the industry and the clear-cut winner here. Its earnings have yet to recover to pre-recession levels, but have been improving over the last two years.
It could be one of the "cheapest" stocks in this bracket with a P/E under 10, and also offers a yield of 3.5%. This dividend has been increasing since 1986 and right now its payout ratio is only 28%. COP is also sitting on top of a lot of cash. At the end of the year, it had $10.5 billion in cash, as opposed to the previous year where there was only $500 million. This is a bullish signal in my opinion.
BP is a completely different story. Its P/E is even lower than COP's, in the 6's, but there is still far too much uncertainty here to consider buying. In 2010 it operated at a loss while still covering liabilities from the spill, and these liabilities will continue to flow in. The lawsuit after the Exxon Valdez explosion was not settled for nearly two decades and included $5 billion in punitive damages. BP could be on the hook for a while and should be reserved for the risk favoring investor.
COP is the easy pick here to move on and battle XOM.
Transocean (NYSE:RIG) v Diamond Offshore (NYSE:DO):

Moving on to the offshore drillers portion, we see the same story that afflicted BP. Transocean owned the rig that BP was operating and had to deal with substantial media hype. The moratorium killed the sector as these companies were told that they would not be able to obtain permits off American coasts for the indefinite future. Their day-rates also experienced a loss, as operators were unwilling to pay as much once they knew the risks involved and had to devote more funds towards insurance. It was a trying time for investors like myself.
Again, we are seeing a match-up of two very formidable companies. RIG is much larger, with around 150 rigs all over the world. It is heavily invested in West Africa and had 14 rigs in the Gulf of Mexico. DO has a much smaller fleet, with footholds in Australia, Brazil, and the Gulf. The reason I'm going with DO here is that it has adapted well to the moratorium by moving its rigs and initiating construction on two new drillships in South Korea.
From a stock perspective, RIG has rebounded off its lows and its earnings outlook over the next few years does not forecast much growth. Its P/E, 26, is too high to justify such marginal growth.
DO is slightly more volatile. It fell to a bottom around $60 and has been holding above $70 recently. Its earnings forecast is also bleak, and is reflected in its P/E of 10. What DO does do is pay a special dividend, bringing its yield to roughly 4.6%, though this is subject to change at a minute's notice.
I will probably catch plenty of flack here, but DO moves on.
Atwood Oceanics (NYSE:ATW) v Noble (NYSE:NE):
Sort of a mismatch here in the drillers bracket. Noble is much larger than Atwood, with a market cap four times the size. And like the entire sector, there is limited earnings growth over the short term. ATW has less than 12 rigs in its fleet; a full write-up of the company can be found here. Its fleet is strategically positioned all over the world and is not heavily invested in any one area. But with such a small fleet size, a problem at one rig will knock the stock price substantially.
Noble, on the other hand, has a fleet that is five times the size. It was highly exposed in the Gulf but is well-positioned in other parts of Mexico, as well as the Middle East. NE's larger fleet size gives it the nod here simply because it makes it more risk-averse.
Pricewise, both companies have been on magnificent runs, each over 50%. This would make investing in either right now sort of silly, but five years from now the landscape of offshore drilling could be completely different, especially considering the natural disasters the world has seen in the last three years.
Another name that should be mentioned here is Hercules Offshore (NASDAQ:HERO), which was too small a company to make the list. It owns shallow-water rigs and has nearly tripled in price over the last six months because the moratorium was on deepwater.
With that said, NE moves on to challenge DO.
We hope that this exercise was somewhat entertaining and thought-provoking. We would appreciate any feedback you may have in helping determine a winner.
Disclosure: I am long DO.