By Chris McKhann
When it comes to complex relationships, short option trades on short leveraged funds are near the top of the list for retail traders -- and that precisely is what we see today in the ProShares UltraShort 20+ Year Treasury Fund (NYSEARCA:TBT).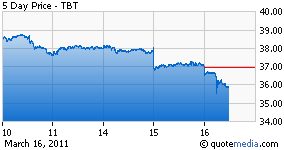 The TBT trades at $36.11, down 2.2 percent on the day. The exchange-traded fund has been falling with the S&P 500 over the last month, and the 10-day correlation between the two has pushed up to 0.95. TBT shares got down to $35.26 earlier in the session, their lowest since Nov. 30.

More than 11,400 April 37 calls have changed hands today, three times the previous open interest. The biggest print of 8,997 was sold for $0.77, and most of the rest of the volume traded in the previous minute for $0.75.

There are a number of possible strategies behind this activity. This options weren't traded against any stock that we see, so it could be naked call selling as a bet that shares will remain below $37 through expiration. This could also be a bet on Treasuries, or a correlation play on the S&P 500. And it is entirely possible that these calls were traded against existing shares of the TBT or other positions in the TBT, TLT, or SPY, just to name a few.