Demand for data centers is booming worldwide simply because our love for the internet keeps booming. Industry giant Cisco Systems (NASDAQ:CSCO) predicts that internet traffic will triple by 2014 to 64 exabytes per month. (To put that in perspective, it only takes five exabytes to store every word ever spoken.)
Of course, before such a dramatic ramp-up can occur, we need the infrastructure to facilitate it.
Accordingly, Tier 1 Research expects that global data center demand should easily outstrip supply through 2014. The research firm estimates that data center demand should jump 13% each year. Meanwhile, supply should only increase by 6%.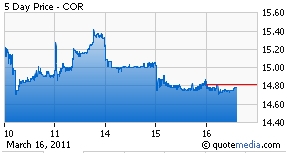 Such a supply and demand imbalance always leads to profits. It's basic economics. And that's where real estate investment trust, CoreSite Realty Corp. (NYSE:COR), comes in.
The No-Hassle Approach to Data Center Profits
Denver-based CoreSite owns and operates a portfolio of 11 data centers, offering over two million net rentable square feet. Its facilities are located in some of the largest and fastest-growing areas in terms of data center demand – Los Angeles, Chicago, New York City, San Francisco Bay and Northern Virginia.
Its business is strikingly simple. All it does is rent out data center space – from an entire building down to a single cage or cabinet. The benefits of companies outsourcing their data center needs to CoreSite are numerous. They include a quicker time to market, scalability, no need for financing and cost reduction, all thanks to economies of scale.
Based on CoreSite's growing customer list, which includes AT&T (NYSE:T), Microsoft (NASDAQ:MSFT), Google (NASDAQ:GOOG), Facebook and The Nasdaq OMX Group (among others), this is clearly a business model with significant merit and profit potential. Especially since CoreSite is uniquely positioned to capitalize on the substantial uptick in data center demand that Tier 1 Research is predicting.
Consider...
Based on its current real estate holdings, CoreSite can easily double its square footage that's available for rent.

It can expand quickly via acquisitions. The company grew from one data center when it started operations in 2000 to its current size of 11 facilities, most via acquisitions. Management is now both experienced and in a financial position to take advantage of irresistible opportunities.

The compelling industry growth trends – and supply constraints – also allow CoreSite to charge higher rent. In the last quarter alone, the company realized an 18.6% increase in rental rates on renewals.
Since CoreSite is structured as a REIT, it's required to pay out 90% of earnings to shareholders. That means as the company's data center footprint – and profits – grow, so should the dividend it pays to investors.
Speaking of the dividend, the company currently pays an annual dividend of $0.52 per share. That's equal to a respectable 3.5% yield. However, I expect the yield to increase significantly. I say that because industry peer, Digital Realty Trust (NYSE:DLR), boasts a similar growth strategy (via acquisitions). And since going public in 2004, it has roughly doubled its yield.
In my opinion, CoreSite holds equal promise. So a little patience here should be amply rewarded with a heftier dividend check. (Never a bad thing.)
Under the Radar and Undervalued
CoreSite only went public in September. To date, only two other data center REITs have gone public. So we're talking about an exclusive club of REITs that's garnering minimal mainstream coverage. Such ignorance bodes well for the capital appreciation potential here, too.
As institutional investors – and then the rest of the investment world – inevitably wake up to the growth in data centers, they should naturally be drawn to CoreSite.
Getting in ahead of that move and collecting dividends while we wait is an attractive proposition, no doubt. But the opportunity is even sweeter here. At current prices, CoreSite is trading at a discount to its IPO price of $16 per share.
It's rare to get an opportunity to buy into such a compelling growth story below the IPO price. So don't delay. Especially since the next dividend payment will be paid on April 15, 2011 to stockholders of record on March 31, 2011.
Disclosure: I have no positions in any stocks mentioned, and no plans to initiate any positions within the next 72 hours.