Market Vectors has an ETF (NLR) that tracks the main uranium/nuclear stocks around the world. As shown in the chart below, the ETF is down 16% so far this week.
[Click to enlarge]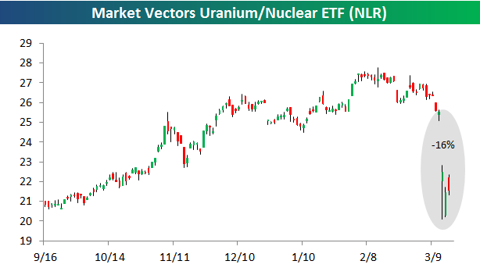 The holdings in NLR come from France, Canada, Japan, Australia, and the U.S. Below we highlight these holdings, and we include each stock's country of origin, weighting in the ETF, and performance over the last week.
The uranium exploration and mining companies have been the ones getting hit the hardest over the last week. Uranium Resources (URRE) here in the U.S. is down the most of all the ETF's holdings at -41.63%. Canada's Hathor Exploration (HTHXF.PK) is down the second most at -40.47%, followed closely by Uranium One (SXRZF.PK).
One company in the ETF is up over the last week, and would you believe it is a company from Japan? Kajima is a general contractor that builds commercial, residential, and institutional buildings with high-rise and earthquake-resistant construction technology, including nuclear power plants.