Winnebago Industries (NYSE:WGO) is a long term short candidate. The stock trades at 22x what we consider to be optimistic earnings estimates for August fiscal year end 2012.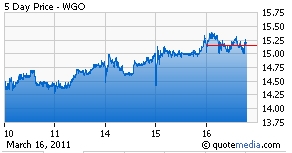 We feel there is tremendous risk owning Winnebago shares for the short-term and long-term. The company has market share over their competitors currently, but we suspect that to be more a function of there being less competition than in the past. Fleetwood has recently come out of bankruptcy and is gaining traction against Winnebago. The industry as a whole faces pressure for a number of reasons, one of which is higher commodity costs to build products. The industry as a whole faces a problem of financing their own inventory due to a number of banks cutting out that portion of their business.
One of the major factors a customer will be facing in the purchasing decision is gas prices. Customers also face pressure in getting financing on the RV. While more lenders have stepped up to the table, it is still far fewer than prior to 2008. During 2008, we were getting feedback that banks were not making loans on Fleetwood vehicles due to the company going into bankruptcy. This has since changed and banks are lending for Fleetwood vehicles. This move could potentially take market share from Winnebago over the intermediate term.
We feel that gas prices are going to play a significant role in the future for Winnebago and other RV manufacturers. The company's sales plunged to $211mm in 2009 and have since rebounded to $449mm for the year end August 2010. The sales and profitability are a far cry from where they were in 2006 and 2007 when industry shipments hit a high. With unemployment hovering at or around 9%, it's still a burden and makes it difficult for us to see a meaningful rebound in sales over the next two years.
The company has been facing a number of issues internally since 2008. While sales have recently picked up, margins are still very low due to concessions and the fact that the company is selling more tow behinds or Class C products as a percentage of revenue than prior years. During 2010, Freedom Roads LLC accounted for 15% of Winnebago's revenues. Freedom LLC is a privately held RV dealer that sold products in 32 dealer locations spread out through 20 states. The company does face potential repurchase liabilities in the future. The company enters into formal agreements with lending institutions in the event of a default by a retailer in its obligation to the lender, or repossession of a product by the lending institution at declining prices over a term which can last up to 18 months.
The difference between the gross repurchase price and the price at which the repurchased product can then be resold, which is typically at a discount to the gross repurchase price, represents a potential expense to the company. The maximum exposure under the repurchase agreements was approximately $155mm at August 2010. Prior to fiscal 2009, the company's loss associated with the repurchases was not material. The substantial decrease in retail demand for recreation vehicles and tightened credit standards by lenders resulted in a significant increase in defaults by dealers during Fiscal 2009. If the company is obligated to repurchase a larger number of motor homes in the future, it would increase their costs.
Retail registrations of recreational vehicles seemed to spike and peak in the June quarter at 1,388 but have fallen to 1,093 in the most recent quarter ended. Wholesale registrations also peaked in the same quarter at 1,366 and have fallen to 1,115. Total dealer inventory is creeping up over the past 4 quarters which could suggest that sell through is not as strong as the bulls on the industry believe.
It's difficult to quantify, but discussions we had at a recent trade show in the Dallas-Ft. Worth area indicated they don't want to be stuck with inventory but had to replenish the inventory with new products. A number of dealerships were stuck with used inventory which they felt had to be worked off. We feel that dealer replenishing is the majority of the spike in sales and shipments across the industry, but sales through to the consumer are still slow. Some dealers noted they are doing anything they can to move inventory, including discounting vehicles early and often.
Disclosure: I have no positions in any stocks mentioned, and no plans to initiate any positions within the next 72 hours.