The good news: VOIP is replacing TDM and that makes SBCs a must for carriers. Add in enterprises joining the party with Acme leading the way and you end up with a fundamental business model case that quite bullish.
Now the Bad News.....
Competition: Acme Packet (NASDAQ:APKT), sitting on 50% market share, has up until now pretty much owned the SBCs (session border controllers) market. Of course, once a market gets really hot, competitors start to pay more attention. More competition is not what you want to see when you are sitting on fat margin high market share player's stock. Not that Acme is not up to the challenge; they have consistently stayed a step ahead of the competition. However, some recent news points to a potential shift in the sbc playing field and in Acme's model.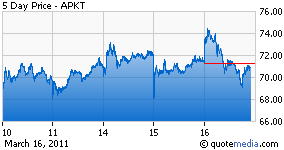 This month Alcatel Lucent (ALU) introduced its first stand alone SBC (the 5060 IBC-4). Now, this would normally be news in of itself since Alcatel Lucent has only offered SBC capabilities as part of other IP products, but it's even bigger news when you consider the reseller agreement that has existed between them and Acme Packet. In 2010, Alacatel Lucent accounted for 10% of Acme's business, just behind their largest customer, Verizon Business, which came in at 12%. So, what happens to this relationship? To quote Rich Crowe, Alcatel Lucent's Director of their Wireline and IMS business, "Our sales efforts will focus on our own product. ... We will OEM if a customer has a specific request." Not exactly what you want to hear out of a historically sizeable customer if you are long a 100 p/e stock.
But it's not like Acme is not prepared for this. They have been building out their own sales force to compete and their channel is increasingly shifting away from resellers. So, the good news is they are prepared. That's the good news. The bad news is they now have one of their biggest customers, which has a huge distribution channel and established relationships with every carrier on the planet, coming into their space. They now need to go out and hire an army just to defend their market leading position. Not what want to see if i am looking for no brainer meaningful EPS upside in the quarters ahead. Your SG&A will be going up, and your gross margins will likely come down as you are forced to compete on price with bigger players looking to establish market share in your market. And this is of course just Alcatel Lucent. The space is bound to attract the focus of other large players who have in the past viewed the market as too small for their undivided attention.
Noise- Equipment companies like Acme packet which are locked into an aggressive deployment cycle are vulnerable to noise. Inventory corrections, even if they are just one or two quarter hiccups, usually lead to share price reality checks. We saw this with Finisar (NASDAQ:FNSR) two weeks ago. The company went from giving a glowing investor presentation at the start of February to warning a few weeks later about a sudden and unexplainable (they always are) inventory overhang. Seems some customers were overordering and decided to slow things down a bit.
What happened to the stock? Try a 50% haircut in a few weeks. This type of action is par for the course when you are in a hot networking component or fiber name. Inevitably some unusually big customer takes a breather, and management is forced to come out and break the news. What happens next is always amusing. The market goes from extrapolating linear uninterrupted growth as far as the eye can see to absolute panic. The stock which was getting crazy upgrades and price target hikes ends up with a half dozen market performs. You can't really downgrade something you slapped a $60 target on yesterday to sell when it falls from $45 to $25 in one day, and severely reduced price targets. Some brave analysts will say buy as the noise/inventory correction won't last long, but the market pays no attention as the momentum has been broken. It's at this point that you are stuck actually having to buy and hold for the long haul to make the gains that were happening in a matter of weeks before the momentum was broken.
Insider Selling: They can't dump fast enough. When you are thinking about shorting or going long a name like this you want to see what the insiders are doing as it often helps gauge how likely they think a potential takeover might be. If they are not selling, i usually think twice about shorting a component player after such a run as that tells me there may be some chance they get swallowed up. In Acme Packets case, they are selling, and they are selling aggressively.
Valuation: 113x trailing and 70x forward. I think Cisco had the same multiple in 2000 at a $500 billion market cap. They grew EPS at CAGR of about 17%+ for the next decade and the shares still fell over 80%. Acme is working off of a much smaller base, but as always the odds are stacked against you when you reach these levels. Oh, you can forget margin of safety here!
Guidance: While still glowing there was a cause for some concern on the call. They are banking on a stronger second half. Normally that doesn't concern me, but when your an networking equipment vendor that has been seeing super strong order flow from a couple of customers (Verizon (NYSE:VZ) and Verizon) due to network infrastructure transition; I worry a bit more about guidance that is dependent on the 'usual' order cycle. Factor in the ramp up in hiring and you are looking at zero margin for error over the next couple of quarterly earnings reports. Again not where i want to be when a stock is up 300%+ in a year and no more than 10% of its all time high.
Conclusion: Acme packet is a great company in a hot and growing space, but the stock is in the midst of a standard equipment upgrade cycle overshoot move. You can't build 10 year DCF models for companies like this because they always experience significant cyclicality. But for some odd reason the sell side always takes a CAPEX splurge and assumes it will last forever, or more appropriately, until management declares otherwise. Every model assumes we are at the beginning of a spending spree that will last for years to come, that competition will not be a factor until it is, and that margins will hold up until they don't. I've seen this in everything from fiberoptics to FPD micro-controllers. Every time something gets hot we are in the 'first inning'. Sadly, that's almost never the case. I like the company, but i don't like the stock at these levels. In fact, I will be looking to short it. I think we will get a noisy quarter soon, competition is clearly ramping, and the need for a dedicated global army of salespeople will mitigate upside. I would however look at the name for a trade if it corrected at least 20% and ideally 30% from its peak. That would balance the risk reward for me. At current levels all I see is too much risk and very little reward.


Disclosure: I have no positions in any stocks mentioned, but may initiate a short position in APKT over the next 72 hours.