Earlier, we talked about the potential for an imminent shift in the markets, away from asset inflation and toward a deflationary spiral perhaps similar in some regards to the Q4 2008 collapse.

Wednesday has been a volatile day in the global markets; below is a snap shot of where current indices are for the day.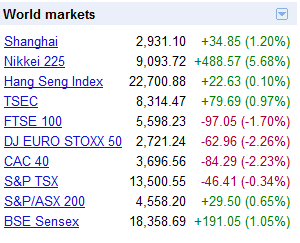 What I find most interesting is that the American and European stock indices are down for the day (indicated in red) while the Asian and Australian indices are up (indicated in green). The US dollar is rallying against most currencies, save the Yen which continues to appreciate as Japanese businesses bring capital home.

I do think this may be a trend worth watching -- to see if Asian/Australian equities rise relative to US equities. As central banks tighten and assets choose which side of the major trendlines they will be on in the weeks ahead, one chart that my be particularly worth watching is that of the Shanghai SE Composite Index. Below is the weekly chart; we see a wedge pattern forming since the start of 2009 that appears to be coming to a head in the months to come.

Ultimately, I expect Asian and Australian equities to fall, but less than their Western counterparts, at least until central banks intervene to avert a deflationary spiral, should one arise and should the central banks deem action necessary.

Disclosure: I have no positions in any stocks mentioned, and no plans to initiate any positions within the next 72 hours.