Irrespective of recent world events, on 28 February 2011 SuperGen (SUPG) reported a net positive 2010 Q4, including cash positive year-end results for the entire - quarter over quarter - fiscal year. That included "Dacogen (decitabine) for Injection royalty revenue was $52.5 million for 2010 compared to $41.2 million for 2009, an increase of approximately 27% from the prior year."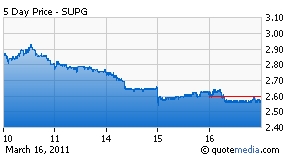 Yet, you would never know it if you tracked the share price. The stock that closed at $3.21/share on 1 February 2011 (a high not seen since last April 2010) has steadily declined to $2.56/share by 16 March 2011. But what's more noticeable is how the drop-off has steepened since the company reported.
So what's wrong? Or, is there anything wrong?
It certainly can't be SuperGen's cash and marketable securities. The cash-flush firm which ended 2009 with 100.8 million dollars, ended 2010 with 120.4 million dollars. And frankly, I'm still looking for another biotech going for $2.56/share that is sitting on that much cash reserves. This, by the way, is a company that reports zero long-term debt.
So what gives?
Well, here I sit scratching my chin stubble. I mean, how many biotechs do you know going for under $3/share that have zero long-term debt, a boatload of cash, are generating more revenue than expenses, and report a positive cash flow for year-end?
So pinch me. Have I just found the most under-rated biotech going for two bucks and change?
The interesting thing is, this is one of those classic examples where dollars and cents do not tell the whole story. For the new investor, or curious investor, this is where the water often gets murky. You find yourself wondering, why is a company with so many positives sitting below $3/share?
Well, whatever you do, don't worry about SuperGen's CEO James S.J. Manuso because his revised employment contract (.pdf) takes care of every detail, including if he is let go - "Unvoluntary Termination" - SuperGen will cover the dear man's hotel or apartment costs for up to six months including house-hunting travel expenses for the CEO's spouse. So don't worry, Manuso will most likely not find himself living on the street.
So why was SuperGen trading for $2.56/share at Wednesday's close?
In a word, it has to be SuperGen's "pipeline". For a company living off the royalties of Dacogen, I was stunned by its anemic pipeline. Actually, I'm still rubbing my eyes trying to finish this article. SuperGen's pipeline shows one drug, Amuvatinib, is in phase I; one other SGI-110 in preclinical; and two others in discovery that they identify as "Lead to Candidate" - fancy terminology for, 'We're trying to fill this pipeline in case we lose the CEO and his spouse has to go house-hunting." Now if SuperGen's pipeline isn't up-to-date, then shame on them, but I assume that it is. And what I see is - not much.
Honestly. Talk about disappointment.
Here I was getting excited about a biotech flowing in cash with zero debt only to learn its clinical future is about as risky as, dare I say it, a pink sheet stock. The fact is, I've been doing a lot of reading on this company and its CLIMB proprietary discovery program reminds me of a sliding board versus a ladder to opportunities. SuperGen's future is ticking away and Dacogen's royalties will not be enough to keep the company going. CLIMB is a creative acronym. So what? Show me a robust pipeline.
My suggestion is, now that the CEO has his contract renegotiated, maybe he can think of a creative way to spend some of that cash and maybe in-license a promising phase II drug for SuperGen's anemic pipeline. Or maybe SuperGen should consider the bold move of merging with another company that needs cash, and has the pipeline SuperGen doesn't have?
In my opinion, I would caution long-term minded investors from buying here. Yes, SuperGen may surprise everyone and pull off the big deal, but other than rumors, I see a cash-flush sub-$3 biotech with a pink sheet pipeline.
Disclosure: I have no positions in any stocks mentioned, and no plans to initiate any positions within the next 72 hours.