Two weeks ago, my weekly ETF Pullback strategy was all-energy. Last week, it remained energy heavy but not quite as pure. Now, it's pretty much across the board in terms of commodities with energy taking a minor role as precious metals and grains take center stage. Here's this week's list:
This was last week's list:
Frankly, 2011 has thus far been about as difficult a period as I can recall when it comes to getting a sense of trends, as the market's attention veers from political struggle in the Middle East to the devastation and nuclear trauma resulting from the earthquake in Japan.
Energy is a classic example of how difficult it's been to identify trends. You'd think crisis in the Middle East would send prices of oil and energy ETFs soaring. It didn't happen. To be sure, we did have some energy price increases, but nothing overly dramatic. What we really had was a bit of a roller coaster as prices reacted up and down in response to daily events, most recently in Libya. The Japan earthquake then added a downward push to prices given the way the earthquake is likely to suppress economic activity in this big-time oil-consuming nation, at least for a while. So ultimately, while a long-term bullish case can be made for energy, the model's exposure in recent weeks has proven disappointing, as can be seen in Figure 1, a screen shot from the FolioInvesting.com account I use to trade the strategy.
click to enlarge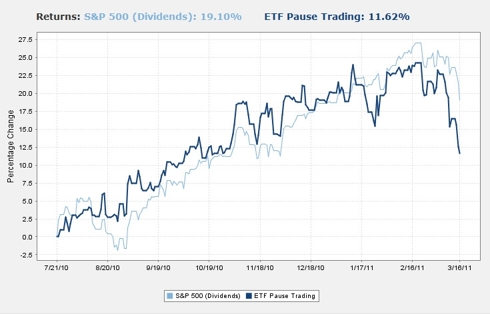 As to the current list, we still have energy, but as parts of two general-play ETFs; the Canadian small-cap equity ETF (which includes a lot of energy firms) and the fully-diversified Greenhaven commodity ETF.
Precious metal exposure is conspicuously up, not only through the Canadian ETF (besides energy, mining companies are conspicuous in the portfolio) and the Greenhaven fund, we also remain in the palladium ETF and added a silver fund. I have to feel good about this given the way fear has ratcheted upward in recent weeks. Then again, I felt confident in the recent emphasis on energy, and that didn't work out.
Meanwhile, the agriculture ETF seems like a welcome addition, besides the agriculture stake in the Greenhaven fund. Food prices have been on the rise for a while. Bad weather last year leading to weak harvests has been a factor. We may have that again going forward, or not; this is, obviously, unpredictable. But we can predict that ethanol production is boosting demand for corn and that's not likely to change.
Commodities are interesting in another respect. With all the talk lately about the Middle East and Japan, it seems as if we've almost forgotten about inflation, QE2, more potential QEs, and so forth. But it's not as if any of that has actually gone away. If the news flow does move this way again, some allocation to commodities ("things") wouldn't be the worst thing in the world to have in a portfolio.
In any case, it's clear the strategy has stayed atop the recent market shifts about as effectively as I'd be able to stay atop one of those mechanical bull rides. That makes sense since the strategy was designed for trending markets, sort of the way I was designed for stationary chairs. Even during the cold period, the model had, for the most part, pretty much kept pace with the S&P 500. That changed in past two weeks which, due to the Japanese earthquake and its unfolding aftermath, has been quite aberrant. Hopefully, aberrations can work on the upside as well. We'll see.
APPENDIX
To create this model, I started with a very broad-based ETF screen I created in StockScreen123.com.
Eliminate ETFs for which volume averaged less than 10,000 shares over the past five trading days

Eliminate HOLDRs (I don't want to be bothered with the need to trade in multiples of 100 shares)

Eliminate leveraged and short ETFs (I think of these as hedging tools rather than standard ETF investments of even trading vehicles)
Then I sorted the results and select the top 5 ETFs based on the StockScreen123 ETF Rotation - Basic ranking system, which is based on the following factors:
120-day share price percent change - higher is better (15%)

1-Year Sharpe Ratio - higher is better (15%)

5-day share price percent change - lower is better (70%)
The idea of using weakness as a bullish indicator is certainly not new. But often, it's an add-on to other factors that, on the whole, emphasize strength. Here, the weakness factor is dominant, with a 70 percent weighting.
This model is designed to be re-run every week with the list being refreshed accordingly. I trade through FolioInvesting.com, where I pay a flat annual fee rather than a per-trade commission, so I don't care about the fact that turnover form week to week is often 80%-100%. If you want to follow an approach like this but do have to worry about commissions, the strategy tests reasonably well with three ETFs, or even with one. (Cutting the number of ETFs is far preferable to extending the holding period.)
Figure 2 shows the result of a StockScreen123 backtest of the strategy from 3/31/01 through 12/30/10.
Figure 2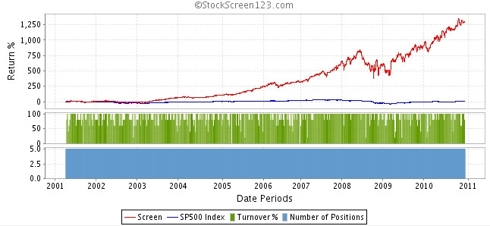 Figure 3 covers the past five years, a very challenging market environment that witnessed the fizzling of many strategies that had succeeded for a long time.
Figure 3