When an unexpected and tragic event roils the markets, it's easy to give into the headlines and head for the sidelines.
If you have any doubt that's exactly what's happening, consider this chart of today's swings in the Dow from Business Insider.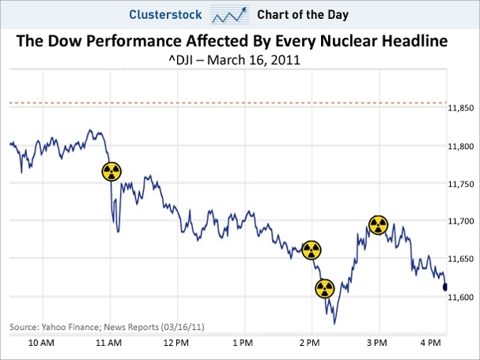 Click to enlarge
(Click to enlarge)
As each major nuclear headline crossed the wires – from the EU Energy Chief and the U.S. Energy Secretary and a Japanese power company and the Japanese electricity authority – the Dow reacted dramatically.
But I promise you, such panic selling never pays. And the current Japan crisis is no exception.
During volatile times like this, it's best to protect our downside with trailing stops. And take a step back to gain some perspective. So let's do it …
A Full Blown Financial Collapse Is Not Brewing
You'll recall that the derivatives market foreshadowed the blowups during the financial crisis of 2008. Prices for bond insurance, known as credit default swaps (CDS), almost always spiked before any stocks collapsed. The same phenomenon played out as European countries teetered on the brink of insolvency last year.
Accordingly, if the Japan earthquake, tsunami and nuclear crisis were going to collapse the Japanese financial system, it should show up in the CDS market first. But that's not happening.
As Bespoke Investment Group reveals, Japan's default risk is still sitting below the May 2010 and February 2009 levels.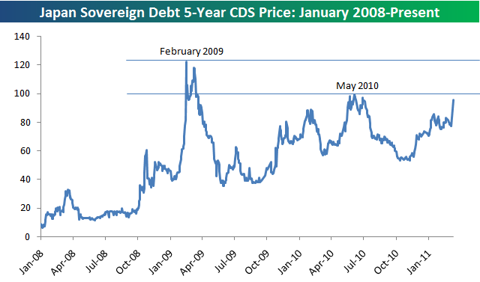 (Click to enlarge) Verdict: Japan is hardly at risk of a default. It's 27th on the list, in fact. The countries most likely to default on their sovereign debt, based on CDS prices, are Venezuela, Greece, Argentina, Ireland and Portugal.
The Bottom Could Be Six Months Away
The last major earthquake to hit Japan was the Kobe quake on January 17, 1995. By no means am I suggesting the current crisis is going to play out exactly the same. But it's instructive to have a frame of reference on how the Japanese stock market has reacted in the past.
As you can see, Japanese stocks didn't bottom for six months after the Kobe quake. But after a year, the Nikkei rallied above pre-quake levels.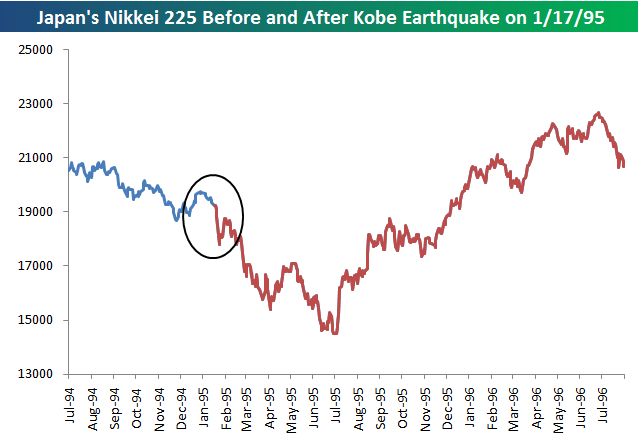 (Click to enlarge) Verdict: Considering Japanese stocks are some of the cheapest in the world, dollar cost averaging into the iShares MSCI Japan Index Fund (NYSEARCA:EWJ) over the next six months could prove to be a relatively safe, yet profitable long-term investment.
Steady Global Output
Understandably, the Japan crisis dominates all conversations right now. However, so much attention can be misleading.
It's easy to assume the crisis is going to cripple the global economic recovery. But that's hardly the case. Although Japan is the third largest economy in the world, the worst earthquake in the nation's history should not drastically impact global growth.
Why? Because Japan's contribution to world GDP peaked in 1994. Now, it accounts for less than 10% of global GDP, according to Bloomberg data. Or, as Jim O'Sullivan, global chief economist at MF Global said, "Japan hasn't been a significant contributor to aggregate growth in recent years."
(Click to enlarge) Verdict: If anything, reconstruction efforts should actually boost Japan's GDP growth. And the forecasts for global economic growth of 4.4% this year should remain intact.
Natural Gas Could Be a Big Winner
It's clear that public sentiment toward nuclear energy has completely soured. As a result, uranium stocks continue to get clobbered.
Here's the thing: Japan generates about 18% of its electricity via nuclear power plants, according to Société Générale. And it can't exactly produce power from damaged plants. Nor can it go without power indefinitely.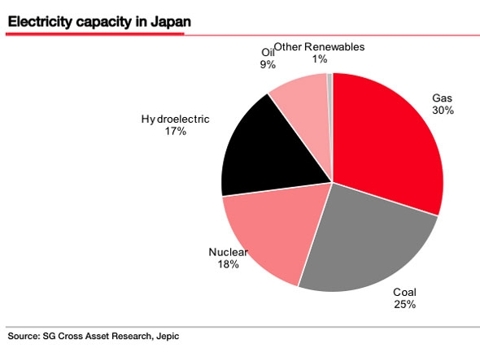 Click to enlarge
(Click to enlarge) Verdict: Natural gas could be a big winner. Ample supply exists. And Japan is already the biggest user of liquefied natural gas, accounting for about 35% of global trade in 2009, according to BP statistics. So it's a natural fit to bridge the gap while the nuclear power crisis is sorted out. And the extra demand could finally awaken natural gas prices (and natural gas stocks) from their prolonged slumber.

One of my favorite natural gas plays is San Juan Basin Royalty Trust (NYSE:SJT). It is one of the largest energy sector royalty trusts in the United States. It has no true employees. It does zero exploration and production. Instead, it owns a 75% net profit interest in natural gas properties the San Juan Basin of New Mexico. And almost all of its royalties come from natural gas, with only 2% coming from oil.

In short, San Juan lets you invest in natural gas and get paid a healthy 6.8% monthly dividend while you wait for prices to rebound.

Disclosure: I have no positions in any stocks mentioned, and no plans to initiate any positions within the next 72 hours.