MLPs have had a spectacular run from their lows two years ago. But one drawback of investing in MLPs is the associated tax hassle. Ownership is measured in units of the partnership, which pay distributions that have a fair amount of tax hassle. Most of the distributions are not taxed immediately but federal taxes are due on the remainder along with state taxes where a partnership has business. There is also a large amount of record keeping to be used when the units are eventually sold. It is possible to invest in MLPs by purchasing shares in corporations that pay dividends with minimal or no tax hassle.
Kinder Morgan (NYSE:KMP) (NYSE:KMR) and Enbridge Energy (NYSE:EEP) (NYSE:EEQ) are two of the largest MLPs. Each company has units in the partnerships and a second (stock) company for ownership. The corporation pays stock dividends that are not taxable events, the ultimate in tax efficiency. EEP has thousands of miles of pipelines for distributing natural gas. The majority of its business brings the bulk of Canadian oil (the No. 1 source of oil imports for the U.S.) to Cushing, Okla. Currently there is a glut of oil there because of the pipeline expansion that came on stream in April 2010. Kinder Morgan is the second largest MLP that has a pipeline bringing Canadian oil down the West Coast to California, along with thousands of miles of pipelines for oil and gas.
The two corporations operate the same way. Each share is backed by one unit and shares track unit performance. KMR is $62.99 (an 11% discount compared with the unit price) and EEQ is $61.98 (a 1% discount to the unit value). When a distribution is paid, stockholders receive a comparable stock dividend. These are excellent investments for those who like the business of the MLPs and do not need current income.
Kinder Morgan (KMR) - 10 Years
Click to enlarge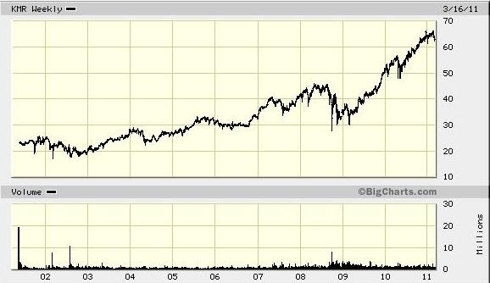 Click to enlarge
Enbridge Energy (EEQ) - 10 years
Click to enlarge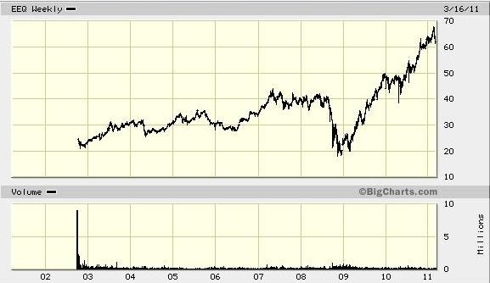 Click to enlarge
There are also a number of closed-end and mutual funds (many were started last year) with portfolios of MLPs, giving an averaging effect. AMJ (JPMorgan Alerian MLP Index ETN) is the oldest (two years) that tracks the Alerian MLP Index (AMZ), the prime MLP index with a 15-year history. Ten shares of AMJ equal the value of the index. It pays coupons (like dividends) from income less management fees. The ETN coupons are reported on Form 1099s, which eliminate the burden associated with K-1 forms. This is an excellent investment for those who want to track the index without the burden of tax aggravation.
JPMorgan Alerian MLP Index ETN (NYSEARCA:AMJ) - 2 years
Click to enlarge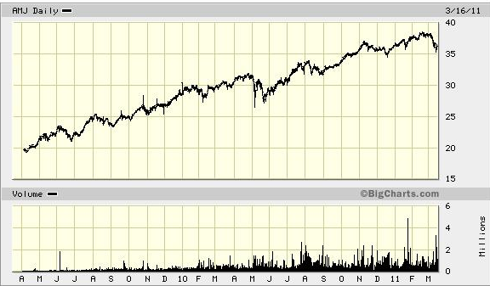 Click to enlarge
The implied yields for the stock dividends are 6.5% at EEQ and 7.2% at KMR. EEQ and KMR shares have done well, tripling in the last 10 years. The yield for AMJ is 4.8%. AMJ has a short track record, but the AMZ index is up 150% in the last 10 years while the comparable index including reinvested income is up almost five-fold. For those who want to participate in MLP growth without tax hassle, there are profitable ways to invest.
Disclosure: I have no positions in any stocks mentioned, and no plans to initiate any positions within the next 72 hours.