While Steve Jobs' Apple (NASDAQ:AAPL) shares are worth more than $1.85 billion, his holdings in The Walt Disney Company (NYSE:DIS) exceed $5.6 billion. So while there has been much speculation about the impact of Jobs' health-related sabbatical on Apple stock, it is perhaps equally valid to ponder the impact he has had as the largest shareholder and a board member of Walt Disney.
The parallels between Apple and Disney are interesting. When he sold his company Pixar in 2006 to Disney, Jobs effectively became Disney's largest shareholder, with approximately 7% of the company stock -- four times more than the-then second-largest shareholder, Michael Eisner. As part of the company's board of directors, Jobs has helped oversee Disney's and Pixar's animation business until now, and he intends to remain on the board during his sabbatical from Apple.
We thought that a more in-depth look at Disney would shed light on whether Disney is a good investment, with or without Jobs' involvement.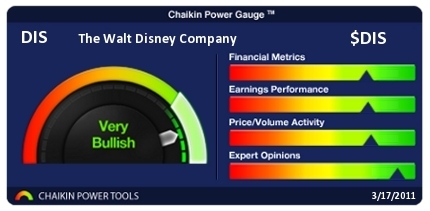 Our research led to an interesting finding: Disney has heard this tune before. Jobs' situation today is similar to CEO Walt Disney's situation 45 years ago. Walt Disney's unprecedented departure from the scene created a void in innovative thinking at Disney. However, rather than sinking under this burden, Disney rebounded well from the loss of its outstanding leader, a testimony to his hard work laying the ground work for his successors.
So if history were to repeat itself, and Jobs were no longer active in Walt Disney (and insiders say he has played a major role in reshaping Disney's retail outlets and strategy), we believe that Disney would continue to be a successful sports and entertainment conglomerate.
Disney boasts a strong balance sheet with solid cash flows and healthy profit margins. The company reported higher-than-expected results for the quarter ending Dec. 31, fueled by earnings growth in all of its business units, from television networks (ESPN, ABC) and movie studios to consumer products and money-losing theme parks. Theme parks have been losing money for the past nine consecutive quarters, and a turnaround this quarter signals a recovery for the company on all fronts.
Analysts believe this earnings surprise is no fluke, as the company seems to have entered a period similar to that of 2005-08, when it was considered an earnings-beating machine, and has raised its 2011 earnings estimates, thus contributing to a very bullish Expert Opinions metric in our rating. Positive Money Flow activity and a strong Price Trend suggest shares are gaining momentum, although a recent market-related pullback has brought the stock down to early February price levels. A very positive Earnings Performance metric helps bolster a very bullish Power Gauge rating. A high ROE adds to the bullish mix.
Our Power Gauge rating is based on a 20-factor model incorporating Financial Metrics, Earnings Performance, Price/Volume activity and Expert Opinions to determine a stock's potential over the next three to six months.
Disney continues to penetrate new markets and innovate on many fronts. The company launched Disney Junior on the Disney Channel on Valentine's Day, targeting a 2-to-7-year-old audience. It also plans to add new cruise ships and expand its theme parks. As a sign of an economic recovery, Disney gained attendees at its theme parks despite higher ticket prices. ESPN also saw increased advertising spending, helping it to handily beat estimates. Despite a great quarter which has taken Disney shares to its highest price since 2000, this seems to be still the early stage of the real recovery; we believe Disney has a lot of potential ahead.
The Japan catastrophe could cost Disney five or six cents per share, according to Morgan Stanley (NYSE:MS) analyst Benjamin Swinburne. The risks to Disney in Japan include film distribution and the Disney Stores there, as well as Tokyo Disneyland, which the company doesn't own but from which it collects a license fee based on sales. In fiscal year 2010, the fee amounted to $240 million and accounted for 18% of operating income in Disney's parks segment, Swinburne wrote. However, gains at ESPN may offset any damage from Japan.
With Disney's stock price down almost 10% from recent highs, we think this is a buying opportunity with any further market-related weakness adding to the attractiveness of Disney's shares.
For more in-depth analysis on DIS, please click here.
Disclosure: I have no positions in any stocks mentioned, and no plans to initiate any positions within the next 72 hours.