By David Russell
Medco Health Solutions (NYSE:
MHS
) hasn't treated the bulls well, but they keep coming back for more. The pharmacy-benefits company is down 16 percent in the last week, despite receiving
at least two upside trades
during that time. Today it's down 3.38 percent to $54.33 in afternoon trading, but our Heat Seeker program continues to show bullish activity.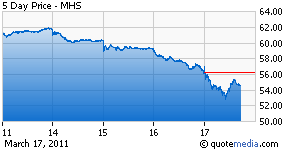 The April 55 calls are the most active strike, trading more than 18,000 times against open interest of 4,482 contracts. Most of the large blocks priced for $1.60 to $1.75.
Buyers are also active in the March 55s, betting on a quick rebound, mostly paying $0.35 to $0.45, and the April 57.50 calls for $0.95. They traded 4,682 contracts and 3,957 contracts, respectively.
MHS has been falling after California's giant state-worker pension system known as CalPERS
ended talks for a new contract
. The move is part of an ongoing story in which the company has been fingered for its use of a consultant to secure the deal. The Securities and Exchange Commission and California prosecutors are involved in the case.
The shares are now back to a level that has been relevant on the chart since early 2008, and where they peaked last October. MHS has been in a long-term uptrend since getting spun off from Merck (NYSE:
MRK
) in 2003, and management said last month that the company will benefit as more drugs go off patent.
Investors also sold about 7,000 April 50 puts and 4,500 April 52.50 puts, betting that further downside will be limited.
All the activity pushed total options volume in the name to 14 times greater than average so far today.