The day before the earthquake in Japan, two sectors of the market were clearly moving in opposite directions: The utility sector (NYSEARCA:XLU) was experiencing a breakout to fresh multi-year highs, while the solar sector (NYSEARCA:TAN) was undergoing a sharp correction after a nice rally from the November lows. During the five trading days since the Japan earthquake, these two sectors have sharply reversed roles as the XLU has gone into a tailspin while TAN has rallied over 15%.
The market appears to be pricing in a tightening of regulatory policy towards the nuclear industry and the potential for a moratorium on new nuclear power plants, which would in turn negatively impact the utility sector. Thus far, the beneficiaries of the nuclear industry's loss have been coal (NYSEARCA:KOL) and solar (TAN).
Before March 10, the solar sector had been mired in a steep correction due to fears of subsidy losses in Europe and further margin contraction resulting from the likelihood of an imminent solar panel supply glut. Now it appears likely that the EU (namely, German and Italy) is distancing itself from nuclear, and solar would be one of only a few alternatives left to fill the void. Let's take a look at the charts:
[Click all to enlarge]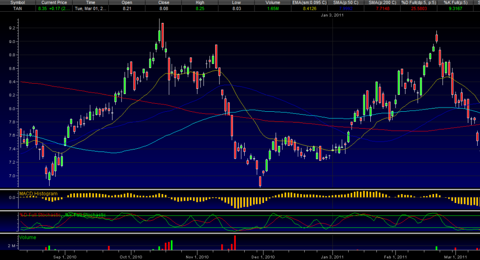 This is the daily chart of the Guggenheim Solar ETF (TAN) as of the close on March 10, 2011 (the day before the Japan earthquake). Since the high on February 18, TAN had suffered a correction of nearly 20% and was highly oversold.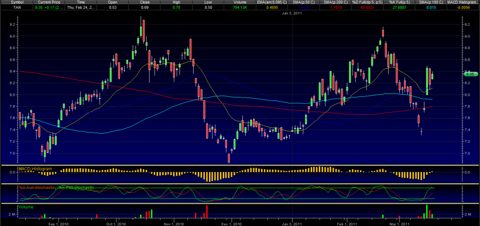 After two consecutive huge gap-ups and an extremely bullish performance on Tuesday (a close right at the highs of the day on huge volume), the solar sector is forming a somewhat sloppy bull flag. The bulls look to be in good shape here as long as TAN doesn't lose the 8.10 level.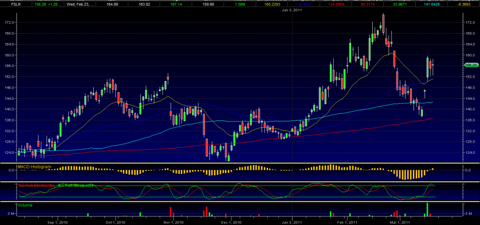 First Solar (NASDAQ:FSLR) is the "go to" name in the solar sector, and its chart closely resembles that of TAN. I went long FSLR into this morning's dip and took some off into the ensuing rally up to 158. I plan to maintain a small swing long position as long as FSLR continues to act well.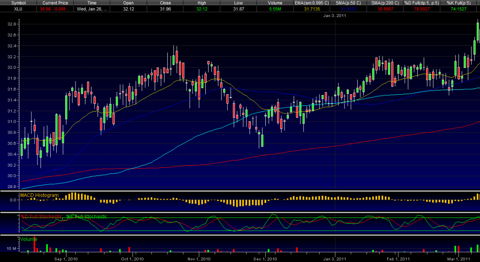 The utilities sector was the strongest sector in the market as of the close on March 9. XLU had broken out to multi-year highs and had just entered overbought territory. Then the natural disaster in Japan occurred: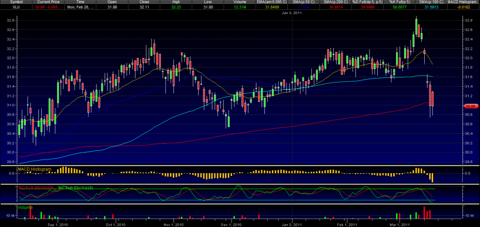 XLU has now lost its 200-day SMA and the MACD continues to worsen. Long term value players will probably look to enter under 30.50 (where it bottomed in August and November 2010) but there isn't any hurry to step in and buy this one until it becomes highly oversold; it's not there yet.