The tragedy in Japan points to the negative potential impact of living in the nuclear age: dangerous byproducts from energy production, such as radiation. But it's not just a reactor meltdown in Japan that needs to be monitored - there are also many types of routine waste generated today in the U.S. that need to be properly disposed of.
One under the radar company is doing just that, while paying a 4.5 percent dividend to investors. This is a respectable yield for a $290 million market cap company, and it's a firm that I'm contemplating adding to my high yield special report (you can find the current report here).
U.S. Ecology (Nasdaq: ECOL) helps America dispose of everything from hazardous waste - including the low-level radiation materials shed by the health-care and other industries - to everyday non-hazardous materials that need a final resting place.
Getting rid of America's hazardous waste is a $5 billion-a-year market, and U.S. Ecology controls about 15 percent of it. It's a highly regulated and very restricted business, requiring many different permits and specialized equipment - not to mention a highly trained staff following precise procedures. Needless to say, there aren't a lot of newcomers treading on this company's turf.
The company can claim a track record of success back to the dawn of the nuclear age. It has provided radioactive waste services since 1952, and other hazardous waste services since 1968.
In the Western United States, the company has a Richland, Washington facility that helps handle nuclear waste from 11 states. Since 2010, it has also owned a Canadian hazardous waste site in Quebec.
It has quite a customer base that includes BP (NYSE: BP), ConocoPhillips (NYSE: COP) and other oil companies, as well as General Electric (NYSE: GE) and Honeywell (NYSE: HON). Other customers include the federal government, the U.S. Army Corps of Engineers, the Environmental Protection Agency and the Army.
The company's share price was up 6.7 percent in 2010, but the recent release of a cautious outlook for 2011 along with the dour sentiment permeating the broad market wiped away most of those gains.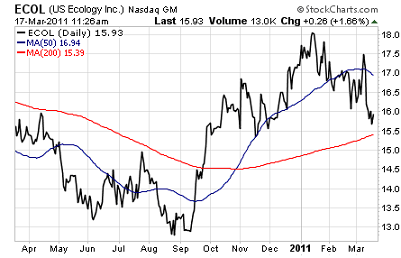 With a market cap of $280 million, U.S. Ecology is often overlooked by investors in favor of competitors like Waste Management (NYSE: WM), a $17 billion enterprise. But throughout the economic downturn, U.S. Ecology was a dependable producer of profits. And its dividend yield remains better than that of Waste Management.
In 2010, net income was $12.6 million, or $0.69 per share, compared with $14 million, or $0.77 in 2009. However, included in 2010 results was a $0.13 per share expense related to the $77.3 million all-stock acquisition of Marsulex's (TSE: MLX) Canadian operations. Also, 2009's EPS benefited from $0.25 in insurance settlements, making the comparable that much cloudier.
The company's earnings outlook calls for $0.75 to $0.85 per share in 2011, with the consensus analyst estimate of $0.82 falling near the middle of that range. Company officials are expecting modest growth of 9 to 23 percent over 2010 as the economy improves.
As I mentioned earlier, what I really like about U.S. Ecology is that nice 4.5% dividend, currently $0.18 per quarter.
When you consider where the company's stock is now trading, U.S. Ecology has around 25 percent upside potential before it reaches the consensus price target of $19.40.