After anticipating a correction for months now, with the possibility of an economic 'double-dip' if the recovery is derailed, our hedged bets have paid off. With Middle East unrest, soaring commodity prices, barely-improving unemployment, and now a Japanese nuclear debacle - how can investors continue to own their favorite stocks while still avoiding huge losses if the market starts to plunge? Even better, how can investors actually profit from a drop in markets? And what's a good way to play the Japanese tsunami and nuclear crisis?
On February 24th we said:
"It looks like we are almost certainly due for a correction."
(How To Leverage Returns in Case of a Correction)
We also contemplated whether or not to start betting on a correction, and the best way to do so without taking too much risk:
"I am left almost alone wondering if this is the exact time to not only exercise caution, but to actually start betting on a correction... I think it's time to start gearing our portfolios for a correction."
We decided the best ways to take advantage of the opportunities were as follows:

On February 7th, we also warned investors about the potential reversal in commodities:
"Our recommendation to investors would therefore be one of caution, profit-taking, and even some diligent short-selling. Inflation and continued demand could cause commodity prices to continue higher, but after such huge price run-ups, at such a critical juncture in global economic growth, and with such tremendous speculation currently involved in these commodity plays, we may be nearing a considerable correction. Caution is key."
(Is the Commodity Run-Up About to Reverse Course?)

We've played EDZ, TZA, GDX, and MOO through options - and they have paid off very well. We have been up over 50 percent on both EDZ and TZA call options, over 80 percent on the GDX puts, and as much as 140 percent on the MOO puts.

But this may still be a good time to enter the trade, as markets seesaw between correction and double-dip. As OIL prices are continually in flux as news from the Middle East keeps uncertainty high, we are still unsure if prices will continue to rise and if the tensions in the region will affect global economies. We would mention, though, that we'd prefer to bet on oil and natural gas (NYSEARCA:GAZ) than on other commodities.

A good way to protect your favorite stock positions, then, is to buy some EDZ or TZA calls, or some GDX and MOO puts - these are broad, theme-based ETFs and could protect your portfolio if the market continues to correct.

How to Play Japan:

After monitoring the Japan ETF (NYSEARCA:EWJ) for a few months, we noticed that the trend was about to reverse on March 7th - before the earthquake and nuclear troubles!

Take a look at the chart: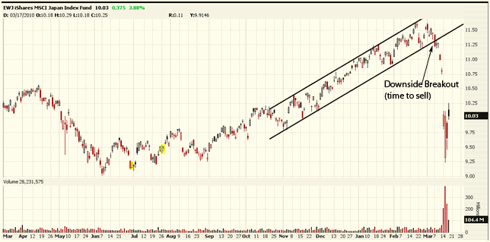 Click to enlarge
(Click to enlarge)
The Japan ETF was in an upward channel from November 2010 until March 7, 2011, when it broke through to the downside. That was the signal to get out.
But obviously most people didn't get out in time, or weren't paying attention to the technicals that would have warned them of a potential drop - regardless of the earthquake and tsunami.

Either way, the Japan ETF dropped significantly since March 7th, from above $11 to just slightly above $9. It has since bounced to around $10. But with the nuclear troubles still unresolved and with the economic effects still uncertain, it would be risky to simply invest in the EWJ without any hedge.

The potential nuclear meltdown has crushed nuclear stocks the most. Uranium ETFs such as URA and NLR are down 30 percent or more. And while the nuclear disaster will make nuclear power much harder to implement over the next few years, we think the sharp move down is too far, too fast. We expect a bounce in the near-term IF the Japanese issue is resolved. While the threat of nuclear meltdown and radiation-spreading is still large, a small bet on nuclear power could show some big profits if the situation improves.

Our favorite way to play the Japanese and nuclear situation is buying call options on Uranerz Energy Corp (NYSEMKT:URZ). After dropping nearly 50 percent within the past two weeks, we think it may be due for a bounce. Our recommendation is to place very small bets on the URZ April 2.5 call options. We bought some contracts for an average price of $0.55. With the price of URZ near $3, we are able to define our risk through options and also make a small bet that could pay off big within the next week or two. You could also buy the EWJ to make a broader bet on Japan itself, but we think the nuclear sector has been hit much harder and may provide a much bigger opportunity. And since the situation is still 50-50 as to whether it will be resolved, we think a small, defined bet through options is both safer and provides more upside.

There is still a decent chance that this is just the beginning of a larger correction (What Can the Great Depression Teach Us About Our Great Recession?), but making an all-out bet on such a move would be way too risky and probably ill-advised. We think hedging your bets by buying your favorite stocks while protecting your portfolio through broader bets (mentioned above) is the ideal way to play these volatile times.

Disclosure: I am long TZA, EDZ, URZ.

Additional disclosure: We are also short GDX, SLV, and MOO.