Uranium stocks have had a meltdown in the wake of the Japanese nuclear reactor emergency, causing one of the major players to shed over 30% of its market value in March. We're talking about Cameco, (CCJ), which produces nearly 16% of the world's uranium, second only to Kazatomprom, a state-owned producer in Kazakhstan.
Cameco's CEO states, in a video on their website, that Japan will probably only impact the company's sales by about 3 to 5%, and that this should be offset by greater Japanese consumption during the coming rebuild. He also points out that the impacted reactor is 40 years old, and that the new plants being built around the world have higher safety specs than the older plants. There are 53 reactors currently under construction and, by 2019, 91 new reactors (net) are forecast to come on line. Most of this new build is being driven by rapidly developing countries like China and India, which have severe energy deficits and want clean sources of electricity to improve their environment and sustain economic growth. (Source: Cameco website)
CCJ operates in 3 areas: Uranium production, Fuel Services, and Electricity generation (via a 31.6% interest in the Bruce Power Limited Partnership (BPLP), which operates four nuclear reactors at the Bruce B generating station in southern Ontario. Here the 2010 Revenue & Gross Profit contributions by segment: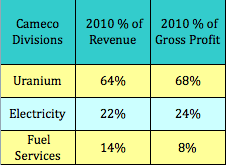 Cameco has several advantages over its competitors:
It owns several of the world's highest-grade uranium deposits. The company's McArthur River mine in Saskatchewan boasts ore grade concentrations 100 times higher than the industry average.
With demand greatly outstripping mine production, producers like Cameco have a stronger hand to play at the bargaining table and have negotiated more favorable contract terms with utility customers.
Supply-and-demand dynamics increasingly favor uranium producers. As secondary sources dwindle, sustained high prices will be necessary in order to get mine investments to close the gap between consumption and production. (Source: Morningstar)
Cameco plans to double its uranium production to 40lbs/year by 2018, by further developing its ongoing long-term operations in Canada, Kazahkstan, Australia, and the U.S.
INDUSTRY COMPS: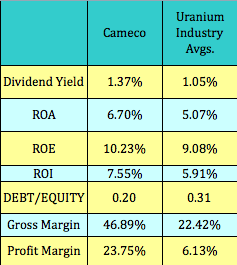 As you can see, the Uranium industry isn't a big bastion of high dividend paying stocks. CCJ's management and debt metrics appear to be in line with their industry averages, and their margins are much higher than the industry averages.
The drastic drawdown in price has now made CCJ's growth valuations much more attractive (click to enlarge):

Although Cameco isn't part of the world of high dividend stocks, it does currently offer high options yields of 15%-plus annualized via selling its put options. We chose to sell out to January 2012, to gain more revenue, get a lower break-even, and to give the current dark pessimism some time to subside.
Selling Cash Secured Puts for CCJ also gives you a break-even pretty close to CCJ's 52-week low (click to enlarge):

Selling Covered Calls will give you more upside potential than the above put option trade (click to enlarge):

CCJ's Relative strength is very low at 15.59, and is in the oversold range on its stochastic chart.
Disclosure: Author is long CCJ, but short CCJ puts.
Disclaimer: This article is written for informational purposes only.