Here are three stocks to watch today: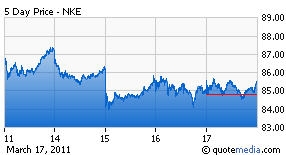 Nike (NYSE:NKE) reported 3Q11 EPS of $1.08 and revenues of $5.08B vs. consensus expectations of $1.12 in EPS and $5.17B in revenues. Global constant currency futures were up 9% with North America up 11%, China up 13% and all emerging markets posting double digit gains. Although strength in futures indicate an optimistic demand scenario, rising input costs and FX hedges are expected to have a negative impact on 1H12 margins. Investors and analysts are likely to remain concerned over gross margins in the near term, and the stock is expected to underperform going forward in short-term.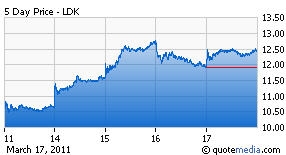 LDK Solar (NYSE:LDK) reported Q4 earnings of $1.09 per ADS (vs. consensus expectation of $0.91) and Q4 revenues of $920.9M (vs. consensus expectation of $838.2 M). Q1 guidance of $823M in revenues was in line with analyst estimates of $800-$850M. For the fiscal 2011, LDK Solar expects revenue in the range of $3.5 to $3.7 billion, wafer shipments of 2.7 to 2.9 gigawatts (GW), module shipments of 800 MW to 900 MW, in-house polysilicon production of 10,000 MT and 11,000 MT, in-house cell production between 500 MW and 600 MW, and gross margin between 24% and 29%. Shares fell 2.6% after earnings were announced.
Although LDK's Q4 results were impressive, its guidance appears aggressive. In particular, ASPs above $0.80/W implied in the guidance are a bit optimistic. Further, given likely oversupply in the second half, OEM modules could decline sharply and volume assumptions can also see some downside risk. The stock is likely to be under pressure today because of investor skepticism over guidance. If one has to take a position in solar sector U.S. Solar stocks like First Solar (NASDAQ:FSLR), GT Solar (SOLR), MEMC (WFR) are a much better option than companies with European exposure due to regulatory overhangs in Europe.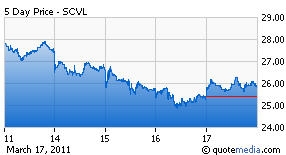 Shoe Carnival (NASDAQ:SCVL) reported better than expected Q4 EPS of $0.33 and revenues of $179.9M. SCVL also guided to EPS of $0.72 to $0.75 (vs. $0.71 consensus expectation) and revenues of $198 to $201 million (vs. $193M consensus expectation). In 2010 company opened a net of 3 stores and in 2011 it expects to open a net of 15 stores. The company is a growth story available at reasonable valuation (11-12x next year consensus EPS). The company is a good one to go long on and its stock is likely to outperform going forward.

Disclosure: I have no positions in any stocks mentioned, and no plans to initiate any positions within the next 72 hours.