The author invests concentrating on Junior mining and commodities stocks that primarily trade on the TSX Venture exchange based in Toronto, Canada. These stocks also trade in the US, with most on the OTCBB, but it is difficult trading with low liquidity. Therefore, it was with a bit of surprise and satisfaction to see that Global X Funds announce their new ETF, TSXV yesterday morning, focused solely upon the TSX Venture stocks. Here is an extract from their press release of March 17th, 2011:
"We are pleased to provide the first vehicle that easily tracks the S&P/TSX Venture 30 Index," said Bruno del Ama, ceo of Global X Funds. "Our innovative product allows investors access to a previously difficult to trade, illiquid market."

The Global X S&P/TSX Venture 30 Canada ETF tracks the S&P/TSX Venture 30 Index, which seeks to measure the performance of 30 of the largest and most liquid securities listed on the TSX Venture Exchange. As of March 14, 2011, the three largest components of the index were Atac Resources Ltd, Canacol Energy Ltd, and Rainy River Resources Ltd.
Better still, was that the first stock mentioned was Atac Resources (OTCPK:ATADF, TSX:ATC), one of my holdings that has had spectacular success in their explorations in the Yukon in 2010. Atac owns a huge stretch of claims (1,600 square kilometers) that surround their Rau Gold project and they have also found a long trend that resembles the Carlin Trend of Nevada. It was the discovery of Gold mineralization along this new trend, that they have named Nadaleen, that drove their share price last fall from under a $1 to over $8.
For 2011, after the spring thaw, Atac has budgeted 10,000 meters of drilling for Rau and 30,000 meters of drilling for the Nadaleen Trend. It is quite telling, that Global X's new Venture fund's largest holding is Atac Resources.
A listing of Global X's new Venture Fund's top ten holdings is following (click to enlarge):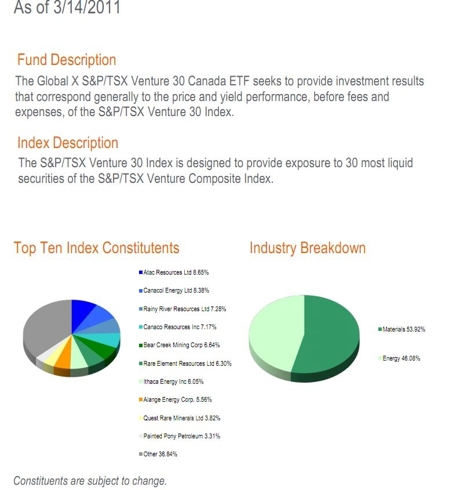 Another of your author's holdings also listed in this Venture fund is Victoria Gold Resources (OTCPK:VITFF, TSX:VIT). Here is an extract of Victoria Gold's press release of this morning, March 17, 2011:
Victoria Gold Corporation (TSX-V:VIT - News), the "Company" is pleased to announce it has been selected for the Global X S&P/TSX Venture 30 Canada Exchange Traded Fund ("ETF") (TSXV) launching today on the NYSE Arca.




We see inclusion in this ETF as affirmation of the liquidity and long term potential of Victoria," commented Mr. John McConnell, President and Chief Executive Officer of Victoria Gold.
Victoria Gold has two main projects that they are moving forward with, the Eagle Gold project of Dublin Gulch, also in the Yukon, and their Cove Gold project in Nevada. Victoria has just completed construction of an all-weather camp for support of their Eagle Gold project, that they are fast driving towards production of the 3 million ounces of Gold resources. They expect to complete their feasibility study for this in 2011.
Victoria's Nevada project is at the site of the old Cove open pit and underground mine. An error in resource calculations from a previous operator at this project, announced last fall drove Victoria's stock price down by 30% from which recovery is still awaiting. 2011 work here includes underground drilling at Cove and further exploration at their newly discovered Helen Zone.
Kinross Gold (NYSE:KGC) owns 20% of Victoria Gold and Newmont Mining (NYSE:NEM) has back-in rights for the Cove project.
It is gratifying to have one's prospective Junior miners also selected for inclusion in the Global X TSX Venture Fund (TSXV). Whether investors chose to invest in the Junior explorers directly or in the new TSX Venture ETF, you can be sure that in this era of higher Gold and precious metals prices, your investments are likely to appreciate.

Disclosure: I am long OTCPK:ATADF. I am also long VITFF.PK, Victoria Gold Resources.