Investors constantly deal with stocks they think should be winners yet fail to deliver. Often, you just can't put your finger on the reason for the lackluster performance. The following stocks have presented this conundrum to me. I offer them along with alternatives that might actually get off the pot.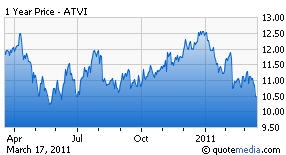 Activision Blizzard (NASDAQ:ATVI): I thought I was doing a good thing by buying stock in a company that does business where I live. Instead, Santa Monica-based Activsion Blizzard proved to be a complete dog. While I made a meager profit on ATVI, I expected much more. When I finally figured out the stock wasn't going anywhere, I sold just before the most recent earnings outlook disappointed investors.
I first got into ATVI on the basis of their balance sheet and dominating video game franchises. According to Yahoo Finance, Activision sits on a $3.5 billion cash hoard and has no debt. While Activision beat earnings estimates in its most recent quarter, the company offered guidance that failed to impress the street. The shares, which hit a 52-week high of $12.65 on December 22nd of last year, closed at $10.45 on Thursday.
It would have been tough for Activision not to beat earnings, given the record sales Call of Duty posted late last year. And therein lays at least part of the problem - even Activision thinks it will be tough for it to outdo itself in an unstable economy full of stiff competition.
As an alternative, add a speculative play to your watch list that has feast-or-famine written all over it: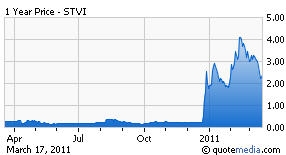 Snap Interactive (OTCQB:STVI) has enjoyed a remarkable run, surging from a dime and pennyland obscurity just last May to a recent 52-week high of $4.50. STVI closed at $2.35 on Thursday. An investment in STVI gets you into a similar space as ATVI. However, Snap excels in an area where ATVI has lagged - mobile. Snap Interactive operates a dating website - AreYouInterested.com - and creates applications for smartphones, chiefly Apple's (NASDAQ:AAPL) iPhone. What makes Snap's dating site unique is that when you sign up, it pulls your 4-1-1 from your Facebook profile. While the company has yet to turn a profit, users are downloading its app and joining its websites at an alarming rate.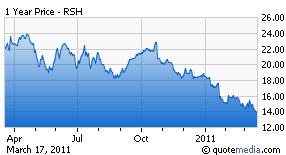 Radioshack (NYSE:RSH): If you are a serious contrarian or like prowling for takeover targets, RSH might be your perfect stock. As fellow Seeking Alpha contributor Alan Brochstein put it, The Shack, as they now market themselves, may have hit bottom from a freefall so ugly most people cannot even bear to look. RSH has tumbled from a 52-week high of $24.00 to its close of $13.93 on Thursday. It touched its 52-week low of $13.90 yesterday. While I have yet to own the Shack, I have considered buying it every so often on its way down. It's a good thing I didn't. The Shack might be getting it together in the front office, plus the company is buying back shares, but I don't want to take the chance that I'll get burned. And I am certainly not pinning my hopes on a buyout.
As an alternative, consider two stocks that stand on a bit more certain ground: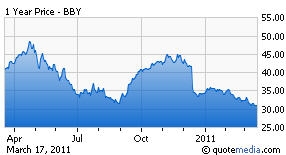 Best Buy (NYSE:BBY), trading down near its 52-week low (it closed at $30.87 on Thursday) might have better days ahead of it. The electronics store should benefit from the apparent economic recovery as well as blistering sales of Apple's iPad 2. If nothing else, the iPad brings traffic into Best Buy stores, something it's been lacking as of late. BBY is a relative bargain, too, trading at a forward P/E of just 8.58, as of Thursday's close. While you're waiting for the shares to recover, you can collect some income: BBY pays a dividend of $0.60 a share, good for a 1.9% yield.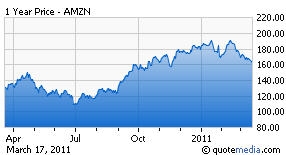 Look to Amazon.com (NASDAQ:AMZN) as another Radioshack alternative. You can't get everything Radioshack sells through Amazon, but you can get most of it, probably at a better price. According to Amazon.com's latest annual report, sales of electronics represent the fastest growing segment of the online retailer's business, both domestically and internationally. In other words, Amazon is likely taking market share away from everybody, including Radioshack, Best Buy and mass retailers such as Walmart (NYSE:WMT) and Target (NYSE:TGT). Given AMZN's lofty valuation, I discuss a way to play the stock with options in another Seeking Alpha article.
There's no reason to hang on to a dog. I am as guilty as the next guy of a key investing mistake - locking eyes with a stock. I have been known to stare at the same stock's trading window or chart day after day. It takes a proverbial splash of cold water to get me to realize that thousands of other opportunities exist where I can actually make money sooner rather than later (or never).
Disclosure: I am long AAPL.