"In ancient times skillful warriors first made themselves invincible, and then watched for vulnerability and their opponents."
- Sun Tzu, The Art of War
Yesterday certainly was a busy day for many investors. Three stocks in particular caught my eye; I traded one, tried to trade another, and will be looking to trade the third today. All three ended the trading today down double digits. While many of the numbers look interesting, only one of the three is a value buy at current prices, in my opinion.
The first stock, Sanmina-SCI Corp. (NASDAQ:SANM), is an $853 million electronics manufacturer that opened gap down approximately 15% lower than the close on the previous day.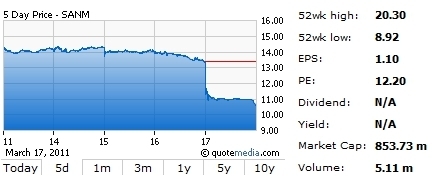 The gap lower caught the attention of my scanning computers, and I looked to buy the stock in the panic selling at the open. SANM did not quite trade down low enough for me to enter. Later in the day I tried to short it, but due to the new short sale regulations that just took effect, I was unable to do so.
Towards the end of the day I once again looked to buy the stock or to sell put options, as it became oversold in my opinion. It is no surprise that SANM closed at 20% down: Hari Pillai resigned with an effective date of "immediately," and news emerged that the company was lowering guidance for the top and bottom line. The earnings guidance was previously $0.40-0.43 a share and is now $0.28-0.32 a share; company revenue numbers are now expected to be between $1.56-1.6 billion, down from an estimated $1.62-1.67 billion. Company reasons for the downward guidance are very weak at best, and indicate likely near-term future pain for investors.
I use a proprietary blend of technical analysis, financial crowd behavior, and fundamentals in my short-term trades, and while not totally the same in longer swing trades to investments, the concepts used are similar. Based on my criteria, I have come to the following conclusion: I will be looking to either write put options or buy the stock today for a short-term trade.
China Integrated Energy, Inc. (OTCPK:CBEH), is a Chinese fuel-related $127 million small-cap.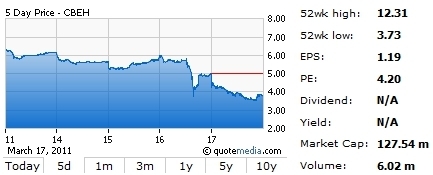 What appears to be the biggest question for CBEH is whether or not it will be the next Chinese reverse merger implosion. Based on the recent price action along with the massive 33% short interest, it's very clear that many investors are betting it will. An instablog claiming fraud by company management became a catalyst for an avalanche of selling. Clicking on the link to read the" full report," I noticed something interesting in the disclaimer at the end: It looks remarkably similar to what one would see with a penny stock promotion e-mail. You can find the report easily enough, but I would like to include the disclaimer here:
[Click to enlarge]
CBEH appears to be a lottery ticket at this point. If the allegations prove to be false, this stock price could easily double or more very quickly. On the other hand, CBEH has a
very large short interest
and short sellers tend to be "smart money." I couldn't help being reminded of the Rothschild family and the
Battle of Waterloo
as I read the disclaimer. It's widely remembered that the fate of Europe hinged on the outcome of that battle.
Nathan Rothschild, having knowledge of the outcome of the battle before other traders in the London exchange, started selling securities. Other traders witnessed Rothschild's sales and started panic-selling, out of a belief that Rothschild was liquidating because England had lost the battle.
In a short period of time, these securities had lost almost all of their value, whereupon Rothschild turned around and acquired the same securities at a highly discounted price, and continued his purchasing even as news spread that England had actually won the battle. The English victory pushed the price of the securities above their opening value, and by the end Rothschild increased the family wealth many times over.
An instablog that capitalizes on the mood of extreme suspicion over Chinese small-cap reverse merger stocks, if it was cleverly done and appeared accurate, could send prices even lower. While that might make a lot of money for a short seller, if the blog author knew the information was inaccurate and would eventually be refuted, he could profit not only from the decline of the stock price, but, after covering the short position, could create a long position and profit from the ensuing rise of the stock price.
I am unsure what the requirements are in verifying the identity of an instablog writer, but it does appear that this blog posting was made by someone who put a lot of time and effort into it -- a lot of effort by someone who did not want his name connected with the report. It appears incredibly suspicious, to say the least. I highly recommend a very cautious approach to anyone considering trading the stock either way.
Guess?, Inc. (NYSE:
GES
), the $3.4 billion apparel company, closed approximately 14% lower after North American sales failed to impress investors.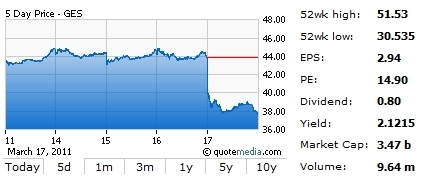 GES did fine for the last reporting quarter, with a 19% rise in profits. North American same-store sales year-over-year fell slightly more than 1%. What appears to be the primary concern for investors is next quarter reporting guidance of $0.41-0.44 per share earnings, compared to the Street estimate of $0.61 per share. For the full fiscal 2012 year, GES is guiding $3.30-3.50, not far below the Street estimate of $3.50.
GES also announced a stock repurchase program of up to $250 million, which investors shrugged off as meaningless in yesterday's trading. While GES traded much lower yesterday, it closed very near the 200-day moving average with a price of $39.32.
Based on my criteria, I have come to the following conclusion: I believe the sell-off was an overreaction, and it was overdone. Near the end of the day, I started buying GES stock and selling GES March put options. Going forward, I will be watching for opportunities to sell more put option contracts. Friday is option expiration day for the GES March options. GES is the best of the three in my opinion to be looked at for investors.
Disclosure: I am long GES.