The forex markets continue to fly around in response to the changing global problems and challenges. There is opportunity galore if you get positioned the right way but the market is quick to take back your winnings when you get on the wrong side.
A case in point yesterday was the late afternoon swoon of the Japanese yen. Specs, short the yen, apparently had placed their stops at a logical point under the 80 handle, which, by the way, is evidence that it is usually better to avoid the "ideal" spot for a stop. As the market sold off, and printed new lows, the buyers disappeared, more stops appeared and the auto traders kicked in. The result was a real debacle as the dollar versus the yen collapsed to a lifetime low of 76.28.
As Japanese events unfold, the debate will continue among the various scenarios that may follow. Clearly the yen bulls have been the winners, and the yen bears and the Japanese people the losers. There is a scheduled G-7 phone meeting this evening. People suspect one topic will be a possible coordinated intervention to halt the yen's appreciation should they conclude the recent strength has been the result of speculative activity rather than repatriation of foreign investments to Japan.
In addition to the status of the damaged nuclear reactors, there are many unresolved Japanese issues. How much will all of the clean up cost, and who is responsible for those costs? There are some stories that much of the damage was not insured so the burden of the clean up will fall on individual citizens and the government. This could be a problem since the government's debt load is staggering. Another major issue is the replacement for the lost energy production from the shuttered reactors. Currently Japan must import 100% of it's oil, and with higher priced oil, this tab is bound to rise.
There has been a recovery today in equities, although they are now under their highs, as well as a recovery in the West Texas crude to the 101 levels. Conditions in Libya have deteriorated into a civil war. The lack of western aid for the rebels probably means the current dictator will remain. Another hot spot is Bahrain where the incumbent monarchy, supported by the Saudis, is resisting a revolt by indigenous citizens, and sponsored by the Iranians.
With the revival of the oil market, is this not a precursor of a higher C$? Recently the C$ USD has gained on the C$, going from .9668 to a rally to .9972. Currently it is trading at .9864. Part of the sell off was the weaker crude market, but there was also some liquidation of long positions going through the liquidation of the March futures contract. With expiration behind us, and oil firming, a retest of the .97 handle looks possible. Use an appropriate money management stop.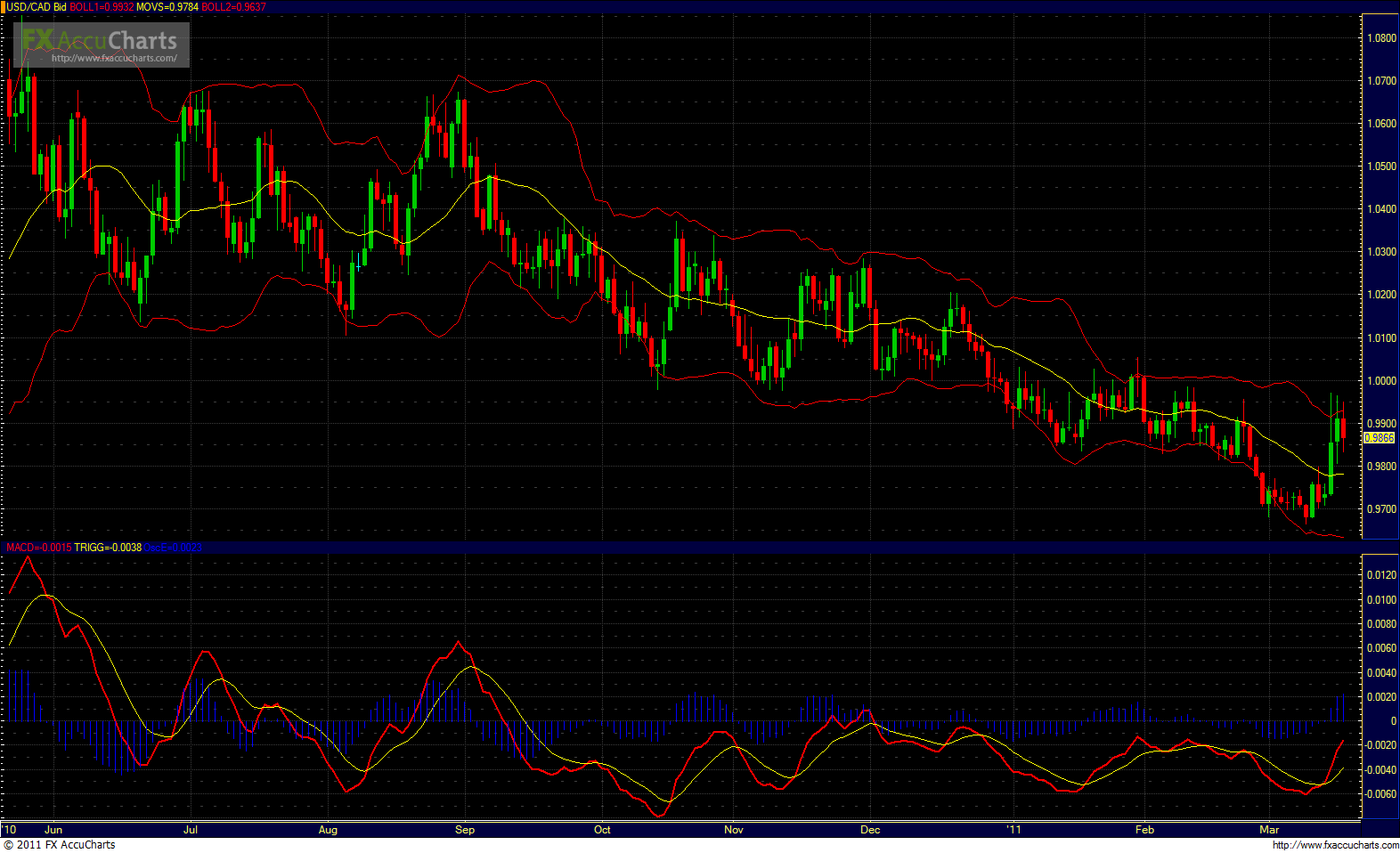 (Click to enlarge)